What's in the First Russia-Indonesia Joint Navy Exercise Chatter?
A closer look at a potential first for defense ties.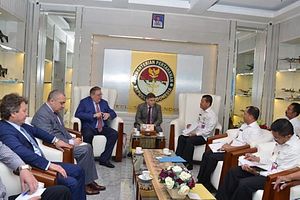 Last week, reports surfaced that Russia and Indonesia had preliminarily agreed to hold what would constitute the first joint navy exercise between them. While specifics remain unclear, the talks nonetheless suggest continued efforts by both sides to build out aspects of their defense ties in spite of the various challenges that remain.
As I have observed before in these pages, Russia and Indonesia have a defense relationship that dates back in some areas to the midst of the Cold War, with cooperation in certain realms such as exchanges and defense equipment purchases continuing to take shape in the 1990s and 2000s as well. This has continued on over the past few years in spite of the challenges in wider ties, including growing concerns about aspects of Russia's international behavior as it strengthens defense ties with key Southeast Asian states – in realms such as defense equipment and exercises – as well as U.S. sanctions and Washington's intensified focus on great power competition, which have in turn affected Indonesia's ties with Moscow as well.
Last week, the defense aspect of the relationship was in the headlines again with indications of progress with respect to a naval exercise between the two countries. Reports surfaced in Russian media about advances that both sides have been attempting to make regarding the anticipated drills this year.
Per Russian news agency TASS in a report released last Friday, the Russian Pacific Fleet had announced that the two countries had "preliminarily agreed upon the location, the timeline, and the membership of the upcoming exercise," which was characterized as the "first Orruda-2020 joint naval exercises." This came following working group negotiations ongoing in Vladivostok since March 10, where Russia was represented by the Pacific Fleet International Military Cooperation Division and Indonesia was represented by a delegation led by Captain Sigit Santos.
The report was devoid of several specifics that would be need to be publicly disclosed to assess both the ongoing status of the organization of the drills as well as their potential significance, including what exactly the exercises would involve and the extent to which they would actually be "joint." Those details are particularly important given Moscow's tendency to at times play up new engagements and the relative asymmetry of information between the two sides on this score.
In general, however, the report itself is not surprising and is consistent with Russia's intensified search for gains in security cooperation in Southeast Asia in recent years. And the navy exercise, if and when it is held, would not be without significance. It would constitute another incremental first in Russia's continuing attempts to increase its defense relationships with individual Southeast Asian states in spite of the challenges in doing so. And it would also help Russia to claim another inroad in ties with Indonesia in particular, a regional heavyweight with whom Moscow is commemorating 70 years of ties this year as well.
To be sure, any evaluation of the significance of the exercise will need to await further details that have not been publicly disclosed by either side, as well as the conclusion of the drills themselves and how both sides actually carry them out as well as construct their messaging therein. Nonetheless, those specifics will be important to monitor to get a sense of how rhetoric is actually translating into reality, and whether optics are actually living up to the substance of ties.