Why Did India Decide to Activate SAARC During the COVID-19 Pandemic?
Was India's decision to convene SAARC a geopolitical masterstroke?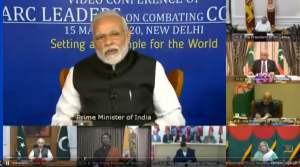 Indian Prime Minister Narendra Modi's move to convene a video conference of the South Asian Association for Regional Cooperation (SAARC) states to collectively rein in the threat of COVID-19 can be seen as a thoughtful drive to respond to China's growing influence in the region by reasserting India's leadership.
It is a good and timely initiative as COVID-19, the disease caused by the SARS-nCoV-2 virus, has created widespread concerns in South Asian countries. These countries are starting to suffer a widespread cessation of economic activity due to fears of this deadly virus.
India pledged $10 million toward a COVID-19 emergency fund and it also announced that it would be putting together a team of specialists for the SAARC states.
This video call played a great role in triggering SAARC, which has been sluggish since 2016. Following the 2016 Uri terror attacks that year by a Pakistan-based group, India had refused to participate in the SAARC summit, which was to be held in Islamabad. The summit was finally called off as three other nations also withdrew from the summit.
Modi's proposal now is a positive move toward smooth South Asian integration. Such a grouping is a helpful way for regional nations to show solidarity with countries that face disaster or crisis. Such integration is more effective when institutions set powerful demonstrations by helping  countries in need. But now, such cooperation is under strain: countries in the European Union didn't provide any medical assistance to Italy initially, for instance. Italy is suffering greatly due to the outbreak. The European Union was seen as leaving Italians in their hour of need and now China is filling the void.
Two years ago, the European Union demonstrated a powerful precedent when there was devastating forest fire spreading in Sweden. Sweden's plea yielded a good response. Portugal sent two firefighting aircraft and France sent 60 firefighters and two aircraft. Similarly, Germany sent five helicopters and 53 firefighters. Poland sent 130 firefighters and more than 40 trucks. Italy sent two aircraft although it was itself in danger of wildfires that season. Other countries also assisted Sweden in their own way. But the EU's shameful lack of solidarity with the people of Italy during COVID-19 is amazing and condemnable in equal measure. There is no use of such integration when members don't help those in need during times of crisis.
Similarly, another regional group, the Association of Southeast Asian Nations, or ASEAN, also failed to come up with an efficient coordinated response to contain the spread of COVID-19.
The SAARC video conference was vital for other reasons also. Since partition in 1947, India and Pakistan have fought many wars. There have been many skirmishes and cross-border strikes over many years. Bilateral dialogue between India and Pakistan was stalled after the Uri attacks. Over the last couple of years, India had snubbed dialogue with Pakistan, saying terror and talks can't go on simultaneously.
India took this stance for a long time. Modi's move for a video conference amid COVID-19 signaled India's willingness for dialogue, setting aside all differences for a very good cause. Pakistan took a strong stance that there would be no talks without a rollback of the August 5, 2019 decision where the Indian government tossed out the special status granted to Jammu and Kashmir by changing Article 370 of the Indian Constitution. On that day, the Jammu and Kashmir Reorganization Bill was also passed, which bifurcated the erstwhile state into two union territories: Ladakh and Jammu-Kashmir.
It may be that Pakistan was in a quandary on how to respond to Modi's unexpected move. Now, Modi's SAARC drive has put the ball in Pakistan's court to illuminate the roadblocks for dialogue.
Modi's move can be seen as a masterstroke to assert India's leadership in the South Asian region. India is also pushing for more clout as the world's largest democracy. Recently, Modi's campaign to portray India as a rising power seemed to be ticking along amid China's multi-billion dollar Belt and Road Initiative (BRI) and some troubles internally in India. China has built inroads in almost every country in the region and promises investments as a part of the BRI, a 21st century Marshall plan to connect Asia, Africa, and Europe. Various countries have pledged their official support to the project, which is part of China's bid for global dominance. So Modi's move may also have the intention to maintain India's leadership role amid China's ambitions.
India's Citizenship Amendment Act is also creating unnecessary tensions with its neighbors, which in the long run may help China expand its influence in South Asian countries. The reactivation of SAARC may also have the effect of tamping down the misgivings spawned in South Asian countries over the amendment act.
Brabim Karki is an author and businessman living in Nepal. He owns the Mero Tribune and has written two books. He writes opinion editorials in different newspapers in Nepal.