Indonesia and COVID-19: What the World Is Missing
Yes, the Indonesian government has stumbled. But civil society has been rising to the occasion.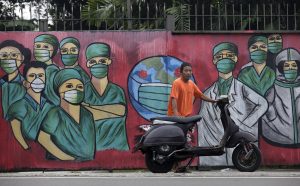 "For every tourist lucky to leave there are millions of Indonesians with no way out" — this was the conclusion of an ABC News report in late March into the situation facing Indonesians during the COVID-19 outbreak.
The report focused on "harrowing scenes" of "rising numbers of people collapsing with respiratory failure" and shined a spotlight on poverty and the strain the virus would put on the country's health system. The overall impression was that of a doomed country.
Subsequent news reports and analysis from Australian media have highlighted the low levels of testing in Indonesia as well as the missteps the government made in its early response to the crisis. Indonesia is not alone here. Governments across the world, not to mention the World Health Organization, also miscalculated the threat.
Indonesia, the world's fourth most populated country and home to the world's second largest urban area, Greater Jakarta, certainly faces a momentous challenge. The importance of balancing the economy and public health is also a tension felt more acutely in developing countries, where economic downturns are felt more strongly.
However, what the Australian media has missed is the resilience of the Indonesian people. Instead, there has been a tendency to paint the country as hapless and helpless. The video of the aforementioned ABC News report was circulated on WhatsApp groups by many Indonesians bemused at the condescending way in which they are viewed by people in another country.
While the country clearly faces momentous challenges, Indonesians have overcome many great ordeals before: devastating natural disasters, centuries of colonial rule, a struggle for independence, civil conflict, and the chaos that ensued from the 1998 Asian financial crisis, which led to the downfall of a dictatorship and the reformation of the country's political and economic systems.
Through all this, evidence suggests that Indonesians have learned to band together when times are tough, both feeling a responsibility and taking great joy in helping each other when needed.
In the 2019 Legatum Prosperity Index, Indonesia ranked fifth in the world for social capital and first for civic and social participation, with the highest levels of volunteering of any country. In the 2018 Charities Aid Foundation (CAF) World Giving Index Indonesia also topped the list for frequency of donating and volunteering.
It therefore comes as no surprise to see the many crowdfunding campaigns that have been launched on local platforms like kitabisa.com to help those in need. This includes raising funds to support informal sector workers, such as street food sellers, scavengers, and motorcycle taxi drivers, and to purchase personal protective equipment (PPE) for healthcare workers. By late March, 15,000 medical students from 158 universities had also signed up to volunteer.
The level of innovation in Indonesia is also underestimated, with universities and tech companies contributing greatly to the country's fight against COVID-19. For example, the University of Indonesia has developed ultraviolet-based disinfection booths for medical equipment, and is continuing research and development into PPE, COVID-19 rapid testing instruments, and treatments.
The Surabaya Institute of Technology (ITS) has worked in cooperation with Airlangga University Hospital to develop a disinfectant chamber that uses ozone (O3) rather than unsafe chemical disinfectants, as well as a robot that can be used to remotely communicate with patients, monitor their condition, and deliver items such as food and clothes. Many manufacturing companies have also begun producing PPE and hand sanitizer, while others have partnered with universities to produce ventilators.
Indonesia is also home to a thriving startup and digital sector. Local e-commerce, education, health, and ride hailing firms have allowed people to maintain some semblance of a normal live. The food delivery and sending features of local ride-hailing company Gojek and the Singapore-based Grab let drivers and food sellers maintain some income, while the many local e-commerce platforms, such as Tokopedia, Bukalapak, and Blibli, have allowed for the purchase and delivery of goods and groceries.
Telemedicine has also been on the rise, with the government looking to the sector to help the healthcare system cope. Alodokter, one of the country's most popular telemedicine apps, racked up 900,000 users for its new online COVID-19 consultation service within a week of launch in March. In addition to seeking regular online consultations, the app Halodoc has also collaborated with more than 20 hospitals in Greater Jakarta and Karawang, West Java, to allow people to book appointments for COVID-19 rapid tests or real-time polymerase chain reaction (PCR) tests. Prescriptions from online consultations can also be purchased and delivered via Gojek.
While the Indonesian government, like all governments, continues to struggle with the enormity of the challenge, these bottom-up initiatives show another side of the country's COVID-19 response. Indonesians will confront the COVID-19 crisis with confidence together, and that is something worth highlighting.
Shane Preuss is an Australian expat who works as a copy editor and language consultant at The Jakarta Post.