Mongolia Finds a Silver Living in the COVID-19 Crisis
Mongolia has yet to be hit hard by the pandemic, but the precautions taken have substantially decreased other incidences of disease.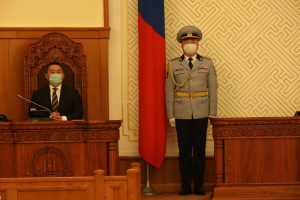 The winter of 2018-2019 was a tough flu season in Mongolia. The H1N1 virus was the main culprit. It is a nasty virus strain that causes a lot of hospitalizations and deaths. The rate of hospitalizations, especially among children below 5, was so high that it exceeded the beds available for pediatric hospitals in Ulaanbaatar by 70 percent. During January of 2019, 1,700 children were hospitalized, while there were only 977 pediatric beds available in the capital.
A visitor to pediatric hospitals during the outbreak would see chaotic and overcrowded wards, with small children crying everywhere and distraught parents trying to soothe them. And these were only the severe cases. According to estimates, during the worst months, kindergartens and primary schools had almost 50 percent of kids absent because of the flu.
The 2019-2020 flu season was promising to be even more challenging than the previous one, because of the prevalence of the H3N2 flu. The H3N2 strain is an even more severe form of flu that is especially dangerous to at-risk groups such as older adults and younger children.
Hospitals began preparing by doubling the number of beds available for children. And flu season didn't "disappoint" – it started early and by winter, 62 percent of all emergency calls related to children were because of the H3N2 flu. In Ulaanbaatar, 14 percent of all hospital visits were because of the flu; nationwide the numbers ranged from 8 to 30 percent. The beds were starting to fill fast. By the beginning of February 2020, 1,169 children were hospitalized because of the flu. Attendance at schools and kindergartens had dropped significantly.
But at the beginning of January 2020, reports on a new coronavirus in Wuhan – causing a disease later named COVID-19 — started to come in. At that time, the Chinese government had reported more than 800 cases of the new virus and dozens of deaths.
Because of the country's close proximity to China, the Mongolian government made an unprecedented decision to close all schools and kindergartens starting from January 25. The closures were originally intended to last a month, but were later extended to April 30. All classes are now conducted via TV and the internet.
The government also closed the border with China and all air traffic was later stopped. All passengers who arrived to Mongolia on special chartered flights from Germany, Russia, South Korea, and Japan were screened and put into a 14-day quarantine, which was later extended to 21 days. The quarantine worked, as 13 people out of the 1,000 who arrived tested positive for COVID-19. There has been no local transmission of coronavirus cases in Mongolia, and no deaths, so far.
Meanwhile, COVID-19 preparations had an impact on the flu season, too. H3N2 flu cases dropped 90 percent. During the start of the flu season last year almost 12.7 percent of all hospital visits were due to the flu; this year it was 1.8 percent.
Another unexpected benefit was the drop in gastrointestinal infections among children. Children were staying home and washing their hands properly before eating food. As a result, there have been no cases of gastrointestinal infections registered this year so far.
So strange as it may seem, there have actually been some positive impacts due to the COVID-19 quarantine.
Anandsaikhan Nyamdavaa is an independent consultant based in Ulaanbaatar, Mongolia.