Pakistan Struggles to Fight COVID-19
Doctors are concerned about Pakistan's healthcare capacity as COVID-19 cases increase.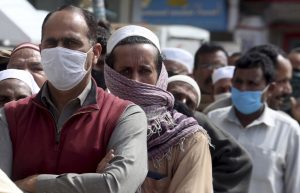 Healthcare workers in Pakistan are voicing concerns about the inability of Pakistan's healthcare system to cope should the number of COVID-19 patients continue to rise exponentially.
According to the most recent data, Pakistan has 5,988 positive COVID-19 cases and 107 deaths but these numbers are understood to be greatly underestimated due to limited testing.
"Even if we leave out the general population – only the healthcare workers, people who are working around those tested positive, are not being tested despite being at the highest risk," says Dr. Kashaf Khalid, currently a junior doctor at Combined Military Hospital (CMH) Sialkot.
Khalid adds that Sialkot, a city in Punjab, has been lucky and hasn't had that many cases so far, but is concerned about the insufficient quantities of personal protective equipment (PPE) healthcare workers are being provided.
"At many facilities what we have observed is that doctors had to protest or refuse to work and then they were given the minimal required PPE," she states. "Still, there are many hospitals where doctors are working in ERs/OPDs [emergency rooms/outpatient departments] and wards that either have to arrange PPE for themselves or are simply working without it."
On April 6, 150 doctors and medical staff in the city of Quetta, in the southwestern province of Balochistan, were arrested for protesting the lack of PPE. The protests took place after 13 doctors in the city tested positive for the novel coronavirus, COVID-19.
Following the arrests, the Young Doctors Association (YDA) announced an immediate boycott of all medical services in Balochistan. The boycott has since ended after the YDA reached an agreement with the provincial government. 
YDA's demands included action against police officers for beating, manhandling doctors and the provision of PPE, medical kits and other facilities so that they could treat COVID-19 patients. 
"There is just no proper system in place — not only is there a severe shortage of PPE, young doctors don't even know the protocol to donning and doffing [the method of putting on and taking off the protective gear] the gear," says Dr. Shehryar Khan, working at Mayo Hospital, one of the one of the oldest and biggest hospitals in Lahore.
Khan, earlier this month, shared on social media his experiences struggling and fighting to get sufficient PPE which gained a lot of traction.
"After I shared my experiences online and the reaction it had on social media, they have gotten a bit scared," he says. "But, overall, doctors and medical staff are not being provided with the required PPE at all. The ones who have it have to struggle and demand it."
According to an unreleased WHO report, at least 138 health workers have been diagnosed with COVID-19 in Pakistan, but the real numbers could be much higher.
"It is not on paper but verbally we are being discouraged from conducting tests on possible COVID-19 patients unless they are critically symptomatic," Khan says. "So doctors don't even often know for certain if they have possibly been exposed or not."
Khan mentions a doctor he knows who was treating a patient who died "under suspicious circumstances with a travel history." The doctor asked his hospital to test the diseased patient's sample to confirm if he could have possibly been exposed to the novel coronavirus.
"The next day when he went to collect the results, he was told that the sample was never collected so he just has no way of knowing if he could have been exposed or not," Khan says. "So many test samples are being 'wasted' to keep the numbers low intentionally as no hospital wants [a] high number of deaths from COVID-19 on their record. It is really just about those at the top just trying to save their jobs."
A senior doctor based in Karachi, however, who is working with the provincial government on policies to build up healthcare capacities, and has requested his name not be mentioned, disagrees that doctors are being discouraged from getting their patients tested.
"I am part of a team working to identify testing capacities and we have only discouraged testing from labs that aren't complying with national and WHO standards," he states.
Pakistan performed nearly 15,000 coronavirus tests by the end of March, according to Health Minister Dr. Zafar Mirza. Officials have also stated that Pakistan's testing capacity has been enhanced from 30,000 to 280,000 and would be further enhanced to 900,000 by mid April.
"The government is striving to increase the number of laboratories that are testing by inspecting the capacity of lab and technical staff available and more labs will soon be operating and be able to increasing testing capacities," states the Karachi-based doctor. "As for PPE — yes, there is a shortage which needs to be sorted out as healthcare workers are at the frontlines and if they get infected, transmissions will exponentially increase even more."
He thinks the government should take urgent steps to order local companies to manufacture PPE so the healthcare workers that are necessary to effectively implement the country's National Action Plan to respond to the novel coronavirus are protected.
The government's National Action Plan against coronavirus, which was revealed on February 29 — just days after the first positive cases in the country — involves the full coordination of the federal government with provinces to deal with the viral outbreak, with some hospitals in every province dedicated to patients infected with the disease.
But most of March saw a lack of clarity at the federal level when it came to leading the country on decisions about social distancing, curfews, and lockdowns.
Prime Minister Imran Khan initially rejected calls for lockdowns. 
"If we shut down the cities […] we will save them from corona at one end, but they will die from hunger on the other side," he stated in a speech addressing the country where 39 percent of households live in poverty.
Provincial leaders however, especially in Sindh, have been fairly efficient in imposing restrictions on public gatherings, except at mosques, and have also shut down schools and non-essential shops and markets.
Khan has since hinted on imposing a curfew if the situation worsens stating that the country is "not immune to coronavirus" but also stated that he is confident that Pakistan will come out of this challenge stronger.
But as the number of patients continue to increase, doctors are increasingly concerned about the country's healthcare and governance systems which fall short even during the best of days.
Khalid has stated that they are "thinking of alternate ways to ventilate patients in case of a severe breakout, [given] the limited number of ventilators and other facilities we have throughout the country."
Hospital administrations are grossly overstating information about their capacities to health minister, who then share that inflates information with the federal government, claims Dr. Khan.
"Hospital administrations give inaccurate reports to health ministers who then, without fact-checking the information, pass it to the federal government — just so everything looks good on paper because everyone wants to save their jobs," he says. 
"But they are just upholding a shell at this point which will collapse when the burden on our capacity increases."
Rabiya Jaffery is a freelance journalist covering climate, conflicts, and politics from the Middle East and South Asia. She tweets at @rabiyasdfghjkl.
With help from Syed Muhammad Abubakar