Rohingyas in Malaysia Face a Pandemic and a Possible Populist Backlash
Rohingya refugees in Malaysia face a double-pronged disaster: a pandemic and a populist turn against the vulnerable community.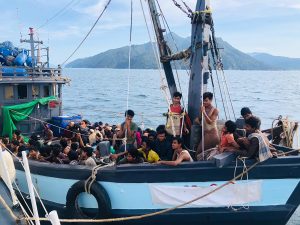 In Malaysia, the Rohingya refugee community is dealing with a double-pronged disaster. As is true for everyone, the pandemic has fundamentally upset daily life and fears of both infection and the loss of income permeate. And now the community must also contend with a sudden turn in support from wider society. 
Initially, this turn was linked to would-be boat arrivals of refugees entering Malaysian waters in recent months, but it has escalated dramatically online after potentially faked comments from a self-styled community leader created a deep division.
Zafar Ahmad Abdul Ghani is president of the Myanmar Ethnic Rohingya Human Rights Organization Malaysia (Merhrom), an organization rejected by other NGOs in the space as not representative of Rohingyas in Malaysia. Social media posts — which Zafar says are faked — calling for full citizenship rights for the community and calling Malaysians "stupid" have circulated widely in recent days, sparking a war of words against the community.
Zafar says he has been forced to deactivate many of his personal social media accounts after receiving death threats. The Merhrom Facebook page remains active with hundreds of comments on recent posts calling for Rohingyas to return to Myanmar and suggesting large numbers of Rohingyas are creating a national security threat. 
A statement released by more than a dozen Rohingya organizations based both in Malaysia and abroad strongly rebuked Zafar's alleged statements and apologized to the government. Blaming Zafar for sparking the recent wave of debate and causing the community to become a target, the coalition rejected Zafar and his call for citizenship, noting that most Rohingya refugees are waiting on official resettlement or to return to Myanmar. 
"We, the Rohingya refugees, have never elected Zafar Ahmed as our president. He is not our leader, in fact, we have no leader in Malaysia, and he has no right to issue statements on our behalf. Therefore, all Rohingya are against such unrealistic and irresponsible statements," the coalition said, as reported by the New Straits Times. 
Despite the rejection, much of the damage has been done. While most of the heightened rhetoric is online, it is inspiring alleged real-world consequences. Senior Minister Ismail Sabri Yaakob confirmed that the police had received 19 reports from the Rohingya community in recent days and have opened four investigations. He also said he is surprised by the negative outburst and is not sure why given Malaysians have typically been supportive of the community. 
The reports are a stark departure from the shape of the Rohingya crisis seen in recent years. Former Prime Minister Najib Razak, whose social media postings still carry great influence, has made the most marked about-face. As the Rohingya crisis re-emerged in 2016 under his tenure, Najib aligned himself with the Muslim-majority Rohingyas as a great defender and took on Myanmar's Aung San Suu Kyi. His critics at the time suggested it was a cynical ploy to turn the crisis into an opportunity to prove his Muslim credentials, similar to the country's stance on Palestine. 
Now, perhaps sensing the change in the air among the broader community, Najib has withdrawn support for the cause. On Facebook, he said Malaysia's refugee community has already been given a lot of support by the governments of the day and further support is an obligation that should be shared by other ASEAN states. Acknowledging he does not want to be "cruel," he added "but until when do we need to resolve this problem which began in the 1990s?"
It is, of course, a particularly difficult time for refugee communities everywhere. As much of the world introduces restrictions on movement — in Malaysia's case via the movement control order — opportunities for both paid and social work have all but dried up. With hundreds of thousands of nationals struggling, public expenditure on refugees has become a scapegoat and has resulted in rumor-mongering.
Still, a pandemic will not halt the region's pressing and long-running humanitarian crisis; it is exacerbating it. The push factors for the Rohingyas are still very much active, with concerns of an outbreak of COVID-19 forcing the massive Cox's Bazar refugee camp in Bangladesh into lockdown.
A boat carrying 200 Rohingya refugees intercepted by Malaysian authorities earlier this month was turned back, with officials citing fears of COVID-19 infection. News wires report the Air Force gave food to the boat before refusing to allow it to dock and escorting it from territorial waters. The boat is reportedly one of many. Later, activists reported dozens of deaths from starvation following weeks at sea.
Malaysia has international law obligations here, which Amnesty International researcher Dominique Virgil outlined late last week for the Bangkok Post. Malaysia is not a signatory to the Refugee Convention and most of the rhetoric has focused on immigration, Virgil writes. Still, under the UN Convention on the Law of the Sea, Malaysia is obligated to "promote" search and rescue operations "concerned with safety inside and above the sea" no matter the status of those in need of help. 
If Senior Minister Ismail Sabri Yaakob is to be believed, the stance of the authorities is more one of bewilderment than a seismic shift in Malaysia's policy onshore. But, with a government in power under questionable means and handling a difficult and unprecedented public health crisis, quick populist support could become attractive.