South Korea's Coronavirus-Era Online Learning Hits Snag 
The roll-out of distance learning is off to a rocky start.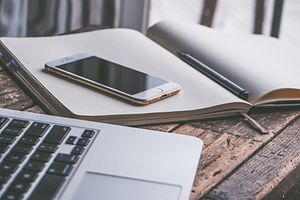 About 5.4 million elementary, middle, and high school students in South Korea are starting an unprecedented school year via distance learning as the country strives to tackle the COVID-19 pandemic.
Both schools and students, however, are already experiencing confusion and difficulties, with many pointing out that the country's education authorities failed to come up with a concrete plan and measures to carry out online classes effectively.
One major issue is that some areas, schools, and students are not equipped with the necessary tools to participate in such classes.
According to the Ministry of Education, up to 85,000 students are in need of devices such as tablets or laptops to take online classes. Yet the government is only able to provide about 38,000 devices.
The education ministry said it would purchase extras, even while spending about 1.5 billion South Korean won ($1.2 million) to upgrade the wireless internet infrastructure for some rural schools. Still, it is inevitable that some students will fall behind the curriculum.
Price for some devices has jumped amid increasing demand and a lack of supply. For example, the price of web cameras was up to 30 times more expensive online, while such sales increased by 400 percent in March compared to the previous year.
Even having the necessary devices does not mean students are ready to begin their studies. The government-backed EBS Online Class, a learning management system used by students and teachers to exchange learning materials online, caused another issue.
The system has been unstable due to a sudden surge in the number of users, and some schools had to postpone their classes while waiting for the system to be back online.
Education Minister Yoo Eun-hye explained last month that providing online classes is "suitable" for South Korea since the country is an "IT powerhouse" with the highest penetration rate of smart devices and information and communication capabilities in the world. What we have seen so far is far from what we would expect from an "IT powerhouse," however.
It seems that the government lacks concrete guidelines and measures on how to manage student evaluations, records, and essential hands-on classes, which will only become a worse problem if the reopening of schools is postponed further. The education ministry has only announced that it will discuss with local educational authorities to come up with the solution.
What is more concerning is that the government is sending mixed signals over when to resume in-person classes and how the authorities will manage the transition.
Minister Yoo said on April 7 that she believed it would be okay to resume schools if South Korea has less than 50 confirmed COVID-19 patients for more than a week.
Only four days after Yoo made such remarks, a senior health ministry official, Yoon Tae-ho, said there is still the possibility of a group outbreak as there are still confirmed patients coming out of the quarantine network.
He added that it is too early to discuss reopening schools, hinting at miscommunication among government bodies.
As critical voices grow, the topic of online classes has also become an issue in the looming elections.
Seok Ho-hyun, a candidate from the main opposition United Future Party, said the government had enough time to review and prepare for conducting online classes but failed.
"If the government and the Ministry of Education push ahead with unprepared policies and measures, confusion in the field of education will only increase, and in the end, students, parents, and frontline teachers will suffer," he lamented.