Ukraine's Road to Asia
Ukraine will prioritize the Asia-Pacific in its foreign policy.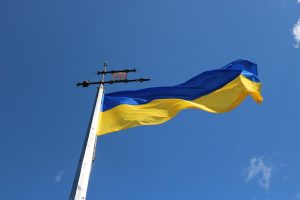 After my appointment as the Foreign Minister, I announced that Ukraine's upgraded strategy toward Asia would be among my top foreign policy priorities.
Since regaining its independence in 1991, Ukraine's cooperation with Asia was developing in the ascending order. Today we enjoy excellent relations with the region. Thus, I am not talking about a start from scratch.
But it is high time to shift to the higher gear in Ukraine's relations with Asia.
My official engagement with Asia in my new capacity started with courtesy phone calls to many of my counterparts. We took stock of our bilateral relations, discussed how to survive, and help each other in the time of global disruption amid the COVID-19 pandemic.
The outcome of every conversation I had was a mutual understanding that there's an immense untapped potential for further development of bilateral trade, joint projects in hi-tech fields, or in infrastructure.
Indeed, we want to welcome more of Asia in Ukraine, and to see more of Ukraine in Asia.
Recent events prompt all of us to reimagine the notion of "international business as usual," and seek out new solutions and develop new trustworthy long-term partnerships.
While Ukraine's path toward integration in the European Union remains unchanged and we do intend to continue strengthening our transatlantic ties, I see the new speed of partnership with Asia as natural and complementary to our European aspirations. The idea is to become a meaningful nexus to economic ties between the European Union and Asia.
Our big businesses are well-established in Asia, offering many success stories to follow suit. Asian companies also successfully trade with and invest in Ukraine. It is our job now to help Ukrainian businesses to pave the way for new partnerships in Asia, to showcase the potential to those who are yet to discover it and to open up new opportunities: to open up Ukraine to Asian business, and to help Ukrainians immerse into Asia.
To succeed, we must start developing a long-term and comprehensive strategy towards Asia now.
Being a solid agricultural and food powerhouse, Ukraine is becoming a major contributor to global food security. We are willing to contribute in a very tangible way into securing stable and reliable long-term food supplies to Asia.
In the world that is facing one disruption after another, one can't underestimate the importance of this matter. For years Ukraine, has been well-known for its advanced aircraft-building and aerospace technology. When mankind faced the COVID-19 pandemic, Ukrainian Antonov super-planes with unique airlifting capabilities became an 'express courier' connecting Asia with Europe for timely global delivery of so badly needed medical supplies during the pandemic, earning the reputation of one of the main international "delivery services" for medical supplies.
Above all, we must establish an East-West Road that is a two-way street and runs through Ukraine.
I agree with the notion that the 20th century was the European one, while the 21st is the Asian century. It is time to develop a global hub for production and a seamless transportation of goods and services that can take advantage of Ukraine's skilled and competitive labor, location, and connectivity. In the eyes of our friends in Asia, we must become more than just yet another Eastern European business or IT talent story.
We must become a reliable and trusted partner for Asia in all spheres.
Just imagine: last year China has become Ukraine's largest single trading partner, and Ukraine's President Zelenskyy visited Japan for Emperor's Naruhito's enthronement. At the same time, our relations with India are on the rise and we collaborate in many areas: pharmaceuticals and agriculture to name just a few. Ukrainian IT talents work in the South Korean tech industry. Together with Australia and New Zealand we work closely within the United Nations to address pressing issues of the global agenda.
I can go on and on.
Last year, my private visit to Southeast Asia was an eye-opener. The ASEAN miracle is an inspiration for the entire world. Just as the whole of ASEAN, Ukraine has been always emphasizing economic development and peaceful coexistence and upholding the rule of law in international relations. Like ASEAN, we believe in the strength of existing international institutions and norms.
Since 2016, Ukraine-ASEAN trade in goods and services has increased by almost 45 percent, with Ukraine's exports up 48 percent. Still I truly believe the current figures do not correspond to existing potential. Ukraine and ASEAN can naturally complement each other's economies, taking advantage of IT and agriculture potential. Our respective locations in Eastern Europe and Southeast Asia for reaching out to the rest of the world.
Take an example of Ukraine's relations with Singapore: over the last three years, the bilateral trade increased four times. We are on the same page on many issues on the international agenda, including our advocacy for international law and working together to combat new global challenges. We launched new forms of cooperation from cyber to food security and research and education.
Ukrainian Embassies in Indonesia, Malaysia, Thailand, Singapore, and Vietnam provide a solid foundation for deepening our relations with ASEAN in trade, investment, and tourism. Last year, the number of tourists from Southeast Asia to Ukraine has increased, and I know Ukrainians are always welcomed in this part of the world.
The turbulent time caused by this pandemic will — sooner or later — be over. Using Thomas Friedman's term, "The era A.C." (after corona) will ensue.
When the global community recovers from the COVID-19 shock, we all need to reconsider how to cope with shortcomings and vulnerabilities that came to light so vividly because of the virus. The global "networld" in the 21st century is getting more complicated and fragile. Every nation is pondering how to ensure uninterrupted supplies, provide support to small and medium enterprises, and to help their people in finding jobs and developing businesses.
Ukraine, like nations in Asia, is doing the same.
Let's build this new road together.
Dmytro Kuleba is the foreign minister of Ukraine.