What Did the 2020 China-Cambodia Golden Dragon Military Exercise Actually Achieve?
A closer look at how the recent drills, held amid the coronavirus crisis, actually played out.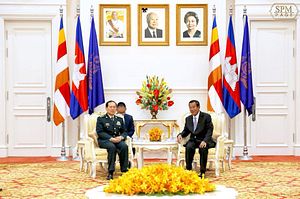 On March 30, China and Cambodia completed the recent iteration of their joint military exercise. The conduct of the exercise and its messaging thereafter spotlighted how both sides are viewing the interaction amid wider trends and developments in the relationship and in the region more broadly.
As I have observed before in these pages, while Cambodia has long had a defense relationship with China, the security aspect of ties between the two countries has nonetheless come under intensified scrutiny over the past few years amid wider developments, including Cambodia's tighter embrace of Beijing amid its deteriorating rights record and fears of Chinese military facilities in Cambodia. One of these defense engagements is Exercise Golden Dragon, which has expanded from just a few hundred people when first held in 2016 to thousands of personnel. The most recent iteration, featuring around 3,000 personnel, kicked off on March 15 amid the global coronavirus pandemic.
On Tuesday, both countries finally completed their drills, with a closing ceremony attended by military attaches from unspecified countries and featuring remarks by Cambodian Deputy Prime Minister and Defense Minister Tea Banh and Chinese Ambassador to Cambodia Wang Wentian. Unsurprisingly, both officials reinforced the importance holding the drills despite the global coronavirus pandemic and emphasized the significance of this for not only defense ties but also the wider bilateral relationship.
In a report released upon the conclusion of the exercise, China Military Online, a state media outlet of the People's Liberation Army (PLA), said the drills were divided into four phases – which included reconnaissance and blockade, raid and rescue, seizure, control, and clearance, as well as force concentration and transfer. Also according to China Military Online, during the drills both militaries demonstrated the tactics of reconnaissance, blockade, strike, control, and suppression in mountainous counterterrorism operations. The report also cited Zhang Tiren, the head of the Chinese forces that participated in the exercise, as saying that the drills had "new features" and training on 10 subjects including raid and rescue and assault and deterrence.
Separately, both sides also indicated that COVID-19 had factored into the exercise as well. Cambodian government officials said that Chinese personnel had been tested for coronavirus before the exercise. And an official Chinese account on the exercise highlighted COVID-19 related assistance during the drills, including the donation of what was characterized as "15,000 sets of study, sport and medical material."
To be sure, the real significance of the exercise remains unclear given some uncertainties and discrepancies from remarks on both sides. To cite just one example, Cambodia had said that over 3,000 personnel would be participating in the exercise in order to illustrate a record-breaking number. But the China Military Online report noted that "a total of 800 military personnel from both sides participated in the joint training," raising questions about how exactly messaging is matching with realities beyond the actual bean-counting itself. And while there was mention of military attaches in attendance, no indication was given as to which countries were represented or whether they participated as official observers – which would be different from just being present for a closing ceremony.
All this reinforces the need for a close assessment of drills such as these before, during, and after they are held by all sides in order to assess their implications and any gaps between rhetoric and reality. And this will continue to be case for China and Cambodia as well through the rest of 2020 and beyond.