Why Is a French-Iranian Academic Still Languishing in an Iranian Prison?
Fariba Adelkhah must be freed.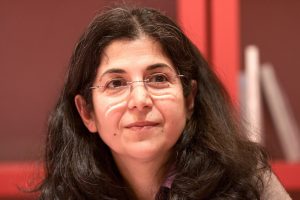 PARIS — As the world is running indoors ducking for cover from the new coronavirus pandemic, one man stepped out to the sweet smell of freedom. However, his colleague, French-Iranian academic Fariba Adelkhah, continues to languish in the same jail.
French researcher Roland Marchal was released from Iran's infamous Evin prison after nine months and allowed to return to France. Marchal was released in exchange for Jalal Ruhollahnejad, an Iranian detained by Paris for alleged violations of U.S. sanctions against Tehran.
Sixty-four-year-old Marchal, a senior researcher at Sciences Po (also called the Paris Institute of Political Studies), was detained in June 2019 on security charges.
Sixty-year-old Adelkhah, a specialist in social and political anthropology of post-revolutionary Iran, has already spent 10 months in the jail controlled by the Islamic Revolutionary Guard Corps. She is accused of "propaganda against the political system of the Islamic Republic" and "collusion to endanger national security."
Adelkhah is an anthropologist and has written books on Iran, feminism, and Shiite Islam. Marchal is a sociologist and a renowned specialist on Somalia, the Horn of Africa, Chad, the Central African Republic, and Mali.
Following the release of Marchal, Sciences Po released a statement expressing "immense joy" and "great relief" but also said that they can "celebrate fully (only) when both of our friends are with us again."
In mid-March, Iran temporarily released over 85,000 people, including political prisoners, to contain the COVID-19 disease in its jails. It is one of the worst affected countries with over 53,000 cases, 3,294 deaths, and 17,935 recoveries as of the first week of April.
While this crisis saw the temporary release of other academics held by the Republic, including British-Iranian mother Nazanin Zaghari-Ratcliffe who has been detained in Iran since 2016, Adelkhah was not let out despite her precarious health.
An already fragile Adelkhah's health worsened after she started a 49-day hunger fast for academic freedom on Christmas eve last year. Australian academic Kylie Moore-Gilbert, serving a 10-year sentence for espionage, joined her.
In a joint statement, they denied any wrongdoing and said that they were "unjustly imprisoned on trumped-up charges." They claimed that they were being subjected to psychological torture and multiple human rights violations.
In a statement, Sciences Po said, "Several weeks of hunger strike have weakened her state of health, which remains very worrying. For urgent and compelling humanitarian reasons, her imprisonment must end."
"Fariba has health issues and she has not been allowed treatment outside the prison which is worsening her condition further," said Béatrice Hibou, Research Director at the Centre National de la Recherche Scientifique, Sciences Po.
On March 3, when Marchal was still in detention, Adelkhah appeared before the Revolutionary Court in a closed-door hearing. But for reasons that are still not clear, the trial was postponed indefinitely.
Sciences Po responded by organizing a silent protest in front of 27 rue Saint-Guillaume, on the same day.
Students and professors gathered outside the university gate holding posters of the two academics along with banners that read Aazadi (meaning freedom) and Liberté (meaning liberty). They called the hearing presided over by Judge Fazlollah Salavati a "masquerade of justice."
Adelkhah is a French citizen with an Iranian passport. But Iran refused to recognize her French nationality and said that such "interventions" have "no legal basis." The Islamic Republic also denied consular access to her because of her dual nationality, which Marchal was granted on quite a few occasions.
French President Emmanuel Macron, who called the detention "intolerable" on earlier occasions, urged Iran to release her. He has been trying to defuse tensions between the United States and Iran since American President Donald Trump withdrew from the landmark nuclear deal and slapped sanctions on Tehran in 2018.
Even as a breakthrough in Macron's efforts is awaited before Adelkhah is released, it is hoped that Iran's leaders would realize that her prolonged detention speaks about the republic's assertion of its sovereignty to persecute its own citizens.
Arpita Singh and Sania Ashraf are journalists with Stories Asia.