A Ceasefire for Eid, Peace, and Fighting COVID-19 in Afghanistan 
Violence has continued in Afghanistan throughout the holy month of Ramadan.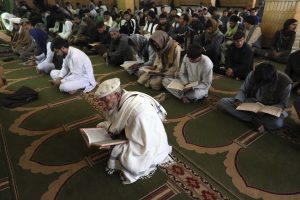 Days before the start of the holy month of Ramadan, violence had already escalated in March, taking the lives and limbs of hundreds of innocent civilians across Afghanistan. But Afghans were hoping that there would be a pause, if the Taliban honored their own words on the essence of the month of Ramadan as a period when Muslims must carry out deeds of compassion, charity, forgiveness, reconciliation, piety, and struggle against worldly greed and selfishness as a "Greater Jihad." Unfortunately, that hope was soon dashed, as the Taliban continued escalating violence, targeting innocent civilians — including women, children, and infants — throughout Ramadan. 
In April alone, the Taliban killed 141 civilians and wounded 285 others. And since they signed the peace deal with the United States last February, they have carried out 3,712 attacks in almost every region of Afghanistan, killing 469 and wounding 948 others. The United Nations Assistance Mission (UNAMA) separately reported that the first quarter of 2020 tragically witnessed 1,293 civilian casualties across Afghanistan. 
On May 12, the world amid a deadly pandemic was shocked when a maternity ward in Kabul was attacked, indiscriminately killing 24 mothers, babies at birth, and medical personnel. On the same day, a funeral procession was attacked in Nangarhar, which killed another 19 innocent mourners and wounded many more. Evidence and intelligence gathered by the Afghan government show the Taliban were behind both attacks. 
Since May 14, when the Taliban claimed a suicide truck bomb in Gardez that killed 5 and injured another 33 civilians, there have been many more small- and large-scale terrorist attacks on civilian and military targets — causing more bloodshed and destruction across Afghanistan.
It is because of escalating violence by the Taliban that the Afghan government had to remove our armed forces from their months-long defensive posture, enabling them to go on offensive in the fight against terrorism and in defense of our suffering civilian population. 
At the same time, however, the Afghan government has kept our door open for an immediate humanitarian ceasefire followed by peace talks. 
This was first called for by the United Nations (UN) Secretary-General Antonio Guterres on March 23, when he urged warring parties across the world to lay down their weapons in support of the bigger battle against COVID-19. Since then, the Organization of Islamic Cooperation (OIC), the European Union (EU), national and international ulema leaders, and many countries have repeatedly called on the Taliban to observe a humanitarian ceasefire in Afghanistan.
Expectedly, however, the Taliban have so far ignored international appeals for a ceasefire to address the COVID-19 crisis. In direct terms, this has inevitably diverted attention and resources from responding to the pandemic as effectively as possible. Indirectly, the brutality of daily atrocities committed by the Taliban has completely preoccupied the Afghan people with protection from terrorist attacks, at the cost of their adhering to the lockdown measures by the Afghan government to contain the spread of COVID-19. When I last wrote an op-ed, titled "Only Peace Can Avert a COVID-19 Catastrophe in Afghanistan" on April 6, only 299 Afghans had tested positive in 20 provinces, while only six Afghans had died of the virus. But as a direct and indirect result of the Taliban's refusal to cease violence over the past two months, 8,145 Afghans have tested positive and 187 have died of COVID-19 so far. In the weeks and months ahead, these numbers will double and triple, if violence does not end to allow for the current and future lockdown and mitigation measures to make the intended impact.  
Moreover, Afghanistan's already weak economy has been badly hit by the COVID-19 measures at home and abroad. This has further impoverished an already destitute nation of numerous vulnerable groups, especially youth — both educated and not — who remain vulnerable to recruitment by terrorist groups, including al-Qaeda and the Islamic State. In sum, a failure to cease violence will not only cost Afghanistan more lives from COVID-19, but it will also continue fueling the killing machine that is terrorism.
This grim situation can hardly be remedied when the Taliban and their affiliated terrorist and criminal groups continue enjoying safe havens and operational support in our neighborhood. "We can no longer be silent about Pakistan's safe havens for terrorist organizations, the Taliban, and other groups that pose a threat to the region and beyond," U.S. President Donald Trump said when he announced a conditions-based withdrawal of U.S. forces from Afghanistan in August 2017. A few days ago on May 19, U.S. Department of Defense Lead Inspector General reported to the U.S. Congress that "Pakistan continues to harbor the Taliban and associated militant groups in Pakistan, such as the Haqqani Network, which maintains the ability to conduct attacks against Afghan interests."
The key challenge confronting the Afghan peace process remains the externality of the terror campaign in Afghanistan rather than a traditionally home-grown insurgency. In case of the latter when warring parties reach a stalemate in conflict, they initiate peace talks by mutually committing to a comprehensive ceasefire as a concrete confidence-building measure, assuring each other of their firm commitment to ending the war and reaching a negotiated political settlement. In case of the former, which has been the status quo in Afghanistan, terrorists can endlessly be instrumentalized by state-actors with the means to keep the war machine going. Unless this peace-spoiling behavior changes in favor of genuine, sustainable peace in Afghanistan, it is hard to imagine how calendar-driven peace efforts could bear fruit on the short and long runs.
Despite this realization, however, the Afghan government has continued to do our part, making every genuine effort for peace: From maintaining a months-long defensive posture to releasing over 1,000 Taliban prisoners, fielding an inclusive negotiation team, fighting COVID-19, and protecting civilians from daily terrorist attacks. Moreover, for the sake of peace as a desire and demand of every Afghan, on May 17, Afghan leaders signed a political agreement, which established the High Council for National Reconciliation (HCNR) and ended the political impasse that had resulted from last September's elections. 
In Islam, there is probably no better opportunity to make peace and reconcile with one's adversaries than on the days of Eid-ul-Fitr. As Muslims, the Taliban leaders in Doha and Quetta know that the reward from the Almighty for doing so is manifold, if they genuinely believe in the "Greater Jihad," which best captures the essence of Islam. And, indeed, there is no better time than Eid-ul-Fitr to honor international calls, including that of the Organization of the Islamic Cooperation, for a humanitarian ceasefire, which should end months of deadly violence and to facilitate the start of the intra-Afghan peace talks, following a celebration of an Eid-ul-Fitr free from fear and terror.   
Doing so will save Afghan lives — including those of the Taliban and their families — from both a continuation of deadly conflicts and COVID-19. The latter does not distinguish between any Afghans, indiscriminately infecting and killing them alike. But a failure to cease violence for the sake of Eid-ul-Fitr, peace, and COVID-19 will tragically claim more innocent lives and destroy more of beautiful Afghanistan, which the Taliban call their homeland — our shared "watan." Now is the time to announce a humanitarian ceasefire and to begin in earnest the process of national reconciliation on three peaceful and joyful days of Eid-ul-Fitr.
M. Ashraf Haidari is the Ambassador of Afghanistan to Sri Lanka. He formerly served as the Director-General of Policy and Strategy of the Ministry of Foreign Affairs and the Deputy Assistant National Security Adviser of Afghanistan. He recently served as a Senior International Security Fellow at New America in Washington-DC and is currently a non-resident Senior Fellow at the ORF in New Delhi, the AISS in Kabul, and the INSSSL in Colombo. He tweets at @MAshrafHaidari.