How COVID-19 Challenges Taiwan's New Southbound Policy
The pandemic will inevitably affect Tsai's signature foreign policy — but not necessarily for the worse.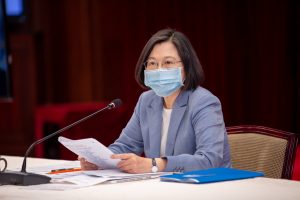 Taiwan's New Southbound Policy, the country's "regional strategy for Asia" inaugurated by incumbent President Tsai Ing-wen in 2016, has been impacted by the global COVID-19 crisis, though not all in a disappointing direction. The NSP's short-term stagnation is inevitable given the global economic downturn, but calls for supply-chain diversification from China have also never been that widely supported. It is, however, still up to Tsai's government to rise up to the challenge and settle priorities moving into her second term. This will ultimately determine the final effects of COVID-19 on her signature foreign policy.
Short-Term Setbacks and Long-Term Strengths
After some gains in Tsai's first term, Taiwanese banks reported a 15.23 percent decline in profit in New Southbound-targeted South Asia, Southeast Asia, Australia and New Zealand for the first quarter of 2020 compared with the same period last year, mostly attributed to pandemic-related reasons. And while the number of tourists from NSP-targeted countries rose by 2.7 million people last year, an impressive 6.8 percent growth rate from 2018, it is almost certain that COVID-19 will cause a downturn in that upbeat trend. The authorities are now funneling an estimated US$14.85 billion in financial aid just to keep the tourism sector afloat. The NSP seems to be an obvious casualty of the COVID-19 crisis at a first glance.  
This short-term negative news, however, is not the full picture of COVID-19's impact on Taiwan's New Southbound ambitions. On the higher education front, with China's Ministry of Education using "the current situation of the COVID-19 outbreak and cross-strait relations" as a reason to ban future Chinese students from studying in Taiwan, universities incentivized by Taiwan's Ministry of Education to enroll more students from South and Southeast Asia are now pushed to further double down on such efforts. As Beijing uses Taiwan as a convenient target to divert attention from the COVID-19 crisis, the continued deteriorating of cross-strait ties will only further strengthen this Southbound trend, forcing domestic stakeholders to increasingly forgo hopes for a return to the warm ties with China seen in the Ma Ying-jeou era. This will lessen domestic resistance (and passiveness) and increase complementarity in some sectors toward Tsai's NSP prescriptions.
On the industrial front, the relocation of global supply chains from China and partially into South and Southeast Asia is a trend heavily participated in by Taiwanese firms. While pandemic restrictions have temporarily slowed Taiwanese investments into Vietnam and other countries in the region, the effects of the U.S.-China trade war and long-term structural transitions continue to push China-based Taiwanese manufacturers, many of them in high-tech industries, to relocate there. With a new bilateral investment agreement (BIA) signed in December 2019, Taiwan's status as the fifth-largest foreign investor in Vietnam is projected to be further cemented. 
All in all, while COVID-19 has created some short-term setbacks for the NSP's industrial component, it has only further strengthened the rationale and foundations for Taiwan's policy orientations. Taiwanese authorities will continue to push for high-value manufacturers to relocate home, encourage middle- and low-value manufacturers to relocate to NSP-targeted countries, and support the establishment of industrial and technical cooperation bases in Europe and North America.
Taiwan's (Partially-Successful) Diplomacy in the Age of COVID-19
International media coverage of Taiwan during COVID-19 has so far been impressively positive. With only seven deaths and 440 cumulative cases (as of May 18), Taiwan's pandemic response has garnered widespread praise domestically and internationally, which has given it a platform to step up its external efforts. Ramped up production has enabled the Taiwanese government to perform extensive "mask diplomacy," donating millions of face masks abroad to countries in need (including 1.6 million to NSP-targeted countries). Businesses and municipalities have also spearheaded their own efforts: Taoyuan city in northern Taiwan has partnered with local business associations to donate 15,000 hazmat suits to Thailand, citing the city's close-knit business ties with Thailand and Thai migrant workers' contributions throughout the years.
Taiwan's actions extend well beyond these donation efforts. Taiwanese representative offices and medical centers have been setting up online seminars to share experiences with regional counterparts, which, according to the Taiwan External Trade Development Council (TAITRA), include exchanges between National Cheng Kung University Hospital and 14,000 medical personnel from India. TAITRA has presented a reliable ecosystem of pandemic prevention products for countries in need, while Southeast Asian-based Taiwanese research centers have stepped up pandemic response-related cooperation with local counterparts, either through sharing expertise or coordinating information and resource distribution. As the slogan "Taiwan Can Help" manifests, Taipei is working hard to make sure regional countries take note of Taiwan's positive role and technological might.
But while Taiwan's efforts have been welcomed in most quarters, they have not been entirely successful. A social media post by Temasek Holdings CEO and Singaporean first lady Ho Ching, in which she shared and commented "Errrr…" on a news article headlined "Taiwan to donate medical masks to Singapore," drew quite a bit of attention in both Taiwan and Singapore. Many inferred that Ho was not keen on the idea. A few days later Ho shared another video depicting anti-Tsai Ing-wen content, which caused another online spat between Taiwanese and Singaporean netizens. Ho later apologized, saying, "I owe the President of Taiwan a personal apology, and hope to make amends in calmer times." While Taiwan-Singapore ties remain stable, the incident has understandably complicated domestic support for Taiwan's mask donations overseas.
The "China factor" also continues to loom in the background. After a Taiwan-based Philippine migrant worker used social media to criticize President Rodrigo Duterte's handling of the COVID-19 outbreak, Taipei's decision to support her freedom of expression unexpectedly invited a comment by Philippine Presidential Spokesman Harry Roque on the matter of deportation. Roque claimed that whether the migrant worker should be deported rests with both Taipei and Beijing, that he will "leave that wholly to the decision of Taiwan and China. Taiwan is part of China." This comment was subsequently refuted by Taipei and criticized by the Philippine representative to Taiwan. This, however, is not the first time "Taiwan is part of China"-esque understandings have caused difficulties for Taipei during the pandemic: Vietnam and the Philippines moved to ban Taiwanese flights (alongside Chinese flights) in early February, actions reversed only after protests and lobbying efforts by Taiwanese diplomatic offices. It is clear that China's clout in regional countries continues to influence approaches towards Taiwan, a reality that Taiwan and its NSP partners must find creative ways to navigate.
More New Southbound Policy in Tsai's Second Term?
As Tsai prepares to inaugurate her second 4-year term on May 20, many have speculated about what will come in the next phase of the NSP. While the U.S.-China trade war and the ongoing pandemic have increasingly occupied Tsai's attention, it is vital that her administration follows up on NSP achievements (and setbacks) during the past few years, especially since Washington has made this a focal point of U.S.-Taiwan cooperation alongside its Indo-Pacific push. Taiwan needs to step up its efforts for the NSP, even though such a long-term strategy takes time to see results and requires serious patience.
For example, with the ongoing pandemic, the medical and industrial arms of Taiwan's NSP are well-positioned to move forward. The Ministry of Health and Welfare's "One Country, One Center program" is now working in seven countries to deepen medical healthcare cooperation between Taiwan and the host country. Its objectives — to promote pharmaceutical and health-related industrial supply chains, establish a regional disease prevention network, and others — fit perfectly within both Taiwan's COVID-19 international assistance and the NSP. The NSP's education arm could also market Taiwan's medical and public health postgraduate programs, while the NSP's technological arm may also potentially benefit. This is a win-win scenario for both Taiwan and regional countries, and could also work in conjunction with U.S. efforts during and after the pandemic.
As devastating as COVID-19 has been, the global crisis it has created will eventually end. The struggle for Taiwan's viability, however, sees no such definite conclusion. Taiwan needs both a domestic industrial transformation and an international reorientation to keep up with the times, something that will only happen when an administration decides to persist with long-term strategic thinking. Good NSP results should encourage the Tsai administration. Unattained goals should inspire policy innovation to improve circumstances. It is yet too early to label Tsai's NSP a success or a failure, while there is still much that needs to be strived for.
Jeremy Huai-Che Chiang is a non-resident research associate with the Taiwan-Asia Exchange Foundation (TAEF) and concurrently a MPhil candidate at the Department of Politics and International Studies (POLIS), University of Cambridge.