The US Pulls Pensions Out of China. What's the End Game?
Coming as part of a sea change in Trump's rhetoric toward China, this could be the start of a larger strategy.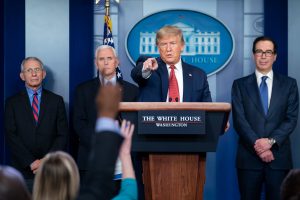 On May 11, Larry Kudlow, director of the National Economic Council at the White House, and National Security Advisor Robert O'Brien penned a letter to U.S. Secretary of Labor Eugene Scalia.
"It has come to our attention that billions of dollars from our federal employees' retirement funds in the Thrift Savings Plan (TSP) will soon be invested in Chinese companies," the letter begins.
The investment into Chinese companies, the letter states, would expose the retirement funds to "significant and unnecessary economic risk," while at the same time putting the money of American federal workers to use on behalf of Chinese companies that present "national security and humanitarian concerns."
According to the letter, some of the companies which federal workers would have been unwittingly supporting through the investment of their pension funds are ones that "operate in violation of U.S. sanction laws and assist the Chinese Government's efforts to build its military and oppress religious minorities."
The New York Times reported last October that the index that the Federal Retirement Thrift Investment Board had slated for a $50 billion investment this month includes Chinese companies such as Hikvision, AviChina Industry & Technology Co., Ltd., China Mobile, and China Communications Construction Company.
Hikvision makes video surveillance equipment and is on the U.S. entity list, blacklisting it for being imported into the United States. It is known to have sold systems that are a resource for controlling Uyghurs in China's northwest Xinjiang region, where over a million Muslims have been placed into camps for "education" on the CCP's infallibility.
AviChina is a state-owned manufacturer of military planes and missiles for the Chinese People's Liberation Army. China Mobile was blocked in May 2019 by a unanimous, bipartisan 5-0 FCC vote from providing international phone services in the United States, on grounds that allowing it to access the U.S. phone network would have serious national security risks.
China Communications Construction Company, a state-owned behemoth of a builder of Chinese-led infrastructure projects all over the world, is also in the business of building islands to project China's power and claim of sovereignty over the waters of the South China Sea.
What is the method by which American federal employees would be investing in Chinese companies? Are the investments somehow going through Hong Kong, or China itself?
No need. These Chinese companies are listed in the United States, often with little insight into their fiduciary health, and even less oversight into their operations or ties to the Chinese Communist Party and the Chinese military. According to Roger W. Robinson, Jr., writing in Hillsdale College's Imprimis, "China has over 700 companies in our stock and bond markets or capital markets. It has about 86 companies listed on the New York Stock Exchange, about 62 in the NASDAQ, and over 500 in the murky, poorly regulated over-the-counter market."
President Donald Trump has changed America's relationship with China by first acknowledging and then answering American anger and frustration over job loss, technology theft, and predatory practices. By confronting China in no uncertain terms, by imposing tough tariffs, and by keeping the issue alive and very much part of the public debate, Trump has managed to make both political as well as real economic hay out of his policies, resulting in the "Phase One" trade deal signed in January.
But just 16 days after the trade deal was signed, all flights from China were banned from entering the United States. The president, the administration, and the world had woken up to the threat posed by the novel coronavirus. China, meanwhile, not only allowed flights to continue to leave – including international flights from Wuhan – but excoriated other countries for taking steps to shut down air travel.
As the pandemic worsened, Trump's tone on China changed. He doesn't talk about Chinese President Xi Jinping "as a friend of mine" much anymore.
Rather, Trump now makes statements similar to one he made on April 29, in response to press questions at a roundtable of industry executives convened to discuss plans to open up the United States again.
Trump noted the disease had impacted "far too many people, needlessly, because it could have been stopped at the point of origin. And somehow we weren't helped by — whether it's World Health Organization or China, whoever, we weren't — they didn't do what should have been done." (Italics added for emphasis).
Amid this changed rhetoric, does the withdrawal of $4.5 billion of hard currency investment in Chinese companies signal the beginning of a move to exploit China's ongoing need for dollars?
"Chinese foreign exchange reserves rose to USD 3.091 trillion in April of 2020," according to Trading Economics. Surely, China, holding foreign exchange reserves far and above any other country in the world, doesn't have a dollar problem. Or does it?
"If there was a sudden shock to the country, China would not have enough U.S. dollars to support its own currency," Kevin Lai, chief economist for Asia excluding Japan, at Daiwa Capital Markets told the South China Morning Post last May. "So that is why China needs to stop money outflows while creating inflows to support the yuan."
Eight months later, a sudden and seismic indeed shock happened in China, and the virus – along with the resulting economic devastation — has now spread to the world. Four months later, the United States is now blocking the flow of U.S. investment dollars into Chinese companies, using a mechanism not accessed previously. Is this a point of principle, or the beginning of a more pointed strategy?
The president of the United States may be on a path to a different agenda with China than he originally came into office with. Watch the dollars.