Australia to Re-engage With International Institutions
Despite distrust among the general public of "globalism" and international institutions, Canberra affirmed its commitment to multilateral diplomacy.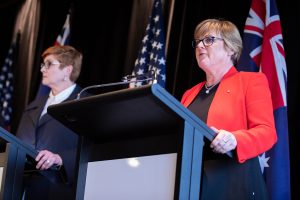 Australian Foreign Minister Marise Payne has reiterated Australia's commitment to international institutions even as trust of some institutions, including government, media, business, and NGOs, has plummeted to an all-time low. 
In her first major speech since the COVID-19 pandemic began, Payne expressed the government's willingness to re-engage with international institutions on multilateralism, following an audit into "negative globalism" ordered by Prime Minister Scott Morrison last year.
Payne said the audit "affirmed that multilateral organizations, especially international standard setting bodies, create rules that are vital to Australia's security, interests, values and prosperity."
"Those bodies regulate international cooperation in key sectors of our economy, including civil aviation, maritime transport, intellectual property, telecommunications and agriculture," she said. "They promote universal values and play critical roles in responding to emerging global challenges: from the regulation of cybersecurity to maintaining a peaceful outer space, to outbreaks of Ebola and COVID-19."
Payne said the audit did find, however, that while the performance of some organizations had been waning in recent years, Australia's interests were best served by not stepping away from them.
"The audit also recognized the pressure these bodies are under and that at times, their performance has struggled to deliver on their agreed mandates. Notwithstanding the limitations identified by the audit, Australia's interests are not served by stepping away and leaving others to shape global order for us."
The audit was first announced by Morrison last year during a speech at the Lowy Institute. For many, Morrison's speech echoed the worldview of Trumpism and Brexit. 
"We should avoid any reflex towards a negative globalism that coercively seeks to impose a mandate from an often ill-defined borderless global community and, worse still, an unaccountable, internationalist bureaucracy," he said. 
"Only a national government, especially one accountable through the ballot box and the rule of law, can define its national interests. We can never answer to a higher authority."
Morrison's speech caught many off-guard, including the Department of Foreign Affairs and Trade. 
In response to a question on whether Morrison's comments were misguided, Payne said they were necessary at the time and that the audit has now concluded that Australia should push for reform in institutions as opposed to stepping away from them altogether and that's what Canberra would be seeking to do. 
Some of Australia's key allies, however, have already begun stepping away. Since U.S. President Donald Trump came into office, he has pulled the United States out of the Paris Climate Agreement, the Trans-Pacific Partnership, the United Nations Human Rights Council, the Intermediate-Range Nuclear Forces (INF) Treaty with Russia, and the Iran nuclear deal, and has threatened to pull the United States out of the North Atlantic Treaty Organization (NATO), the World Health Organization (WHO), and the World Trade Organization (WTO) and countless other organizations and treaties. 
In the United Kingdom and Europe, where many of these global institutions began and remain based today, Brexit unleashed a wave of anti-globalist sentiment and has threatened the core of the European Union. 
Beyond Brexit itself, British Prime Minister Boris Johnson has backed away from his earlier rhetoric and has also spoken recently of the importance on global cooperation. 
Yesterday, Australia and the U.K. announced they're working toward a free trade agreement that would see a greater flow of goods and services, more opportunities for both countries' citizens to live and work abroad, and greater cooperation between the two countries' key pillars of government. 
British International Trade Secretary Liz Truss used an interview with The Age to condemn protectionism and commit Britain to the fight for global cooperation. 
"One of the really important things we can do as we recover from coronavirus is fight the protectionist rhetoric and instincts of some nations, and this is another area where Australia and the United Kingdom are very, very aligned," she said. 
Truss also confirmed that Britain was in "active discussion" with all 11 members of the Comprehensive and Progressive Agreement for Trans-Pacific Partnership (CPTPP).
Australia finds an internal challenge, too. Payne's call for Australia to champion international cooperation has coincided with record-high distrust of institutions among Australians. Research published earlier this year by the Edelman Trust Barometer found that the gap in Australia between what the report described as the "trusting" informed public and the more skeptical general population is the highest in the world.