Developing Vietnam's Renewable Energy Industry
Renewable energy is a fast-growing sector in Asian countries, broadly, and Vietnam could benefit from investment in the sector.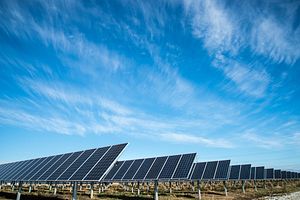 Over the last decade, there has been rapid growth in Vietnam's energy industry. The demand for electricity in Vietnam has significantly increased in line with its overall economic growth. According to the Vietnam National Load Dispatch Centre data, the average daily electricity consumption was 615 million kWh per day in the first few months of 2020, an increase by 7.5 percent compared with 2019. Although many sectors and businesses were impacted by the coronavirus pandemic, the country's electricity consumption still rose.
Vietnam has been impacted by pollution and climate change, and so it requires the country to reform the power sector and adopt an effective transition to a renewable energy system. Such a shift would help mitigate these problems, ensure energy security, and meet the growing demand for electricity of business activities and economic and industrial development. It is forecasted that demand for energy will increase by over 10 percent per year by the end of 2020 and by 8 percent per year in 2021-2030. 
According to one estimate from a Vietnamese government official, renewable energy should account for 10-15 percent of Vietnam's energy mix.
The Vietnamese government adopted the Renewable Energy Development Strategy by 2030 with an outlook to 2050. The plan focused on expanding "the scale and increasing the proportion of renewable energy sources," solving "the issues of energy supply to the urban area," contributing to promotion of production development, and building "a society which economically and effectively use the friendly environmentally natural resources." Vietnam aims to unconditionally reduce its greenhouse gas (GHG) emissions by 8 percent by 2030 and its conditional target is to reduce GHG emission by 25 percent by 2030. Vietnam also plans to introduce flexible feed-in tariffs (FITs) and an investment protection policy, and grant incentives for development and use of renewable energy.
While renewable energy is a fast-growing sector in Asian countries, broadly, Vietnam can be regarded as a good place for investing in the renewable energy sector. The Vietnamese renewable energy market has risen gradually. In Vietnam, renewable energy projects will be regulated in terms of power development plans, the power purchasers and power purchase agreement execution process, and approvals and consents from the relevant authorities.
The Vietnamese renewable energy industry is appealing to foreign investors as demand for electricity is high. Under the Vietnamese law on investment, foreign investors can incorporate 100 percent ownership of Vietnamese companies in the energy sector and can trade in different types such as 100 percent foreign invested company, joint ventures or public-private partnership and BOT (Build-Operate-Transfer). Moreover, Vietnam has adopted flexible policies for the renewable energy in recent years, particularly paying attention to the solar and wind energy projects in the country. 
Vietnamese policymakers try to promote the industry by reducing barriers to investment in renewable power. Vietnam has incentives for solar power investment projects including the reduction of land-use fees, land rent, and surface water rent. Vietnam introduced the flexible FITs system which accepted grid-connected solar projects "with solar-cell efficiency greater than 16 percent or solar-module efficiency greater than 15 per cent, a FIT will be fixed at 2,086 Vietnamese dong/kWh (equivalent to 9.35 US cents/kWh excluding VAT) for generating electricity at the delivery point." As a result, Vietnam enjoyed a boom in solar projects and is the largest solar power installer in ASEAN, two years after introducing the FITs system. 
In April 2020, Vietnam  revealed a new FITs rate utility-scale, rooftop and floating PV projects. These rates were in line with industry expectations, roughly 10 months after the expiration of its old tariffs. Vietnam also has more ambitious targets for renewable energy due to its rich wind resources and potential. Vietnam aims to have 800 MW of wind energy capacity by 2020, 2,000 MW by 2025 and at 6,000 MW by 2030. However, its current FITs is set to expire in November 2021 and Vietnam proposed to extend its feed-in tariff scheme a further two years to the end of 2023, and the country plans an auction program which would make Vietnam a price-competitive wind power place for wind renewable energy projects
Despite the coronavirus pandemic disrupting global clean energy supply chains and construction, projects for solar power energy are still growing gradually in Vietnam.  On May 29, BCG launched a solar energy project with total investment of 6.2 billion Vietnamese dong ($265,000) in the central province Binh Dinh. The project will be built on an area of 380 hectares with a total capacity 330MW. The project is needed because it will create a stable source of electricity for local businesses and economic development of the country, improve living standards and stabilize social security. It will also reduce CO2 emissions by 146,000 tons and protect the environment.
Foreign entities can acquire renewable projects in Vietnam. Foreign investors have bought plenty of solar and wind power plants and increased its ownership within the sector via stake acquisitions or business ventures. But there are some concerns and challenges about the industry due to high investment costs and limited power grid infrastructure capacity, the guidelines and regulatory approvals by authorities. It took a long time for developers to get the projects approved by the authorities. The higher cost of capital is limiting its ability to attract significant foreign direct investment.
Vietnam has great potential for the renewable energy industry, which helps the country take a cleaner and more secure energy pathway. Hence, the Vietnamese government should consider doing more, such as cutting red tape in business and easing regulatory infrastructure in order to make the country even more attractive to renewable developers.