Indonesia's Intelligence Service is Coming Out to Counter COVID-19
BIN is extending their role outside what a covert agency is supposed to do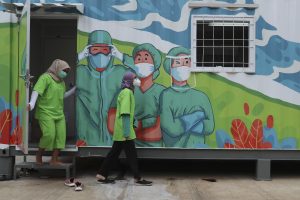 Amid the COVID-19 pandemic, almost all Indonesian national security agencies have been heavily involved in the response. The government is filled with retired military and police general officers, most of whom have leading roles in the government's COVID-19 Task Force. The Task Force itself is filled with active duty military and police officers.
With great responsibility comes great power, as these national security agencies' roles have extended amid the pandemic response. The Armed Forces (TNI)'s supposed role in the pandemic response is to provide military assets to support in term of logistics, supply, and transport. They soon became the administrator of COVID-19 emergency hospitals in Kemayoran, Jakarta and Galang Island, Riau Islands. Meanwhile, the Police (POLRI)'s role in the pandemic response is to enforce social distancing and other mitigation measures. However, their role soon extended to crackdowns against criticism of the government. By June 15, they are already investigating 130,680 coronavirus-related hoaxes, have arrested 17 suspects, and are prosecuting 87 suspects.
Nevertheless, compared to TNI and POLRI, the extended role of the State Intelligence Agency (BIN) is arguably the most problematic. BIN's role is to conduct contact tracing to track the spread of COVID-19, as part of the early warning system as what an intelligence service should do. However, their has extended to everything related to the pandemic.
On March 13, BIN announced to the public that they had made a modelling of the spread of COVID-19 which predicted that the peak would occur in May. On April 17, BIN donated medical equipment and medicines to the government's Task Force. BIN established a medical intelligence unit – which they did not have prior to the pandemic – and recruited medical personnel volunteers for handling the pandemic, who were inaugurated on April 22. BIN has prepared rapid test mobile laboratories and conducted several tests in Jakarta, South Tangerang, Tangerang, Surabaya, and other areas. BIN delivered medical equipment aids to local governments. BIN has also sprayed disinfectants to several areas and educated the community on the dangers of coronavirus. On June 6, BIN again announced to the public that they predict that the number of cases will still increase – despite previously predicting it would peak in May. Finally, on June 12, BIN announced that they are coordinating the acceleration of COVID-19 medicine production.
BIN's role in the pandemic response is problematic for three reasons: First, BIN does not have specialization in epidemiology and public health. Therefore, the fact that they made a modeling of COVID-19 is something that is out of their areas of competence. Such a task is better left to the Ministry of Health or epidemiologists and public health experts.
Nonetheless, on April 2, the Chief of the government's COVID-19 Task Force said that BIN's prediction on the number of COVID-19 cases, which was announced in mid-May, was "99 percent accurate." This accuracy claim, however, must be juxtaposed with the fact that the testing rate in Indonesia was very low. It was also disproved by BIN themselves, when in June they announced another prediction that contradicts their previous one. Still, the accuracy claim made news headlines even in June, when BIN announced that the government's plan to apply new normal will result in more than 106,000 cases by July.
Second, even if we assume that BIN has competence in making predictions about COVID-19, intelligence work should only be delivered to the president as the single client; it should be confidential and not open to the public. Therefore, the act of announcing their prediction of the pandemic to the public is contrary to BIN's very essence as an intelligence agency.
To be fair, BIN seems to have also provided the president with intelligence on COVID-19. In an interview with presenter Najwa Shihab broadcast on TV on April 22, President Joko Widodo said that he received "daily paper briefing" on the pandemic, which most likely refers to the president's daily intelligence brief. However, what the president said about the brief is interesting: He was answering the question on why the government decided not to conduct lockdown, and his answer was that the brief claimed no country had succeeded in conducting a lockdown. It was noteworthy because on the same day, Vietnam just announced success in flattening the curve without a single coronavirus-related death through lockdown. In fact, since March several local governments had announced local lockdowns while several civil society initiatives had been calling for a national lockdown, but the government avoided it. This observation leads me to conclude that, in line with my first argument, BIN's intelligence on the pandemic is not very accurate.
Third, as an intelligence agency, BIN's actions should be clandestine; its role in the COVID-19 response is no exception. Therefore, even if they are conducting tests and other actions in public, BIN should not publicly put out their name and cover their acts on behalf of the name of other institutions.
In fact, conducting actions in public is no stranger to BIN; they used to be involved in what Indonesian national security agencies call "condition creation" with TNI and POLRI. Nevertheless, as an intelligence agency, they would put out the name of other institutions to cover their involvement. This is in accordance with their slogan: "If successful, not to be praised; if unsuccessful, to be reviled; if lost, not to be sought; if dead, not to be acknowledged." BIN used not to seek credit for their work. Why, then, does BIN come out of the dark to do their job in the light?
There is no definitive answer to the above question; nonetheless, leadership is one of the probable causes. BIN Chief Budi Gunawan, after all, had come to the forefront of Indonesian politics last year when he bridged the reconciliation between President-elect Joko Widodo and his rival, Prabowo Subianto, after an election dispute led to protests and riots. When President Widodo and Subianto finally met at an MRT station in Jakarta, Gunawan stood in the middle between them, taking a part of the spotlight. It may be the case that he is taking BIN to take a greater role under the sun – in Indonesian politics in general, and pandemic response in particular.
Tangguh Chairil is a lecturer in security studies at the Department of International Relations at Binus University, Jakarta. The views expressed are his own.