Justice and the June Events: Looking Back at Kyrgyzstan's 2010 Troubles
Two wrongs don't make a right: a decade after violence exploded in Kyrgyzstan's south, Azimzhan Askarov remains in jail.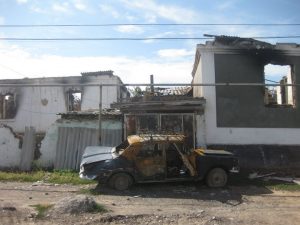 Ten years ago, on the night between June 10 and 11, violence broke out in the Central Asian republic of Kyrgyzstan. Over the next few days, about 470 people died in clashes between ethnic Kyrgyz and Uzbeks in the south of the country.
Those who lost someone in what is now often referred to as the "June events" will be remembering them this week. Let us also remember a man who still waits for justice in a prison cell outside Kyrgyzstan's capital, Bishkek.
Violence spread like wildfire that June, shortly after Kyrgyzstan's second revolution in a decade. Mobs entered the mahallas, neighborhoods organized along narrow lanes between clusters of houses. Thousands of terrified women and children fled across the border to Uzbekistan, crossing the same fields where only five years before, refugees fleeing Uzbekistan's Andijan massacre had run in the opposite direction.

The Norwegian Helsinki Committee, where I work, and HRC Memorial from Moscow were among the first outsiders to arrive. Brutal operations were ongoing even as we interviewed victims. A man was brought in dead at a hospital we visited, soldiers looking on from an armored personnel carrier parked in the yard.
Authorities never denied the truthfulness of our subsequent report, "A Chronicle of Violence." But some had reason to dislike it. The government should have done more to protect citizens from mobs that raged through southern towns during those frightful days. Authorities often did little to end baseless rumors and nothing to prevent violence. Kyrgyz authorities later sought to have the report included on a list of materials considered "extremist" in the country. A court hearing on the issue recently concluded in our favor, but the matter does not yet seem entirely closed.
In late June 2010, we went to the capital and met with Interim President Roza Otunbayeva to relay what we had seen in the south. By the time we returned, travelling to the city of Jalal-Abad, June had turned to July. The area was high-strung again, as government forces tore down barricades. In ransacked homes and overfilled hospitals, we met people who had been badly beaten by police forces.
In the small town of Bazar-Korgan, human rights defender Azimzhan Askarov had been arrested two weeks earlier, after a night of ethnic clashes near his office. I had met him in more peaceful times and knew him as a friendly man. We had received a grant application from him once: a project to monitor and report on violations and police violence in his hometown.
Like so many, I was skeptical about the charge that he had murdered a police officer during clashes in the middle of the night. Rather, Askarov seemed to have been out that night doing exactly what he described in his project proposal: documenting human rights violations with his camera, pen, and paper.
When we arrived, his lawyer was standing outside the local jail. Nurbek Toktakunov is a tough nut, but that day he was visibly shaken. Supporters of the deceased policeman had confronted Toktakunov, tearing at his clothes, threatening him. Photographs of Askarov's bruised lower back left no doubt how he'd been treated inside the jail.
The next morning, Askarov was taken by convoy for a court hearing. Angry crowds gathered outside the Jalal-Abad courthouse. The area was under martial law, and as the only "foreigner" around I was dispatched to the commander to ask for more security. The judge ruled that Askarov would remain in custody. A man told me: "It's for the best. They [the crowd] would have lynched him."
After a trial marred by accusations of torture and various irregularities, Askarov was given a life sentence in 2010.
In 2015, after the U.S. State Department conferred its Human Rights Defender Award to Askarov, Kyrgyzstan responded by tearing up a bilateral treaty between the two countries. In 2016, the UN Human Rights Committee urged Kyrgyzstan to release Askarov immediately, prompting some in the country to call for Kyrgyzstan to "leave the UN." 
Askarov has lost all his appeals, most recently in the Kyrgyz Supreme Court.
A former ambassador of Kyrgyzstan to the United States recently noted that outsiders seem not to appreciate the complexity of Askarov's case. Perhaps. We do see that releasing Askarov may cause anger in certain segments of the population in Kyrgyzstan. If he left the country, that anger might be directed at other minority representatives. It might be directed at the government itself. Some of those angered might even be members of government.
We realize that many Kyrgyz families are still mourning the loss of loved ones after the terrible June events 10 years ago. 
We also see a discrepancy in that a majority of those killed in the June events were ethnic Uzbeks and that a majority of those sentenced to prison in the aftermath were also Uzbek.

It seems to have become a matter of misplaced principle to some that Kyrgyzstan's choices will not be dictated by outsiders. Keep Askarov in prison, show them who's boss — that's what these people believe. But two wrongs don't make a right. Adhering to universal human rights principles is not an expression of weakness. Reconciliation is an expression of strength.
Azimzhan Askarov will turn 70 next year, in a prison cell in a country where the average life expectancy is 71. Kyrgyz authorities and the international community may not see eye to eye on everything, but simple math adds up the same everywhere.
Ivar Dale is a senior policy adviser for the Norwegian Helsinki Committee.