Kyrgyz Authorities Make Corruption Accusation Against Journalist
Kyrgyz authorities allege, with the hearsay of a single witness, that journalists involved in a massive investigation of corruption took payment to report.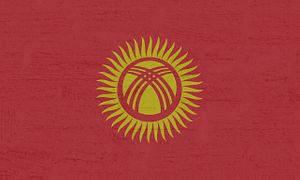 The parliamentary hearing was supposed to focus on the murder of Aierken Saimaiti, a Chinese-born Uyghur businessman and confessed money launderer-turned-source for a bombshell report on corruption in Kyrgyzstan last year. But on June 2, Kyrgyzstan's state security service — the State Committee for National Security (GKNB) — instead lobbed the unsubstantiated accusation that Saimaiti paid reporters from RFE/RL's Kyrgyz Service $100,000 and provided them with falsified documents.
Saimaiti was a key source for the journalists investigating the role and sway of a secretive Chinese Uyghur family — the Abdukadyrs — which, according to the award-winning investigation, ran a cargo smuggling operation through Kyrgyzstan with the support of corrupt customs officials. One of those implicated in the investigation was Rayimbek Matraimov, a former senior customs service official. The Matraimov family has denied all allegations thrown at them. 
Saimaiti was murdered in Istanbul on November 10, 2019. Days later, OCCRP, RFE/RL and Kloop published their investigation. 
Samidin-uulu Sagynbek, head of the security service's investigative team, told the parliamentary hearing this week that the GKNB had testimony from a witness alleging that Saimaiti had hired the RFE/RL journalists to put pressure on Khabibula Abdukadyr following a financial dispute; another alleged that Saimaiti gave the reporters falsified documents.
In a statement, the Organized Crime and Corruption Reporting Project (OCCRP) — which marshaled the reporting project alongside RFE/RL's Kyrgyz Service and local outlet Kloop — pushed back on the course of the hearing:
Rather than focusing on the large-scale corruption revealed in the joint publication, the State Committee for the National Security of Kyrgyzstan (GKNB) focused squarely on investigating a murder victim — one of the sources for the story — and on the journalism itself. The agency relied on two witnesses, one who alleged that reporters had used fabricated documents and one who alleged improper behavior on the part of an RFE/RL reporter. Neither claim was backed by documentary evidence and both relied on hearsay.

We stand fully behind our reporting. The disputed documents were acknowledged as such, and the conclusions reached in the investigation do not rely on them in any way.
OCCRP goes on to state that the investigation was extensively and independently fact-checked.
RFE/RL President Jamie Fly dubbed the allegation "retaliation" against journalists. 
There are two allegations at hand: The first that Saimaiti paid journalists to report, a serious accusation. But the only witnesses referenced by Kyrgyz authorities on that account is Erkin Sopokov, the former Kyrgyz consul-general in Istanbul. Sopokov was dismissed after his car was found near the cafe where Saimaiti was murdered. He was subsequently arrested by Kyrgyz authorities on suspicion of abuse of office; RFE/RL reported that he was alleged to have allowed Saimaiti to use his car. Given that he faces charges of his own, his statements ought to be viewed critically. Furthermore, a payment of $100,000 would leave some kind of trace — if the Kyrgyz authorities have such evidence, they didn't present it.
The second allegation is that Saimaiti provided fabricated documents relating to transfers of money is even weaker. As OCCRP points out in their statement, their reporting clearly acknowledges which documents are disputed and which could not be independently verified. Most importantly, the conclusions of their investigation don't rest on such documents — for the very reason that they could not be verified. 
Meanwhile, the Matraimov family has pursued lawsuits against the involved media outlets. Kyrgyz Service journalist Ali Toktakunov has relocated to RFE/RL headquarters in Prague, given serious concerns for his safety in the region. As Eurasianet reported in April, a former customs official and protege of Rayimbek Matraimov claimed that the family instructed him to return Toktakunov to Kyrgyzstan "dead or alive."
Far from investigating seriously the matter of corruption in Kyrgyzstan's customs service, Kyrgyz authorities appear intent to put Saimaiti and journalism on trial instead. The whole mess is complex and dirty — as corruption usually is — but OCCRP, RFE/RL and Kloop conducted a thorough investigation which ought to provide at least an outline for the authorities to follow if they were at all interested in rooting out corruption.