Murder Case Sparks a Reckoning With Nepal's Caste Discrimination
Caste-based discrimination remains a national tragedy, but one that is rarely discussed.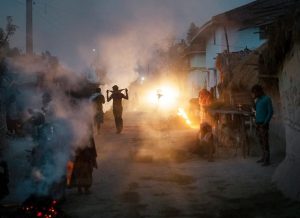 While the world is fighting COVID-19, the death of Nawaraj BK along with five other young men in Rukum, Nepal, garnered national attention and made headlines on every news portal. The men did not die from COVID-19 however; instead they were murdered because of caste-based discrimination..
On May 23, Nawaraj and his friends from Jajarkot had gone over to Soti to bring home his girlfriend as Nawaraj's bride. Tragedy followed immediately as Soti's villagers pelted stones and chased the group of 19 young men to the shores of the Bheri River where they were swept away.
What was their fault? Nawaraj was a Dalit; his would-be bride, a Thakuri – one of the "upper castes."
Nepal was declared free from caste-based discrimination on June 4, 2006, but almost 14 years since this declaration people from so called "lower castes" are still facing gruesome discrimination and are deprived of basic facilities and infrastructures.
According to Article 24 of the Constitution of Nepal, no person shall be subjected to any form of discrimination or untouchability on grounds of his/her origin, caste, tribe, community, occupation, or physical condition. Any act of untouchability and discrimination shall be punishable by law, and the victims shall have the right to obtain compensation. However, discrimination and untouchability still exist and the society continues to be divided between "upper caste" and "lower caste."
Caste discrimination isn't something that has emerged recently in Nepal. It is a cultural and social phenomenon that has been a part of the traditions of Hinduism for thousands of years, dividing people into castes in a hierarchical order based on their descent. Since the end of the monarchy in Nepal, the government has struggled to impede this type of discrimination (with only minor success), while at the same time endorsing religious freedom in a much-proclaimed secular state. The efforts made by various governments, such as legislation changes, have proved drastically insufficient even as caste-based discrimination has moved from being a religious tradition to becoming a human rights violation with international ramifications.
The National Human Rights Commission's annual report of 2019 mentions that many children of the Dalit community drop out regularly from schools and do not complete their education, which leads to a lack of opportunities, resulting in poverty. Dalits aren't allowed to attend the funeral rites of non-Dalit families and that they are compelled to use separate places for cremating their dead. Practices like preventing Dalits from using wells and taps in non-Dalit areas and banning them from entering temples continue unabated. Inter-caste marriage isn't recognized. Dalits even find it difficult to rent a flat.
Hard data on discriminatory practices is difficult to come across, as the government of Nepal has not yet prioritized documenting cases of caste-based discrimination. Based on what we do know, many Dalits suffer from discriminatory practices involving food and drink (38.9 percent) and prohibition of entry into houses, temples, and other public places (28.3 percent). The incidence of caste­-based discrimination is higher in the western region than in the eastern region. This indicates that the form and extent of discrimination against Dalits are positively correlated with the extent of development of the area where they reside.
Caste-based discrimination also includes more violent attacks. Dalits are on occasion subjected to violent attacks, murder, harassment, and other atrocities. These cases are rarely reported, investigated, or prosecuted, as police, lawyers, and judges often belong to more dominant castes and are unwilling to get involved. Impunity in such cases remains common practice. However, it has to be acknowledged that media are becoming more vocal about the condition of Dalits.
Nawaraj BK was only one face of many Dalits who have been killed over caste-based discrimination. For example, Ajit Mijar, a local from Pachkhal of Kavre, was found murdered in Dhading within a week after he married an upper-caste woman in August 2016. News circulated stating that he committed suicide, but his family disagreed with the state's narrative and believed that he was murdered. Similarly, recently in Devdaha, Rupendehi, a 13-year-old Dalit girl was raped by an upper-caste man. The "solution" was to marry the young girl get to her rapist! But even then, the rapist's family refused to accept her marriage as she was a Dalit. The girl was later found dead, hanging from a tree. It took four days to even register a police complaint.
Many such cases go unreported or sometimes unseen. At least 25 Dalits have been murdered for breaking caste-based norms since 2011. Of those, at least five murder cases were related to inter-caste marriages. These days, most families forgo diving deep into the caste of the bride and groom before agreeing to a marriage. But when it comes to marrying Dalits, women are deserted and men murdered.
On May 23, caste-based discrimination killed more people than the deadly coronavirus in Nepal. The tragedy in Rukum should be a national reckoning. Until and unless strict action is taken by the authorities, many more people like Nawaraj BK will have to suffer.
As we have seen the world over, the same people who suggest that these incidents should not be politicized are the ones who are privileged enough not to have to fear such violence.
Aashiyana Adhikari is a research associate at the Centre for South Asian Studies, a Kathmandu-based think tank. Her research interest lies in regional connectivity, gender, and inclusivity and her work has been published in national newspapers and magazine as well as international websites.