Plight of Rohingyas Under COVID-19 Spotlights ASEAN's Failure
Amid the pandemic and global economic chaos, the ongoing Rohingya refugee crisis in Southeast Asia has quietly been swept under a rug.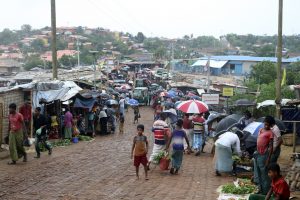 This year has been dystopian for many people in the world, with the coronavirus pandemic virtually grinding the global economy to a halt. While the looming recession has given rise to social disruptions such as massive unemployment and the Black Lives Matter protests in the United States have had worldwide impact, the ongoing Rohingya refugee crisis in Southeast Asia has quietly been swept under a rug by much of the global media.
The United Nations estimates that there are a million Rohingya refugees worldwide; most of them fled Myanmar in the last decade as persecution against the vulnerable minority intensified. Last year, Myanmar Foreign Minister and de facto leader Aung San Suu Kyi, once a democracy darling and now disgraced, refuted a recent UN investigation into the alleged genocide by the military junta.
Many of the Rohingyas who fled Myanmar live in cramped refugee camps in Bangladesh and some are trafficked around Southeast Asia. With a severe lack of basic health care and protections, many of them are at a significantly higher risk of contracting the coronavirus. 
The virus has also opened doors for human traffickers to resume operations loading Rohingya refugees onto rickety boats sent into the rough sea, with the hope that they may hit landfall in Malaysia, Thailand, or other neighboring Southeast Asian nations. Each Rohingya must pay at least 15,000 Malaysian ringgit ($3,507) to be trafficked on these floating death traps.
Malaysia, Thailand, and Bangladesh's recent pushback policy against these boats has heightened the plights of Rohingyas in Southeast Asia. Malaysia turned back 22 boats last week alone, while hundreds that made it ashore were detained as "illegal immigrants."
It was not too long ago, in 2015, when the world was in angst over seeing the tormented, chilling faces of Rohingya men, women, and children crying for help as they tried to survive choppy waters while countries in Southeast Asia were playing ping-pong games over their collective fates. 
Malaysian Defense Minister Ismail Sabri Yaakob warned that boats carrying Rohingya refugees are not welcomed to Malaysia. "They should not think that when they come, we will accept them. We will send them back," he told a press conference on Tuesday last week.
The Association of Southeast Asian Nations (ASEAN) has been keeping an eerie silence over the ongoing ill-treatment and trafficking of Rohingya refugees. In fact, Myanmar has kept such a strong grip over its own domestic affairs that no amount of ASEAN diplomacy has been able to properly address the burgeoning refugee crisis faced in the Southeast Asia region – hamstrung by ASEAN's own charter of no interference. 
Human Rights Watch blasted the Southeast Asia-based intergovernmental organization for having put "blinders" over the crisis, and further calls for actions by various rights groups have continued to fall on deaf ears.
The Rohingyas continue to be oppressed in their own country and conversations about sending them back to Myanmar have been met with harsh criticism by human rights groups that deem what they face back in Myanmar as a form of genocide. The pandemic has not just brought out the worst instincts in Myanmar, but also among fellow Southeast Asian brethren.
In Malaysia, the previous welcoming tone toward refugees has now shifted, with heightened hate speech and xenophobic treatment. The recent placement of an anti-Rohingya banner in front of a mosque in the Malaysian state of Johor summed up the local sentiments against refugees.
There has been no voice of reason and leadership from the new Malaysia government led by Prime Minister Muhyiddin Yassin, with the administration more concerned about an internal game of political musical chairs. Muhyiddin's ascension to power since March was the result of political mudslinging between him and the former Prime Minister Mahathir Mohamad. 
Last month, a letter signed by a collective group of activists and human rights organizations was sent to Muhyiddin, urging the government to combat online hate speech and xenophobia in Malaysia. The letter seems to have been conveniently left in the trash bin.
Malaysia once positioned and prided itself as a leader in the Muslim world by being especially vocal and at the forefront of issues such as the Israel-Palestinian conflict and the American-led wars in the Middle East. However, the Muslim refugee crisis in its own backyard has not been treated with the same fervor and language of justice and human rights.
As a result, many Rohingya refugees are currently living in fear of deportation. Online witch-hunts frame them as scapegoats for the many unhappy citizens anxious about the uncertainty in the economy and their way of life. Many refugees are facing deep mental health trauma and food insecurity as they navigate inconsistent realities of shifting government policies and public sentiments.
Malaysia can play a key role in ASEAN and setting up a paradigm for leadership in addressing the ongoing refugee crisis. The failure of ASEAN to respond to the influx of refugees and provide a basic framework of human rights has now showcased the failure of each and individual ASEAN government at its unifying vision of "One ASEAN Community."