What Can Taiwan Do to Help Defend Hong Kong?
The international response to China's latest power grab is uncertain. What can Taiwan do to help a Hong Kong under siege?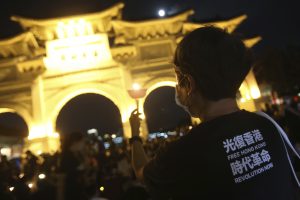 China's National People's Congress has passed a seven-point decision paving the way for legislation to apply a national security law to Hong Kong. One primary goal is to prevent "foreign forces interfering with Hong Kong affairs," a phrase repeated three times in the bill. Beijing's attempt to install its repressive national security apparatus is in effect laying the first building block of a "Berlin Wall" separating Hong Kong from the outside world and will gravely restrict the former colony's global political connections. One of the countries that would be most deeply affected if the legislation comes into force is Taiwan, which has aided Hong Kongers in their civil protests over the years, especially during the Anti-Extradition Movement.
We are in unsettling and precarious times. The U.S.-China rivalry has upset the global order and the ongoing COVID-19 pandemic has been devastating. While the United States is occupied with nationwide protests against police violence and racial injustice, an unbridled Beijing has decided to speed up its power grab in Hong Kong.
The United States is trying to lead a coalition to agree on sanctions against China. But apart from a handful of countries that have shown limited support — the United Kingdom has pledged to offer visas to Hong Kongers, for instance — the coalition seems weak so far. The Australian government signed a joint statement expressing deep concern but is not considering sanctions. Germany's Chancellor Angela Merkel has asserted that fundamental divisions between China and the European Union should not prevent dialogue and cooperation. The Chinese market remains a lure for most Western countries.
In China's backyard, Taiwan faces a different geoeconomic situation. Taiwan has long been dependent on China as a source of labor for its manufacturing sector and as its largest export market. As a result, Beijing has become skilled at swaying Taiwan's policy toward the mainland. The country has paid a high price. But in recent years, as Chinese leader Xi Jinping has turned the screw on Taiwan and escalated the level of repression in Hong Kong, the Taiwanese people's attitudes toward China have undergone a dramatic turn. According to a May 2020 survey by Academia Sinica, Taiwan's leading research institute, an overwhelming majority of Taiwanese no longer regard the Chinese government as friendly. Seventy-three percent of respondents disagreed with the statement that "the Mainland Chinese government is Taiwan's friend." In the 2019 survey, only 58 percent disagreed. In dealing with China, people now emphasize national security (62 percent) over economic gains (31 percent). And when it comes to the Anti-Extradition Movement, which erupted in March last year, the survey shows that 67 percent support Hong Kongers' resistance, while among the young (aged 18 to 34) the figure reaches 85 percent.
"Standing with Hong Kong" is not merely a slogan on Taiwan's streets, but a forceful popular mandate. Public opinion and geopolitical urgency have pushed Taiwan's President Tsai Ing-wen to adopt stronger measures for possible humanitarian relief. In effect, Taiwan's government has emphasized a policy of supporting a free Hong Kong and has tried to help Hong Kongers through collaboration with civic groups. But there is a fine line for Taiwan to tread between defending a besieged Hong Kong and avoiding an overreaction from Beijing.
The Anti-Extradition Movement attracted global attention thanks to the endeavors of skilled activists in building international connections. Taiwan has played its role, as Hong Kongers have turned to Taiwanese looking for mutual empowerment. Activists from both places have staged rallies and held forums and conferences discussing their common concerns over how to fend off China's influence operations — its disinformation campaigns, its interference in democratic elections, its manipulation of organized crime to threaten democratic activists, and so much more. Taiwanese NGOs and Christian churches have raised funds and helped supply protective gear to the Anti-Extradition Movement. A Hong Kong bookstore owner who was kidnapped and taken to the mainland has decided to take up residence in Taiwan and reopen his bookstore there using online crowd-funding. Taiwan has become a hub for information and ideas, and even a temporary haven for young protesters. It is no exaggeration to say that, on top of substantive aid, Taiwan has provided the strongest moral support for Hong Kong anywhere in the world. In a way, the country has even benefited from Hong Kong's suffering at the hands of Communist China, which has shown all too clearly that its so-called "one country, two systems" only leads to autocracy. We owe Hong Kongers our profound gratitude for teaching us why we must reject China, and how to resist it.
But with the Communist security apparatus that threatens to be deployed in Hong Kong set to target links between the territory and democratic countries, how should cooperation between Hong Kong and Taiwan be maintained? First of all, since cooperation between the two exists most fundamentally at a societal level, the Taiwanese government should pour more resources into augmenting the ties between our societies based on our shared values. We need to institutionalize this Taiwan-Hong Kong nexus for common resistance while maintaining a flexible relationship.
Next, Taiwan needs to devise countermeasures against a rapidly worsening situation. If Hong Kong's democrats become isolated from the outside world, Taiwan should try to provide networks enabling transnational movement and create logistic centers for international assistance. Taiwan might play the part of a staging post for Hong Kong in a possible future "Berlin Airlift" scenario.
Finally, as well as a humanitarian aid program, the Taiwanese government should begin to make accommodations in its immigration policies toward Hong Kong to attract talent in the arts and sciences as well as in finance. To invite academicians and professionals in the fine arts is more feasible than ushering in financial technology sectors, given Taiwan's endowments.
Faced with Beijing's relentless desire to take control of Taiwan, whether peacefully or by military force, supporting Hong Kong and self-defense are two sides of the same coin for Taiwanese. But Taiwan cannot be left isolated. The United States' security commitment to Taiwan and a robust international coalition, willing collectively to resist Communist China's authoritarianism, are essential if we are to help defend Hong Kong's freedoms. The "Berlin Wall" that is currently under construction there is a sinister omen for Taiwan's future and symbol of an aggression that simply must be deterred.
Wu Jieh-min is Research Fellow at the Institute of Sociology, Academia Sinica, Taiwan.