What to Make of South Thailand's COVID Quasi-Ceasefire
Amid a short-term peace in Thailand's Muslim far south, insurgent leaders are looking for a better opportunity for negotiations.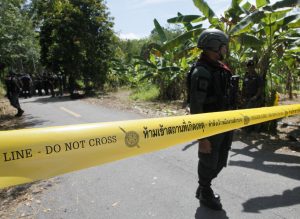 The COVID-19 pandemic has proven to be a period of relative calm in Thailand's turbulent far south, as violence between Thai security forces and Barisan Revolusi Nasional (BRN), the main insurgent group operating in the region's provinces of Pattani, Yala, and Narathiwat, and four districts of Songkhla, has come to a near standstill.
But with the country returning to normalcy and fears of the virus subsiding, security officials believe there is potential for BRN to launch attacks in the ethno-religious minority region, where over 7,000 people have been killed since 2004. Moreover, some believe it is possible that a national-level opposition movement to the conservative regime of General Prayut Chan-o-cha could re-emerge after months of dormancy during the COVID-19 crisis. Such a movement could not only challenge the general's rule but also place the country on a trajectory that could result in a more conciliatory position toward the region's ethnic Malay majority.
The decline in violence in the predominantly Malay Muslim region where BRN operates resulted in part from the shadowy group's April 3 announcement that the group would "cease all activities" and give priority to humanitarian efforts amid the COVID-19 outbreak. That decision, which was encouraged by an international mediation organization, according to one well-placed source, jibed well with the international community hoping for a peaceful resolution to the conflict.
However, the initiative fell on deaf ears in Bangkok. In light of six years of a steady decline in insurgent-instigated shootings, bombings, and arson attacks under the strong-fisted military-led government, the Thai side was not hard-pressed to respond to BRN's overture.
BRN's statement read that the group would uphold the quasi-ceasefire so long as Thai security forces did not attack BRN. However, on April 30 Thai authorities raided a home where they claimed insurgents were planning attacks. A shootout followed, leaving three BRN members wanted on arrest warrants dead.
The group released another statement on May 1 condemning Thai authorities for continuing to target BRN members with house searches, arbitrary arrests, and forced DNA collection but did not make reference to its earlier threat.
Then on May 3, in an incident several sources claimed that served as retaliation, suspected insurgents shot two army rangers leaving a security checkpoint, leaving one dead. The incident took place in an insurgent stronghold area of Pattani Saiburi's district, roughly an hour away from where the three BRN combatants were killed.
The checkpoint that the rangers had been manning doubles as a COVID-19 screening location, where passers-by are tested for the virus. There are now COVID-19 screening locations in every district of the region, allowing security forces to more easily justify interrogations of Malay Muslims.
Since the COVID-19 crisis hit, Thai security forces have seemingly benefitted, and some officials believe that the quasi-ceasefire initiative reflected BRN's short-term disadvantages vis-à-vis Thai security forces. Freedom of movement has been restricted, certain villages have been closed off, and there has been a heavier presence of security forces and other officials in villages, all obstacles that pose limits to insurgent activity.
BRN members have also faced obstacles across the border in Malaysia, long used as sanctuary for separatists and since 2013 as a facilitator for dialogue, according to officials and other sources. Border crossings between Thailand's far south and Malaysia were closed from mid-March until mid-April. Since then, returnees from Malaysia have been required to present medical certificates from the Thai Embassy in Kuala Lumpur. Thai security forces have also increasingly patrolled the border to prevent any illegal border crossings.
Thai restaurants in Malaysia operated by ethnic Malays from Thailand have also suffered due to massive restrictions on restaurants since the end of March. Some of these "Tom Yam Gung" (hot and spicy soup) restaurants have long been used as a source of funding for the insurgency, and some suspected members have relied on the restaurants for employment. BRN members and many other Malay Muslims from Thailand have thus relied on humanitarian assistance from Malaysian authorities, and some BRN members may have gone to the Thai consulate in Kelantan, Malaysia to receive food donations, according to several officials.
Many alleged senior BRN members have long been nudged by Malaysian authorities to get them involved in peace dialogue. That includes early this year when a newly established Thai dialogue team had mistakenly anticipated that certain alleged core leaders of the clandestine group's military wing would turn up for the launch a new phase of dialogue under Prayut's elected government.
That process has been on hold due in part to bans on international flights. In March, both sides held talks in Kuala Lumpur, but a source familiar with the process emphasized an obstacle that has hindered talks: the current leader representing BRN, Anans Abdulrahman, serves as a go-between for senior leadership and thus cannot make decisions at the table.
Sources have long maintained that BRN's alleged senior leadership are averse to engaging in talks with the ultra-conservative government of Prayut. Now, one security official explained that even though alleged leader Abdullah Waemornor, who Thai authorities had hoped would participate in talks, has approved of the talks, younger insurgents by and large do not and he wants to maintain their trust and support. Over the course of the pandemic, those younger insurgents wished to launch attacks against Thai security forces but have abided by the ceasefire initiative.
On the Thai side, current dialogue head General Wanlop Rugsanaoh and a team of younger officers from the National Security Council (NSC) are believed to hold progressive, nuanced views that have impressed the international community and some BRN figures, according to a range of sources. However, Prayut, army chief Apirat Komsongpong, and the south's regional army chief, Lt. Gen. Phonsak Phunsawat, believe the team may be too conciliatory toward BRN and willing to allow for the internationalization of the conflict.
Since 2013, when formal dialogue was first established under the elected government of Yingluck Shinawatra, one condition for BRN's involvement has been the inclusion of international observers. To the chagrin of hawkish security officials, that finally happened when the Thai side allowed two international observers to take part in talks in January and March.
Several sources with ties to BRN have long suggested that some figures from BRN may be eyeing the end of military rule in Thailand as more conducive for diplomacy. Major opponents of the military establishment's dominance of the state are known to be open to key concessions moving forward, such as amnesties and some form of autonomy for the minority region. Many leading political opposition figures have strong bonds with leading Malay Muslim nationalist activists and politicians.
In spite of the view held by many observers of Thai politics that Prayut and his allies will hold onto power throughout the general-turned-prime minister's four-year term, which ends in 2023, many well-placed sources in southern Thailand contend that is doubtful. Some believe Prayut and the government lucked out with the COVID-19 pandemic, as it temporarily derailed the nascent national-level opposition movement that kicked off late last year and seemed to gain traction in February, when anti-government protests took place across the country following the dissolution of the progressive Future Forward Party.
Those protests could return in the coming months. Prayut's government just announced that it will ease restrictions due to the virus in July, and that includes lifting a controversial nation-wide emergency decree that bans mass gatherings. The political opposition thus might seek to capitalize on widespread economic grievances resulting from the pandemic and a mass of military opposition not seen in decades, if ever.
While BRN may seek to gain the international community's attention through its quasi-ceasefire bid, its best source of hope for moderate change is a change of power in Bangkok.
Jason Johnson has been a Thai politics and security analyst for over a decade. His articles have appeared in Asia Times and Asia Sentinel.