COVID-19 Takes a Toll on Pakistan's Transgender Community
Transgender people in Pakistan were already marginalized. Now the pandemic is adding to their plight.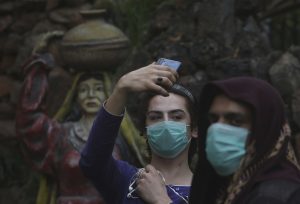 Kainat (name changed) is a sex worker. A transgender woman in her mid-40s, she lives with fellow transgender people in a shabby house in the impoverished locality of Akhtar Colony in Pakistan's port city, Karachi. Each month, she earns nearly 15,000 Pakistani rupees ($89) to make ends meet by selling herself for as low as Rs 500 to what she calls her "clients" – which usually are rickshaw drivers, roadside beggars, or at best domestic servants serving in one of the houses of a nearby posh locality. Puzzlingly, the ongoing pandemic has not disturbed her business; in fact, demand has swiftly increased, leaving her more vulnerable to the coronavirus than ever before.
"I sleep with dozens in a month, even after knowing that there is a high chance of me getting infected. But if I don't go out, how am I going to have food on my table?" Kainat said in an interview at her residential address. She gave a weak smile, belied by eye bags showing exhaustion. She then broke the silence by saying: "Either we will die from corona or from hunger. Tell me, what can we do now?"
The total population of transgender people reported in Pakistan's Sixth Popu­lation and Housing Census is 10,418 – though the number has been challenged by activists of the country for being underreported. Known as "khawajasiras" or "hijras," Pakistan's transgender people find themselves at the lowest strata of the society. Their role is strictly limited to giving their blessings to newborns, dancing in the male-dominated wedding parties, or sex work. A collaborative research study of USAID and Aurat Foundation published in September 2016 found that a majority of transgender people in Pakistan earned less than Rs 10,000 per month. "As income from dancing is seasonal, income from sex-work and begging confer sustainability to their overall revenue," the report found.
In 2009, Pakistan became one of the few Islamic countries to legalize a third sex and it started issuing national ID documents and passports from 2017. However, all such state actions have up till now failed to give general healthcare benefits to a wide majority of the transgender community, let alone any social mobility.
Renowned trans activist, model, and actress Kami Sid pointed out that while transgender people can't afford healthcare treatments from private hospitals, strong discrimination prevalent at the government hospitals against the community members bars them from visiting public health facilities. "We are already a marginalized community. This pandemic is punching us further down, and wherever we go we see people and the state looking other way round," she lamented.
As of July 1, over 4,100 people have died from COVID-19 in Pakistan, and it is unfortunate to see such apathy for the gender minority that there is no data available to confirm whether the dead includes members of the trans community, Sid said.
In a bid to support families living under the poverty line, the Pakistani federal government launched the Ehsaas Emergency Cash program, under which Rs. 12,000 were given to registered families to help them survive the weeks when the government imposed a strict lockdown to curtail the virus. However, such is the precarious condition of the transgender community that a wide number of transgender people didn't attain the benefit of the monetary scheme — either because they didn't possess the national identity card or because, even after registration, they weren't contacted by government representatives.
"We conveyed our concerns to the chairperson [of the] Ehsaas program through a letter but despite assurances no measures are taken yet," Sid told The Diplomat on a telephone call.
The ordeal of transgender people in Pakistan is not just limited to sex workers. A number of transgender people who used to earn their livings as makeup artists or dancers are struggling to secure an income due to the closure of markets and wedding halls. This leaves them with the sole option of selling their bodies for living.
"A very close friend of mine invested a huge sum to run a beauty parlor but as things stand, I don't think she will be able to bear more financial loss," Sid said. "But what we know so far is that unlike many, we don't enjoy social protection."
Naghma Iqtidar Shiekh, a renowned civil society and human rights activist, believes that the biggest roadblock for the transgender community in getting their due rights — especially during the COVID-19 crisis — is the fact that they don't have any strong association or political group in the country to pressure the state to devise pro-trans policies.
"The individuals … from the upper class who identify themselves as trans would never want themselves to be associated with the sex worker or a trans from a lower stratum. They don't sail the same boat," Shiekh noted. "It is sad but a reality that they live in their own bubble of privilege. On paper they may be the same, but in reality, the class difference sets them apart."
As a result, the community's "biggest dilemma is that they aren't a strong pressure group in the country, hence they find themselves marginalized due to their gender and class."
Back in her apartment, Kainat said that before going out on streets she recites religious verses for her protection from the virus. In her words, "If there is anyone with us it is God. No one else. Hopefully he will protect me as he has protected me before." She smiled again, but this time her smile didn't hide any weakness.
Ebad Ahmed is a human rights journalist based in Karachi, Pakistan. He is a graduate of Politics and International Relations from Royal Holloway University of London. He tweets @ebadahmed.