Hong Kong: Law Making and Law Breaking
From last year's protests to the national security law, Hong Kong's turmoil is largely a question of who gets to make the law – and who gets labeled as breaking it.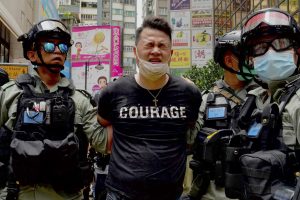 Law making. Law breaking.
These topics were the focus of much of the news coverage of Hong Kong during the most recent Year of the Pig, which began in early 2019. Did things change once the Year of the Rat began in January of this year? Yes – and no.
Let us explain. Lawmaking and lawbreaking are as crucial to this year's news cycle as they were to last year's, but there has been an important shift – one that reveals a great deal about the current dire situation in Hong Kong, the Pearl River Delta metropolis that became a British colony in the 1840s and then, in 1997, transitioned into a special administrative region (SAR) of the People's Republic of China (PRC).
This shift is the widely perceived breakdown of "one country, two systems," the framework that is supposed to allow the city to enjoy a "high degree of autonomy" for 50 years after it became an SAR. It illuminates a key new dividing line between past and present when it comes to the relationship between Hong Kong and the Chinese Communist Party (CCP). Throughout the Year of the Pig, many referred to the framework that undergirded that promise as having been battered, but not fully destroyed. Now, at least in political terms if not necessarily economic ones, the framework is widely seen as having been completely destroyed by the distressing developments of the first half of this Year of the Rat.
To get a sense of how the ground has shifted, we need only consider the vastly different ways that stories about making and breaking laws intertwined on the fourth day of June in both 2019 and 2020. June 4 is no ordinary date: It marks the anniversary of the 1989 massacre in Beijing that put an end to a dramatic wave of protests for which the epicenter was Tiananmen Square. There were significant demonstrations that year in cities across the mainland and in Hong Kong and Macau, which was then still a Portuguese colony but became an SAR of the PRC a decade later. Commemorations of June 4 have been verboten across the mainland since 1989, but have taken place regularly in Hong Kong and Macau. By far the biggest June 4 commemorative vigils have been in Victoria Park on Hong Kong island, where more than a hundred thousand people gathered for the 2019 commemoration and a few thousand gathered for its 2020 iteration.