South Korea's Conscientious Objectors Are Getting an Alternative to Military Service
For the first time, there is a official path for those who have religious or moral objections to South Korea's mandatory military service for men.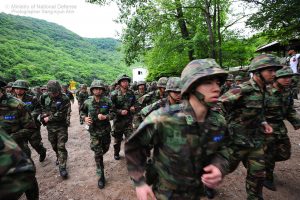 On June 30, South Korea officially began taking applications from conscientious objectors for alternative service to the country's mandatory military service for all men. Instead of serving around two years in the military, men can now apply for the new alternative service — working for three years in prisons or detention centers.
The move has been a long time coming for those with religious or moral objections to being part of the military, who have previously faced 18 months in prison for failing to fulfil their service requirement. But while objectors no longer face prison time, not everyone is happy with the government's plan for an alternative form of service.
Conscientious objection has been an issue in Korea since the time of the Japanese occupation in the 1930s, when a group of 38 Jehovah's Witnesses were jailed for refusing to serve in the Japanese army. Since the end of the Korean War, about 19,000 Koreans, most of them Jehovah's Witnesses, have served jail time for objecting to military service.
Although the issue has been hotly contested for some time, South Korea's Supreme Court forced action in 2018 when they ruled that religious or moral concerns could be legitimate reasons to refuse military service. In the year or so since the ruling, South Korea has pardoned hundreds of men previously convicted for failing to serve, and released those still serving time from prison.
Now, the country is debuting its alternative. Starting on June 30, men were able begin applying to serve as workers in prisons instead to fulfil their service requirement. A committee under the Military Manpower Administration will assess these applications to ensure that the person has sincere objections to military service. Potential criteria have already caused controversy.
Many opponents are not against giving alternatives to military service per se. In fact, in a 2018 Gallup Korea poll commissioned by a church organization, 66.8 percent of respondents said they "could not understand" the actions of conscientious objectors, but 73.4 percent supported the introduction of some sort of alternative service option.
Instead, critics are more focused on making sure that the amount of service is equitable, and that people are not using conscientious objection merely as an excuse to get out of their service time. In the aftermath of the Supreme Court decision, for example, 16 out of 17 lawmakers on the National Assembly's National Defense Committee said that those choosing the alternative should serve twice as long as those in active duty — around four years — to make the two types of service equitable. The actual alternative service option was eventually set at 36 months — 1.5 times the typical military service duration.
This length is just one of the concerns that supporters of conscientious objection have raised about the new policy. According to Amnesty International, 36 months makes South Korea's alternative service the longest in the world, causing the NGO to label it an "alternative punishment." Others have expressed concerns that the administration of the alternative service will still be under the military, which may still clash with the pacifistic intentions of those who object to military service in the first place.
The addition of alternative service for conscientious objectors is not the only personnel challenge facing the South Korean military. With the lowest birth rate among developed countries, South Korea's rapidly declining population has led to a dwindling pool of young men doing their military service. And last year, President Moon Jae-in followed through on a campaign promise by shortening the length of required service by three months. The military has said it plans to address looming manpower shortages by using more unmanned technology as well as recruiting more women. But, in another high-profile controversy, the army recently discharged a soldier after she underwent gender transition surgery, citing "mental and physical disabilities." She has indicated that she will take the issue to court to fight for her right to serve.