The Shifting Politics of Rohingya Refugees in Malaysia
As the Rohingyas became increasingly prominent in Malaysia, certain quarters have come to perceive them as a social, economic, and security threat.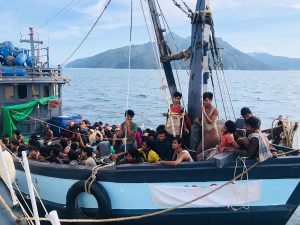 At the recent 36th ASEAN Summit, Prime Minister Muhyiddin Yassin announced that Malaysia can no longer accept Rohingya refugees from Myanmar. While Malaysia is not a signatory of the 1951 Refugee Convention or its subsequent 1967 Protocol, it upholds some of their stipulations – more so than some of the signatories. Currently, Malaysia hosts the largest number of Rohingya refugees in ASEAN and the fourth highest number worldwide.
Supporting the Rohingyas is a long-standing element of Malaysia's global Muslim solidarity agenda in its foreign policy.
Yet since May 1, Malaysia has reportedly turned away 27 crowded boats bearing displaced Rohingyas. Malaysian authorities have also increased immigration arrests in migrant and refugee neighborhoods identified as COVID-19 cluster areas. They plan to deport the detainees, which saliently include several Rohingya refugees.
Notwithstanding the recent media attention, this is not new. Over the past few years, Malaysia has barred Rohingya boats, and the Rohingyas have been rounded up along with other undocumented migrants in immigration operations.
As the Rohingyas became increasingly prominent in Malaysia over the years, certain quarters have come to perceive them as a social, economic, and security threat. With national resources stretched thin with the ongoing coronavirus pandemic and economic crisis, xenophobia is also on the rise.
At a pro-Rohingya rally in 2016, Malaysia's then-Prime Minister Najib Razak exclaimed, "I will not close my eyes and shut my mouth. We must defend [the Rohingyas] not just because they are of the same faith but they are humans, their lives have values." Najib had labelled the persecution of the Rohingyas in Myanmar as an "insult to Islam" and condemned Myanmar leader Aung San Suu Kyi's silence on the issue.
The protest led by the Malaysian government captured global attention: it went against the ASEAN convention of noninterference in member states' internal affairs. For the Rohingyas fleeing Myanmar, Malaysia appeared to be the flag-bearer of hope.
Malaysia has indeed delivered significant financial and humanitarian aid to Rohingya refugees in Bangladesh. Notably, the Barisan Nasional (BN) government under Najib established the Medan Hospital in Cox's Bazar, at a cost of 3.5 million Malaysian ringgits.
The BN policy sought to boost the government's Islamic credentials among conservative Malay-Muslim voters, and contributed to the warming atmospherics for cooperation between the then-ruling party UMNO and the then-opposition Malaysian Islamist party, PAS, ahead of the 2018 general election. Najib strived to strengthen his voter base and profile as a Muslim leader by raising his government's standing on humanitarian issues with the general public.
As Malaysia's current Perikatan Nasional (PN) government is predominantly Malay-Muslim, being led by Bersatu, UMNO, and PAS, it is not pressured to demonstrate its Islamic credentials.
Najib's recent remarks are telling: "The interest of Malaysians should come first…The Rohingya should not take advantage of our kindness." Separately, Malaysian home minister also affirmed that the Rohingya have "no status, rights or basis to state demands from the Malaysian government," which "does not recognize their status as refugees but as illegal immigrants holding UNHCR cards."
At a time of heightened fears of COVID-19 infection, often associated with foreigners in Malaysia, PN's prioritization of locals would seem electorally profitable.
Despite the government's global Muslim solidarity agenda in its foreign policy, domestically, the Rohingyas along with other refugees have faced long-standing challenges.
Since the 1970s, the Rohingyas have migrated across the region in sizable numbers. However, the largest wave fled Myanmar in 2017 after military crackdowns against the community. Malaysia houses around 180,000 UNHCR-registered refugees — including about 150,000 Rohingyas.
There are at least half a million unregistered refugees in Malaysia. They have minimal legal protection so they engage in the informal sector, where exploitation and low wages are reportedly common. Increasingly, Malaysians see the registered and nonregistered refugees as competitors for the declining number of jobs. However, since the refugees provide cheap labor for the country, levels of official tolerance toward them have waxed and waned.
Significantly, in 2014, the Rohingya were the main suspects for brutal communal violence in Malaysia.
From 2016, local complaints increased against the Rohingyas for operating businesses without licenses and using government land without permission for their own purposes. The Malays, especially, expressed their disgruntlement that the local government had not accorded this issue much attention. Social media was flooded with xenophobic comments. As many of the Rohingya refugees have lived in Malaysia for generations, there is also a fear that they would demand rights such as naturalization in the future.
In 2019, there were rising security concerns over the Rohingyas' involvement in militant activities. They were perceived as easy targets for extremist radicalization, even though most of them disavow political violence.
COVID-19 brought on the perfect storm for these accumulated anxieties. Anti-Rohingya sentiments exploded through the circulation of e-petitions, many of which have been attributed to allegedly politically linked cyber-troopers.
Recently, an image of an anti-Rohingya banner outside a mosque in Malaysia went viral, following the government's announcement that only Malaysians will be allowed to attend congregational prayers at mosques as COVID-19 restrictions ease.
According to the government, undocumented migrants had violated immigration laws by illegally entering Malaysia and are now misusing stall licenses by renting them from Malaysian owners. It claimed that foreigners, particularly the Rohingyas, have not only taken over the workforce, but entire businesses at wholesale markets within the Federal Territory of Kuala Lumpur.
The authorities now actively stop traders from hiring migrant workers in wholesale markets in Kuala Lumpur. Refugees have been banned from entering the Kuala Lumpur Wholesale Market in Selayang, where the Rohingyas are known to predominantly operate businesses. In the neighboring state of Selangor, legislation has been passed to prevent foreigners from owning hawking business licenses, running temporary businesses, or being employed by such businesses.
Recently, the federal government announced a freeze on the intake of foreign labor in all sectors until the end of 2020, citing the need to prioritize locals.
A nationwide operation called Op Benteng was launched and a special task force was created, headed by the Malaysian Armed Forces (MAF), along with several enforcement agencies, to tighten border control and national security.
Malaysia has also closed its Medan Hospital in Bangladesh.
The government's handling of the Rohingya refugees demonstrates the limitations of its global Muslim solidarity agenda, with ethno-nationalism and local interests taking precedence.
In his recent ASEAN Summit address, Prime Minister Muhyiddin Yassin lamented that "Malaysia is unfairly expected to do more." He urged ASEAN member states and the UN to "do more to help Myanmar."
The COVID-19 pandemic has thus presented Malaysia with the opportunity to engage regional countries and international agencies to share responsibility toward the Rohingyas. This will be an uphill task, given the number of refugees and Rohingyas in Malaysia.
Piya Sukhani is a Research Analyst at the Malaysia Programme, Institute of Defence and Strategic Studies (IDSS), S. Rajaratnam School of International Studies