China, Japan and a Critical 'Best Before' Date
A May 2018 teleconference set a new tone. But for how long?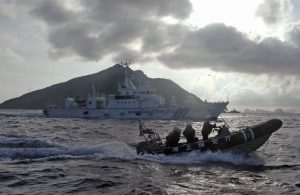 Relations between Japan and China remain delicate. Fishing season often brings Chinese fishing boats flocking to the vicinity of the disputed Senkaku Islands (known in China as the Diaoyu Islands), much to the chagrin of the Japanese. In fact, the operation of fishing boats in the waters around the islands is allowed under the Japan‐China Fishery Agreement. But while there have been some reports that this year Chinese fisherman have been instructed to stay clear of the islands, if they do arrive they will be accompanied by China Coast Guard (CCG) vessels. The Japanese worry about what the CCG vessels might do, either on their own or in cooperation with the fishing boats. Worse, in recent times, the activities of CCG vessels around the Senkaku Islands and those of the People's Liberation Army Navy (PLA Navy) in the surrounding ocean area have been coordinated, prompting concerns that China may actually initiate military action.
Japan's view of China has meanwhile dimmed as a result of the situation in Hong Kong. Reports on the arrest of young pro-democracy leaders have prompted vehement opposition to China's Hong Kong policy, including a number of statements issued in Japan. Under these circumstances, interest in a state visit by Chinese President Xi Jinping is gradually receding, although government officials are unable to explicitly express that. Moreover, on August 15, a few Cabinet ministers paid their respects at Yasukuni Shrine, something that always elicits displeasure in China. Clearly, the relationship remains a tricky one.
Yet the official Chinese view is that relations with Japan are good, particularly while Japan remains committed to realizing Xi Jinping's visit. From the Japanese perspective, maintaining the position that a state visit by President Xi Jinping may happen is seen as having the effect of minimizing Chinese intransigence. But what is the Chinese perspective?
China appears to be adhering to the policy initiated by Chinese President Xi Jinping on May 4, 2018. This policy set the tone for improved bilateral relations. On that day, immediately prior to participation in the Japan-China-ROK Trilateral Summit by Premier Li Keqiang, a teleconference took place between the Japanese prime minister and Chinese president took place. This marked a promotion of sorts: Teleconferences had hitherto been between Japan's prime minister and the Chinese premier.
During their talk, the two leaders primarily discussed North Korea but also touched upon the Japan-China relations and future communications. China may have seen this teleconference as a "go" signal for improved Sino-Japanese relations. As of August 2020, no official statement that would seem to reverse the course set by that 2018 teleconference has been issued. Accordingly, Japan-China relations are still positioned within the general framework of an improving relationship. A litmus test for China to change its attitude toward Japan would be whether or not it issues something to replace the content of the teleconference.
As affairs now stand, the issue of the East China Sea is a matter of concern. However, China may stop short of an action that would have a serious impact on Sino-Japanese relations. China's relationship with Japan is actually quite positive compared to its relationships with other Western nations, and it is in Beijing's interests to maintain good ties with Japan amid growing tension in its relations with the United States. During the course of the COVID-19 pandemic, U.S.-China relations have worsened, and China is also increasingly at odds with Australia and certain European countries. While there are territorial issues between Japan and China, Japan's investment in China has increased during the course of the pandemic, and the Japanese government position on decoupling from China in high-tech fields remains ambiguous.
As we've seen, Japan-China relations face some critical issues. For now, at least, viewed in the context of China's overall foreign policy, Beijing may see it as useful to maintain good ties with Tokyo. In turns, that suggests that it might be useful to focus on the "best before" date of that 2018 teleconference. 
Shin Kawashima is a professor at the University of Tokyo.