Imran Khan's Populism Clashes With Pakistan's Economic Realities 
All politicians have to adjust or tweak policies, but the rate at which Imran Khan makes U-turns is dizzying.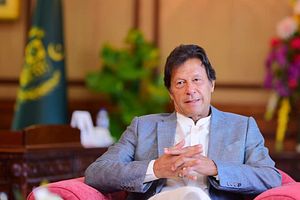 Pakistani Foreign Minister Shah Mehmood Qureshi may have jeopardized otherwise cordial relations with Saudi Arabia with his unusual ultimatum to Riyadh demanding an extraordinary meeting of the Organization of Islamic Conference (OIC) on Kashmir. Qureshi threatened that if the Saudi-led OIC failed to summon a meeting, "Pakistan would be ready to go for a session outside OIC."
The Saudis do not look kindly upon ultimatums and will be especially offended when it comes from a country that has frequently sought economic bailouts from the Kingdom. From helping pay for Pakistan's first batch of F-16 fighter aircraft in the 1980s to the $6 billion loan that helped Pakistan tide over its balance of payments crisis just two years ago, the Saudis have stood by Pakistan in times of need. 
Saudi Arabia is also a significant employer of expatriate Pakistani labor and a major source of remittances. Some Pakistani leaders blame the Saudis for promoting radical Islamism in the country through their funding of mosques and madrassas. More recently, burgeoning Saudi economic ties with India have irked Pakistanis who see world affairs as a zero-sum game between India and Pakistan.
Pakistan seems to be having difficulty with understanding some fundamental realities of international relations. The traditional bond between the two countries led current Saudi Minister of State for Foreign Affairs Adel al Jubeir to remark in 2007 (according to a leaked WikiLeaks cable) that "We in Saudi Arabia are not observers in Pakistan, we are participants."
But due to Pakistan's inability to transform itself into a productive economy, the country's bilateral trade with Saudi Arabia stands at a meager $3.6 billion. Saudi trade with India, on the other hand, has risen to $27 billion and is expanding further. Saudis look at Pakistan as a recipient of their assistance, including direct budget support, oil supplied on deferred payment basis, and several hundred thousand jobs for unskilled workers; for them India is a major trading partner.  
Given that asymmetric reality, successive Pakistani governments have acted humbly with the Kingdom's leadership. But humility or gratitude run contrary to the core narrative of Prime Minister Imran Khan's populist government. This narrative portrays Pakistan as the world's only Muslim nuclear weapons power, destined to lead the Muslim world and, therefore, entitled to the support of other Muslim countries.
Khan tells Pakistanis that, notwithstanding their low literacy and school enrollment rates, they are a great people who have been held back only by poor leadership. Now that they have found an "honest leader" in Khan, Pakistan can settle its scores with India, "liberate Kashmir," and occupy its rightful position at the global high table.
That rhetoric implies that Pakistan does not need to make compromises with other countries based on mutual interests. The world needs Pakistan and Pakistan, under its great leader Imran Khan, will set the agenda for how others interact with Pakistan.
Such grandiloquence might appeal to many Pakistanis, but it counts for little outside Pakistan. As a result, over the last two years, Pakistan's diplomats have had to grovel before world leaders while Khan and his ministers cause outrage and misgivings in the world's capitals.  
For now, the fall out of Qureshi's public insult to the Saudis has been a demand to return the $3 billion Riyadh lent on a short-term basis and a delay in the renewal of the agreement to defer payment on oil supplies. Pakistan borrowed $1 billion from China to start returning the Saudi loan, a classic case of borrowing from Peter to pay Paul.
But it is only a matter of time before Pakistani officials remind Khan and Qureshi of Pakistan's dependence on Saudi Arabia and the pitfalls of owing even more money to China. While China can lend Pakistan ever more cash and tighten its stranglehold on the country, it still lacks the ability to help maintain oil supplies.
It would not be surprising if Khan walks back his foreign minister's tough talk about Saudi Arabia. He is already known by many epithets including "U-Turn Khan," attributed to his propensity to overturn earlier decisions on politics, economy, foreign relations, public health, and even sports. He once described the ability to make U-turns as the "hallmark of great leadership." 
Unfortunately, this shifting of positions has more to do with Khan being egocentric, weak, and untrustworthy, rather than an inability to comprehend changing circumstances. 
If we look at his handling of the coronavirus pandemic, instead of adopting a national strategy to unite the country and overcome the crisis, Khan created public confusion with his words and deeds. Initially, he described the virus as akin to the common flu with a 97 percent recovery rate and afflicting only the old and infirm, a fact that was later contradicted by his Special Assistant on Health Dr. Zafar Mirza. This resulted in multiple lockdowns across various provinces but no national lockdown.
Before becoming prime minister, Khan promised he would improve the economy without taking any loans from abroad. He also promised to break the proverbial "begging bowl" syndrome adopted by previous governments and threatened that he would prefer committing suicide to pleading with superpowers.
However, less than a year after taking power Pakistan sought a $6 billion package from the IMF and in April 2020 Pakistan requested $1.4 billion from IMF under RFI (Rapid Financing Instrument). Further, Pakistan borrowed money from friendly Muslim countries in the Gulf, Saudi Arabia, the UAE, and Qatar. All these of course are in addition to the massive loans Pakistan owes China.
Khan is someone who has ranted frequently against American policies, participated in anti-American demonstrations that held up NATO trucks going to Afghanistan, and portrayed himself as someone who stands up to Washington. Yet in July 2019, he was on a charm offensive seeking U.S. military and economic assistance for Pakistan. 
As someone who extensively used protests and demonstrations to prevent the sitting governments (whether of PPP or PML-N) from performing, Khan has been extremely critical of any such attempts by the opposition parties during this last two years. 
Promising to bring in fresh faces to run Pakistan, Khan has actually ended up with the same old establishment supported technocrats and evergreen politicians who join every government supported by the establishment. After stating that only new faces would be part of the party, in the months before the elections, his party had no qualms in welcoming many of the so-called "electables" ("turncoats"). Khan even defended this policy by saying "You contest elections to win. You don't contest elections to be a good boy. I want to win. I am fighting elections in Pakistan, not Europe. I can't import European politicians."
After promising to bring in noted economist Atif Mian as part of his Economic Advisory Council, Khan backed off on Mian after an outcry by religious leaders on grounds that Mian was an Ahmadi. Within a year, his chosen Federal Finance Minister Asad Umar was removed from his post after proving unable to institute any economic reforms that were promised. 
While ranting against corruption and nepotism while out of power, after coming to power Khan appointed close friends, like Zulfi Bukhari and Parvaiz Khattak, to important positions in the government, ignoring the fact that they were under investigation by the National Accountability Bureau (NAB). Khan too was fined by the Supreme Court for illegal encroachment while constructing his Bani Gala residence and had to pay a fine to Capital Development Authority (CDA) to regularize it. He may claim he is not corrupt and his family isn't either but his sister, Aleema Khan, was ordered to pay taxes and fines worth 29.4 million rupees in late 2018 for her benami (undeclared) properties in the U.S. and U.K. 
In 2010, Khan had criticized the three-year extension granted to then-Chief of Army Staff (COAS) General Ashfaq Pervaiz Kayani by the PPP-led government. However, he had no problems in granting an extension in tenure to COAS Qamar Javed Bajwa, going to the extent of amending the Pakistan Army Act of 1952 through an act of Parliament subsequent to the Supreme Court of Pakistan raising an objection over the extension citing legal and procedural ambiguity in the order.
While running for office Khan and his advisors often said he would be different. He said he would not live in the prime minister's residence and instead would convert all official residences into educational institutions. Further he insisted he would "not use protocol," would ride a bicycle to work, would not waste money on any trips to foreign countries, and would attend the National Assembly regularly. 
Not only is Khan staying in the large official residence, a helicopter ferries him between his personal residence in Bani Gala and the Secretariat. In his first 90 days, Khan made five foreign trips (two to Saudi Arabia, one each to the UAE, China, and Malaysia). Unlike his promise of keeping a small group of advisers, his cabinet comprises 50 (not 20) members and Khan has attended only 18 percent of the sessions of the National Assembly. 
Even his claim to be a supporter of minority rights does not stand the test of scrutiny. He had asserted that his government would allow the construction of a Hindu temple in Islamabad, but after an outcry from the religious lobby he reversed his decision and instead sought advice from the Council of Islamic Ideology. 
All politicians have to adjust or tweak policies, based on circumstances. Political leaders often use slogans during campaigns that they know are only for the purposes of getting votes. The frequency with which Khan takes U-turns, however, shows a lack of understanding on key issues, both domestic and international, and failure to grasp that what he says and does affects the lives of 210 million Pakistanis.
Husain Haqqani, director for South and Central Asia at the Hudson Institute, was Pakistan's ambassador to the United States from 2008 to 2011.