Japan's Painful Choice on RCEP
Tokyo faces a major conundrum with the proposed free trade agreement.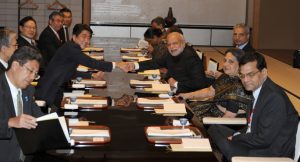 The Regional Comprehensive Economic Partnership (RCEP) is emerging as a mega FTA centered on the ASEAN+3. Although ASEAN is the obvious driving force behind RCEP, the negotiations are also influenced by Japan and China, as well as India and other major players.
Roughly ten years ago, Japan made the decision to join the Trans-Pacific Partnership (TPP). With the U.S. withdrawal, Tokyo then took on a leadership role in the conclusion of the Comprehensive and Progressive Agreement for Trans-Pacific Partnership, or CPTPP. Subsequently, Japan has tried to promote the formation of highly liberal and advanced economic and trade frameworks around the world, for instance with the conclusion of the Japan–EU Economic Partnership Agreement. So how does RCEP fit in with Japan's trade vision?
First, given its low degree of trade liberalization, RCEP is not especially meaningful in trade terms for Japan, given the conclusion of the CPTPP. Rather, its significance lies in the building of a framework that involves such a large number of countries and regions.
Second, although trade liberalization under RCEP is less ambitious that it is under the CPTPP, Japan has being doing its best to increase it. The thinking is that while the level of trade liberalization of the proposed Japan–China–Republic of Korea Free Trade Agreement lies somewhere between the CPTPP and RCEP, a more aggressive RCEP would encourage the Japan–China–Republic of Korea Free Trade Agreement to go further, to Tokyo's benefit.
The biggest obstacle for Japan in executing its RCEP policy has been the difficulty in raising the level of liberalization during the negotiations. In particular, Japan was dealt a major blow when India, which had very much wanted to join, baulked at the increasing liberalization and signaled it would withdraw from the RCEP negotiations in the fall of 2019. What prompted New Delhi to leave was that while increased trade liberalization would be to India's advantage in areas like pharmaceuticals, it would make it difficult to protect domestic industries in many other areas as low-priced goods would flow in from China and elsewhere. Another likely reason is that many countries opposed liberalization in IT human resources and service areas, where India is dominant. The Modi administration, which wants to strengthen India's manufacturing industries under the slogan "Make in India," concluded that RCEP would not necessarily benefit the country.
Japan was hoping for Indian participation and indeed some local observers felt that Japan should opt out of RCEP as well if India was not going to join. For example, Hideki Makihara, Vice-Minister of Economy, Trade, and Industry, spoke about RCEP in November 2019 and said that they were "not at all considering" an agreement without India. Prime Minister Shinzo Abe also planned a visit to India in December 2019 and suggested a desire to try to sway India, but the visit was not realized, partly due to safety issues.
Entering 2020, the spread of COVID-19 has exacerbated economic challenges for many countries, India among them. Already, in fact, India has pulled out of RCEP administrative level meetings. Meanwhile, as China's manufacturing sector recovers, Beijing wants other countries to buy Chinese products with no or low tariffs under the principles of free trade, and so is calling for an early conclusion of the RCEP negotiations. Australia is meanwhile in the midst of a nasty spat with China, but has insisted that it would not allow that to hold up RCEP negotiations.
It was amid all of this that the RCEP Inter-Sessional Ministerial Meeting was held in June 2020. India, however, was not represented. The meeting agreed to continue to call on New Delhi to rejoin, while aiming to conclude the negotiations before the year is over. While Japan agreed with this approach, the situation has become complicated for Tokyo. First, it was very keen to raise the level of RCEP liberalization, but because India withdrew after failing to walk back the liberalization, successfully encouraging New Delhi to return to the fold would require some concessions. One possible approach could be more liberalization in IT human resources and other areas dominated by India, but it is likely that negotiating this would simply be too time-consuming at this point.
Second, without Indian participation, Chinese influence will be all the greater. If Japan also decides to opt out because of Indian non-participation, then China's trade and economic influence in Southeast Asia and elsewhere will only grow. Japan really has no choice but to urge India to take part, for instance when promoting the Free and Open Indo-Pacific Strategy, as Japanese non-participation in the RCEP is unlikely to be on the table.
One question is whether an extremely low level of liberalization will be enough to convince India. Given this hit the Indian economy is taking with the COVID-19 pandemic, it seems unlikely that New Delhi will agree to return to the negotiating table. There are those in Japan who insist that the agreement must be signed even without Indian participation. The signing is scheduled for November in Hanoi. To the many restrictions currently placed on summit diplomacy, add this very painful choice.
Shin Kawashima is a professor at the University of Tokyo.