Myanmar's Ceasefire Falls Apart in Shan State
Instability in northern Shan state is increasing the forced displacement of locals, along other rights abuses.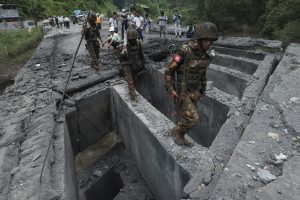 The expansion of military operations by the Myanmar Army and increase in troops in northern Shan state has resulted in growing instability and an escalation of human rights abuses. The involvement of the Myanmar Army and ethnic armed organizations (EAOs) engaging in regular combat has contributed to the forced displacement of local people, as well as other human rights abuses including torture, indiscriminate shelling, death, and arbitrary arrest and detainment. These actions show a lack of commitment to the already faltering peace process and dialogue on meaningful reconciliation. All armed actors must uphold the right to life and resolve their differences through peaceful negotiation and nonconfrontational channels, as well as ensure a safe space for rights defenders appealing for justice to be upheld.
On May 10, 2020, the Myanmar Army announced a unilateral ceasefire agreement to focus on the response and containment of COVID-19. Since declaring the ceasefire, clashes in Shan state have steadily increased between the Myanmar Army and Shan armed groups including the Restoration Council of Shan State (RCSS-SSA), the Ta'ang National Liberation Army (TNLA) and the Kachin Independence Army (KIA). The fighting increased significantly in June 2020, with civilian safety and security at risk, as allegations of human rights violations are mounting against the armed groups. The Myanmar Army is accused of forcing a young man to guide them and then indiscriminately shooting at villagers' homes, killing a 60-year old man and injuring a 55-year old woman on June 29. The day before, an elderly civilian from Kyaukme township was brutally beaten when the Myanmar Army arrived at his village and others fled. The RCSS-SSA is also accused of raping a young Ta'ang women and failing to cooperate with civil society organizations seeking justice. Against the backdrop of the conflict, there are over 500 villagers displaced in Kyaukme who need emergency food supplies and face restrictions on movement as a result of the pandemic.
Protests following the increase in violence in Shan state saw over 15 000 civilians calling for accountability for the injustices committed by the Myanmar Army. Shan parliamentarians reported the cases to the Myanmar National Human Rights Council, specifically to urge an investigation. In response, the Myanmar Army retaliated with reprisals against those who had led the protests by charging them under Section 19 of the Peaceful Assembly and Peaceful Procession Law and Section 18 of the Communicable Disease Prevention Law. Of additional concern is that the conflict in northern Shan state is not being taken seriously by the National League for Democracy (NLD) government. Their silence shows a continued lack of interest by the NLD to speak up against human rights abuses taking place against civilians.
While human rights defenders being challenged for their advocacy is nothing new, it is unacceptable that the right to peaceful protest continues to be criminalized in Myanmar. The Myanmar government must take seriously calls for much needed reforms that would strengthen protection of rights defenders, including enacted changes to the Peaceful Assembly and Peaceful Procession Law. This law has long been used to target activists. It should be amended in line with international standards on freedom of expression, which includes being able to hold opinions without interference as stipulated in Article 19 of the International Covenant on Civil and Political Rights.
As seen not only in northern Shan state but also in Rakhine and Chin states, civilians are killed, tortured, and detained on the presumption of guilt or affiliation to rival groups. It is time for strengthened government protection mechanisms for victims of human rights violations and local leaders and organizations on the ground who regularly face harassment and intimidation in their calls for accountability. The Myanmar government must publicly recognize that mass human rights violations have been committed, apologize for those violations, and accept that victims deserve reparations.
Maggi Quadrini works on human rights for community-based organizations on various projects along the Thailand-Myanmar border.