Shinzo Abe's Paltry Legacy
Despite enormous stature and power, Abe leaves office having accomplished relatively little.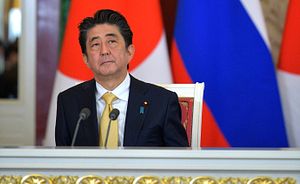 Shinzo Abe is bowing out as prime minister, citing the return of a long-standing health condition. It hasn't really sunk in, but the tremors have rippled across Japan and the region. He was a towering figure in Japanese politics — not just because he is the country's longest serving premier ever, but because none of his predecessors were ever so dominant. He carried his party to six straight election victories and institutionalized political power over top bureaucratic promotions, enabling him to tame the bureaucracy and influence how officials act.
Paradoxically, despite enormous stature and power, Abe leaves office having accomplished relatively little.
While Abe's legacy may be paltry, he leaves a big vacuum at the center of the world's third largest economy. None of the potential successors look like they can fill his shoes. On the other hand, they are not beholden to his failed policies, so there is an opportunity for some fresh thinking and more resolute action on Japan's gathering challenges, especially pandemic countermeasures and the demographic time bomb.
Granted, Abe has drawn international kudos for his grand ambitions, but after nearly eight years with a supermajority in the Diet his legislative achievements are meager and he failed to deliver on most key promises, most notably on the economy. He will always be remembered for Abenomics and the three arrows of monetary easing, fiscal stimulus, and structural reforms, but he didn't follow through on this bold plan while racking up a mountain of debt. In the end, Abenomics was mostly a branding strategy to generate a buzz rather than a blueprint for economic revitalization. Abe erred with two consumption tax increases and in squandering too much political capital on his Holy Grail of constitutional revision.
This was Abe's problem in 2006-07 when he prioritized revising the pacifist constitution and drew criticism for quibbling about the level of coercion involved in recruiting young Korean teens to provide sexual services for Japan's wartime military. Just before elections in July 2007 Abe showed little empathy for people anxious about lost pension records and led the Liberal Democratic Party (LDP) to a landslide defeat, becoming a national pinata with the demeaning sobriquet "kuki yomenai" (clueless). Party elders nudged him toward the exit, and he resigned, citing health problems.
In 2012, Abe made a remarkable comeback, leading the LDP to a landslide victory. Abenomics was a product launch aimed at softening his ideological image and conveying a laser-like focus on pocketbook issues. But fast forward to 2020 and his popular support plunged due to anger over how he managed the COVID-19 outbreak and a series of scandals. It didn't help that the public didn't feel the love of Abenomics and has been left treading water.
Although Abe got into politics to revise Japan's pacifist constitution and rehabilitate its wartime history, few voters warmed to these efforts. Abe eventually realized that he won't be revising the constitution because support is lacking, and the pandemic is hogging the political bandwidth.
At his sayonara press conference, Abe expressed regret that he didn't resolve the abduction issue involving Japanese nationals kidnapped by North Korea since the 1970s. The government asserts that dozens remain unaccounted for. This is the issue that catapulted Abe into the national limelight when he was Prime Minister Junichiro Koizumi's chief negotiator with North Korea and ever since Abe has made it one of his signature policies. He made a point of seeking U.S. backing and Donald Trump raised the issue when meeting with Kim Jong Un.
Abe's marginalization from the North Korea dialogue, however, reinforces a sense that his diplomacy has been more feckless than effective. He also regretted failing to secure a peace treaty with Russia and surely rues making no headway on territorial disputes with Russia, South Korea, and China. Although advocating a values-driven diplomacy Abe shied from calling out governments on human rights violations or democratic backsliding.
Abe's advocacy of free trade – including sealing a comprehensive deal with the EU and rescuing the Trans-Pacific Partnership (TPP) after Trump withdrew the United States — are his most notable diplomatic achievements.
At the August 28 press conference, Abe stated that his legacy will be determined by the public and history. He asserted that he expanded jobs and daycare, enacted free education for secondary school students, and changed how people work. He also touted his 2015 legislation that expands Japan's military commitments to the United States although the Japanese public is strongly opposed.
Problematically, Abe came to power promising to revive Japan through sweeping structural reforms of the economy. Yet, he achieved little of note because the LDP is the party of the status quo – it represents the vested interests that would lose from such reforms. The overall economy was swooning even before the pandemic but due to the pandemic has shrunk below its GDP in 2013, when he started.
Abe also promised to help make women shine, but that hasn't happened. Women account for only three of his 20 cabinet ministers, about 10 percent of Diet politicians and less than 10 percent of corporate managers. In the World Economic Forum's Global Gender Gap Report 2020 Japan slipped to 121st place, the lowest among advanced economies, down 10 rungs from the previous year.
In 2020 Abe has been the incredible shrinking prime minister. The public soured on him because he has been arrogant, complacent about managing the COVID-19 outbreak, and embodies the dubious means of old school LDP cronyism. He lurched from crisis to crisis, as numerous scandals eroded public trust and he was called out in social media for his lackluster pandemic response. With Abenomics tanking, diplomacy faltering, and the Olympics on the brink of cancellation, the legacy of a political giant is underwhelming.
Moving forward, what can be done? Abe's successor has to be more creative in trying to boost consumption to revive the economy. This could involve a temporary income guarantee, expanded job subsidies, and nudging the Bank of Japan to buy up prefectural and municipal bonds to help support rural revitalization projects. Japan needs a global economic rebound but can do itself a favor by tackling Abe's unfinished business on structural reforms to boost productivity, empower women, and adopt sensible immigration policies to alleviate growing labor shortages.
Is anyone up to the task? Alas, probably not.
Jeff Kingston is Director of Asian Studies at Temple University Japan.