The Beirut Disaster Is a Wake-up Call for Southeast Asia
The devastating explosion in Beirut reminds us how vulnerable Southeast Asian ports might be.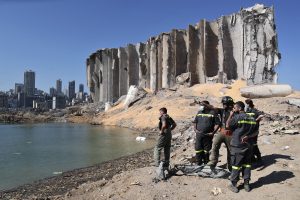 The explosion that has devastated Beirut should serve as a timely reminder that Asian ports are also vulnerable to the neglect of hazardous materials. Safely handling chemicals and other material, such as the fertilizer that caused the Beirut disaster, is a key challenge in the region. This is made more difficult as often hazardous materials are abandoned in Asian ports and are not controlled, as they come from illicit sources. Efforts to address this are not yet sufficient.
As of this writing, at least 154 people have been confirmed dead and a further 5,000 have been wounded following the explosion in the Port of Beirut on August 4. The fallout will go beyond the loss of life, as the explosion has also crippled Lebanon's major port, with further economic woes on the horizon.
While the actual cause of the fire remains uncertain, the dramatic explosion appears to have been fueled by 2,750 tons of the highly reactive chemical ammonium nitrate. The chemical ended up stored in the port after it was unloaded from a ship, the MV Rhosus, in 2013. The ship had been stopped in the port due to technical issues and a lack of seaworthiness. Once the ship and cargo owner abandoned it, the hazardous ammonium nitrate lay neglected for seven years within Beirut's port, awaiting disposal until the disastrous explosion.
The consequences are extremely tragic for Lebanon, and they should be taken as a warning for Southeast Asian states. Their ports also need to re-focus on the management of hazardous materials – especially waste, which poses even greater complexities than the licit ammonium nitrate in Beirut.
Southeast Asia's Hazardous Material Problem
Southeast Asian ports handle hazardous materials daily. Industrial chemicals, such as fertilizers, are heavily regulated and often well controlled. Yet many hazardous materials reach Asia through the global waste trade.
Illicit and toxic waste presents a particular risk, as it is clandestine and therefore more difficult to regulate and control than the ammonium nitrate that proved so damaging to Beirut. From plastics to toxic metals, household waste to e-waste, every year the region's national papers report dozens of cases in which hazardous materials are found abandoned. With waste sitting in containers in the ports of Indonesia, Thailand, Malaysia, the Philippines, and Vietnam, it takes often months, if not years, to detect these potentially dangerous goods.
In July this year, Malaysian authorities found 110 containers of hazardous heavy metal abandoned at the Tanjung Pelepas port. Even now, 1,864 tonnes of electric arc furnace dust containing heavy metals like zinc, cadmium, and lead continue to sit in the port while Malaysia tries to arrange its repatriation to Romania and enlists the help of Interpol for further investigations.
Illicit plastic waste is increasingly shipped to Southeast Asian ports. Since China introduced a ban of plastic imports and strengthened custom inspections, plastic is more frequently smuggled to other Asian destinations, such as Malaysia and Indonesia, instead.
The illicit waste trade is a global problem and Western countries are often the source. Waste is shipped to destinations in Asia since the prices to treat or dispose them are a lower. There are also more opportunities to abandon such illicit freight in ports.
The cost of shipping such goods to Asia is extremely low. Shipping companies often sail to Asia with empty containers, as much of the flow of trade is in the other direction, from Asia to Europe and the United States. As a result, shippers are willing to take low-value and high-volume bookings on the initial leg.
In a way, this is more difficult to solve than licit hazardous materials. As Beirut shows us, even when the owner, signatories, and creditors that claim ownership of the cargo are known, it can be extremely difficult to repatriate materials if they feel no obligation to take it.
This is more difficult in the case of illicit hazardous material, as the use of fraudulent papers, brokerages, flags of convenience, and shell companies make it impossible to track down the original owner. Its return to the origin country then requires diplomatic efforts, something that is often beyond the agencies operating in the port and maritime sector.
The Dangers
Many of these materials do not pose the same risk that the explosive ammonia nitrate in the port of Beirut did. But various hazardous materials entail other insidious dangers.
If laying abandoned and undetected, containers of waste can leak and poison ground and surface water and threaten public health. While many ports, such as the above-mentioned Tanjung Pelepas in Malaysia, are a safe distance from population centers, some of Southeast Aisa's largest ports border massive residential areas.
Tanjung Priok, Indonesia's largest port, is in North Jakarta, with a population of just under a million and a half people. The Philippines' Port of Manila is also close to residential areas serving just under 2 million people. Their health and lives are directly at risk from hazardous materials if not managed correctly.
When leaving the port and disposed of, such waste can still cause massive problems. E-waste, as seen in Vietnam or Thailand, can be highly dangerous for the workers who dismantle it for precious materials without the required safety equipment. The leftovers are often discarded in environmentally unfriendly ways.
Plastic waste is often treated informally and dumped in inappropriate sites. Indonesia's evolving plastic crisis is a case in point. 270 to 590 thousand tons of plastics end up in Indonesian seas annually as it is dumped in rivers and coastal waters. This is destroying ecosystems and also the livelihoods of coastal communities.
Capacity Building
To stop the illegal waste trade, ports are the first line of defense. Authorities need to be well-equipped in the interception, management, and repatriation of hazardous materials before they have a chance to cause significant damage. Recent discoveries of hazardous materials such as illegal waste, as well as its repatriation, demonstrate that this challenge is being taken more seriously.
With claims that thousands of containers remain abandoned, however, and the continuing flow of illicit materials, much more needs to be done.
Hazardous materials pose a particular problem as their detection and handling require highly specialized skills and training. Customs and police in particular often lack such expertise. They mainly focus on other forms of criminality and goods, in particular narcotics. The sheer amount of containers being transported through ports daily makes detection of illicit hazards an exorbitantly difficult task.
In other cases, the control and inspection of waste and hazardous materials are delegated to environmental agencies. These often find themselves under-resourced or lack authority. Gaps in inter-agency coordination prevent them from working with their better-resourced counterparts effectively. In Beirut, port authorities could not get the required permits to dispose of the hazardous material, which demonstrates the importance of working with other agencies and authorities beyond the port in order to handle hazardous material safely.
Capacity building is key to strengthen enforcement against this issue. As China has demonstrated with its Operations Green Fence in 2013 and Blue Sky in 2018, a strong focus on the issue, greater degrees of coordination between agencies, and deepening international cooperation can lead to massive seizures and interceptions, providing a strong deterrent effect.
Southeast Asian ports have not fully developed the capacity to follow this example. Without capacity building and a stronger focus from governments, it is unlikely that they will be able to.
Southeast Asian ports are not only vulnerable, but they face similar challenges to the ones that led up to the Beirut disaster. Undetected hazardous materials accelerate the problem. While a tragedy similar to Beirut is unlikely, tackling the risks and handling daily management is key to prevention.
Professor Christian Bueger is a professor of international relations at the Department of Political Science at the University of Copenhagen, Denmark and one of the directors of SafeSeas.
Dr. Scott Edwards is a research associate at the University of Bristol for the TOCAS project and the lead author of the SafeSeas evidence base.