To Avoid Overdependence on China, Cambodia Needs to Build Its Relations With India
Cambodia has to bring in the Indian card to balance China's economic and geopolitical influence in Cambodia as well as in Southeast Asia.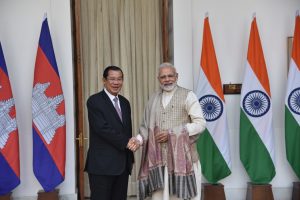 As its economy is severely affected by the dual impact of COVID-19 and the EU's withdrawal of Everything But Arms trade privileges, Cambodia should look to India for support.
With 1.3 billion people, India is the world's second most populous country, and is expected to surpass China to become the world's largest population​ by 2027. India is obviously a huge potential market for the world. It is now the world's third largest economy in purchasing parity terms and the world's fifth largest economy with a Gross Domestic Product (GDP) of $2.87 trillion in 2019. By 2027, India is predicted to become the third-largest economy in the world in terms of nominal GDP.
In the Indo-Pacific, India has emerged as a key player in the regional security architecture. It plays a vital role in preserving a rules-based international order amid the rise of  China and a decline of the United States, as well as a new Cold War initiated by the two powers.
India is the fourth largest trading partner of the Association of Southeast Asian Nations (ASEAN). The country became ASEAN's sectoral partner in 1992, dialogue partner in 1996, summit level partner in 2002, and strategic partner in 2012. The ASEAN-India Trade in Goods Agreement was signed in 2009 and entered into force in 2010. The volume of trade between India and ASEAN was $142 billion in 2018.
The upgrade of India's Look East Policy to the Act East Policy in 2014 under Indian Prime Minister Narendra Modi is seen as India's attempt to enhance its standing as a regional power and to balance China's growing influence in Southeast Asia. India also aims to improve its cultural and economic integration with countries in Southeast Asia and the Indo-Pacific at large. In this regard, ASEAN must engage India economically and strategically to ensure a balance of power in the region amid the growing strategic competition between the United States and China.
India's Act East Policy and its increasing role in Southeast Asia are beneficial for countries in the region, especially Cambodia as it is teetering on the brink of the U.S.-China strategic rivalry for regional influence.
Cambodia has long ties with India dating back to ancient times. India's culture has strongly influenced Cambodian society, especially in the areas of religion – Hinduism and Buddhism – and language. The Khmer language, for example, has received enormous influence from Sanskrit and Pali. Many of Cambodia's temple architectures, such as the famed Angkor Wat and Preah Vihear temples, were influenced by religious concepts that originated in India.
In modern times, Cambodia officially established its diplomatic ties with India back in 1952. Cambodia and India were among the architects of the Non-Alignment Movement, which pursued a neutral foreign policy during the Cold War between the United States and the Soviet Union. This historical movement has allowed the two counties to forge good ties; Cambodia should build on these connections today.
Remarkably, India was the only country from the free world that recognized the Vietnamese-installed People's Republic of Kampuchea after the collapse of the Khmer Rouge regime in 1979 by reopening its embassy in Phnom Penh in 1981. More significantly, India was one of the signatory states of the 1991 Paris Peace Agreement that, in general terms, ended a prolonged civil war in Cambodia.
In the current context of the Act East Policy and India-ASEAN relations, India considers Cambodia as an important interlocutor and a good partner.
Economically, India is one of the top 10 foreign investors in Cambodia, although it remains far behind leader China. In 2016, India invested $19.8 million in Cambodia; China invested $3.6 billion the same year. India's investments concentrate on agriculture, energy, machinery, construction, and mining. Cambodia-India trade reached $249.92 million in 2019, with Cambodia's exports to India worth $82.09 million and its imports from India $167.83 million Additionally, the number of Indian tourists to Cambodia reached 65,882 in 2018 – a 10.6 percent increase from the previous year.
What is more, India has been providing various forms of aid and assistance to Cambodia. Quick Impact Projects, which is at the core of India's aid program to Cambodia, focuses on social development, gender empowerment, and the U.N. Sustainable Development Goals. Each year, India provides 25 scholarships to Cambodian students to pursue higher education in India and offers short capacity building programs for Cambodian government officials.
To support Cambodia's demining efforts, India donated 15 sniffer dogs in 2016. It recently provided $1.5 million worth of demining equipment to assist Cambodia's peacekeeping operations. India has been one of the original contributors to Cambodia's national budget for the Extraordinary Chambers in the Courts of Cambodia (ECCC), also known as the Khmer Rouge Tribunal, since its establishment in 2006. Under the Mekong-Ganga Cooperation (MGC), India has helped Cambodia to build the MGC Asian Traditional Textiles Museum in Siem Reap and offered training courses on conservation and preservation to the museum staff.
Considering India's role in Southeast Asia in general and its role in Cambodia in particular, it is imperative for Cambodia to look westward and increase its engagement with India. In times of increasing uncertainty caused by the U.S.-China competition and the COVID-19 crisis, as well as the economic slowdown triggered by COVID-19, Cambodia needs to deepen its relations with India.
Cambodia should play a more proactive role to engage India. At the government-to-government level, Cambodia can learn from India in terms of democratic development. Since India is one of the most stable post-colonial countries in South Asia as well as the world's largest democracy, Cambodia as a post-conflict country can benefit from the lessons and experiences that India has gone through. The lessons learned can be used to build democracy, enhance the capacity of political institutions, and promote the rule of law in Cambodia.
In the area of trade and investment, Cambodia, having concluded a free trade agreement (FTA) with China, should constructively engage India and find ways to seal an FTA with this Asian giant. Cambodia must recognize the significant role of India in the region, especially when it comes to balancing China's influence and growing aggressiveness in different dimensions.
To engage India meaningfully, Cambodia should look for alternative ways to create a conducive environment for Indian investors to increase their investments in Cambodia. Taking advantage of India's 1.3 billion people is obviously the way forward for Cambodia, which is seeking to diversify its export markets after the European Union's partial withdrawal of the Everything But Arms (EBA) trade scheme that Cambodia has enjoyed since 2001.
As the world enters the Fourth Industrial Revolution and embraces a digital economy, Cambodia needs to improve its technological capacity to stay relevant and competitive in the digital era. The country can collaborate with India to enhance its technology transfer and adoption because India has long been known as the world's leading outsourcing destination for major technology companies.
To boost people-to-people engagement, Cambodia needs to proactively engage India to enhance various forms of collaboration and interactions. Cambodia can frankly talk to the Indian government about its need for more support to develop its human capital. The Cambodian government can ask India through the Indian embassy in Phnom Penh to provide more scholarships to Cambodian students and government officials. At the moment, India offers about 25 government scholarships to Cambodians per year. This number is low if compared to some 180 scholarships given by the Chinese government to Cambodians annually.
Moreover, since the number of Indian tourist arrivals in Cambodia is still low, just 1.1 percent of the total of 6.2 million international tourists in 2018, Cambodia should try to attract more Indian tourists. Opening a direct flight between the two countries can be an option. Cambodia should also try to promote cultural tourism aimed at attracting Indian tourists as the two countries have shared long cultural and historical connections. It is worth noting that thousands of Cambodians visit religious sites in India every year. Cambodia, as home to the world's largest religious temple, needs to come up with innovative ways to attract more Indian people to visit the Angkor Wat temple and other tourist sites.
As its economy is severely affected by the dual impact of COVID-19 and the EU's EBA withdrawal, Cambodia should look to India for support. The country can engage India to reduce its dependence on China. Given India's economy, geography, population, and power, Cambodia would be wise to increase its India engagement. Having two Asian giants – China and India – as friends is clearly better than putting all eggs in the Chinese basket.
In sum, through historical, cultural, and economic ties, Cambodia can deepen and take its relations with India to new heights. Cambodia has to bring in the Indian card to balance China's economic and geopolitical influence in Cambodia as well as in Southeast Asia, which is causing concerns among ASEAN members and Cambodia's key partners such as Japan, the European Union, and the United States.
As India can play a pivotal role in strengthening multipolarity in the region and India's rise seems to be inevitable, Cambodia must step up to engage India now and in the future to take advantage of the opportunities that the forthcoming Indian rise has to offer.
Bunna Vann is a Master of political science student at Jamia Millia Islamia University in New Delhi and a recipient of the Indian Council for Cultural Relations scholarship.
Kimkong Heng is a Ph.D. candidate at the University of Queensland in Australia and a visiting senior fellow at the Cambodian Institute for Cooperation and Peace. He is a recipient of the Australia Awards Scholarship. All views expressed are his own.