What a Blackface Photo Says About South Korea's Racism Problem
The image of high schoolers in blackface — and the backlash — speaks to a growing consciousness toward racism in South Korea.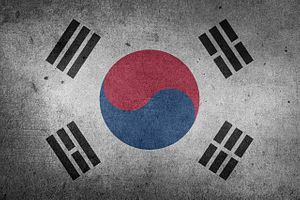 Uijeongbu High School in the city of Uijeongbu in South Korea is famous for its graduation ceremony, which is somewhat different from others in the country. Instead of wearing a school uniform, students attend the ceremony wearing self-made costumes. as if it is Halloween.
Pictures of the ceremony taken by students often trend on South Korea's social media networks and websites. It has become a venue where students show off their creativity and sense of humor, and many are excited to see what kind of new costumes will appear during the ceremony every year.
This year, however, something went wrong. An image emerged on social media of several students posing in blackface, in a parody of the tradition of "dancing pallbearers" from Ghana. The image sparked public outcry, with many criticizing the costumes as culturally insensitive and racist.
South Korea is a country where racism is still rampant. According to the World Values Survey, 15 percent of South Koreans said they did not want to have someone of a different race as a neighbor. In the United States, just 3 percent of respondents said the same.
In 2018, about 500 Yemenis came to South Korea's Jeju Island to apply for refugee status. However, public opinion was heavily against accepting them; in the end, only two Yemenis became eligible for refugee status. It was one of the most prominent recent examples showing South Koreans' stance on accepting foreigners.
Such an attitude is reflected in government policies as well. Numerous policies have been criticized as discriminatory, such as banning migrant workers from freely changing workplaces, providing job information at public job centers for foreigners with specific visas, and excluding refugees from applying for South Korea's public housing scheme.
After the outbreak of COVID-19, more problems arose. Some foreigners are not eligible to apply for a government subsidy amid the economic devastation. Meanwhile, the children of immigrants and refugees are not able to receive a proper education thanks to the lack of an online curriculum designed for them at a time when most schools across the country have adopted online teaching.
Signs of change are emerging, fortunately. A series of new policies proposed recently to stop unfair treatment against immigrants is a good example. South Korea's Justice Party proposed a total of 23 new laws that prevent discrimination against people in employment, financial aid, and administrative work based on one's gender, disability, age, birthplace, appearance, marital status, and more.
The new laws still need to be reviewed and approved by the country's National Assembly to become effective, but if they pass, the party believes immigrants and refugees would benefit the most.
Public views and attitudes on racial issues have also changed a lot. People are more sensitive to racism these days, and it has become easier to find voices urging an end to discrimination and racism in the country. The controversy over the picture mentioned above is one example of a changing social atmosphere.
In another example, when the South Korean newspaper Herald Economy published a story reporting an unsanitary environment in the Daerim District in Seoul, where foreign workers and immigrants are concentrated, the publication was met with a public backlash. Critics charged that the story encouraged discrimination against foreign workers.
It would be premature to say that the discussion over racism has become a mainstream agenda for the public in South Korea, but a change is noticeable.
About 100 protesters gathered in central Seoul on June 6 to show their support for the Black Lives Matter movement, which began to protest racism in the United States.
Wearing black shirts and masks, protesters marched on the streets of the South Korean capital, chanting that they strongly opposed racism.
The organizer of the protest told local media outlets that racism is not just an issue in the United States, but also in South Korea where people with different races and nationalities live together and seek harmony. The organizer hoped that more people would join in such movements in the future to speak out against racism.