As COVID-19 Surges in South Korea, Doctors Are Furious Over Government Training Plan
The government's plan to train more doctors has sparked controversy and a doctors' strike — all in the middle of a global pandemic.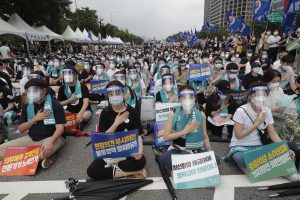 South Korea was once praised for its effective response to the outbreak of COVID-19 and showed a sign of recovering from the pandemic ahead of many other nations. The latest numbers tell a different story.
The country had reported 20,449 cases of the virus as of September 2, up 267 compared to the previous day. That "marked the 20th consecutive day of triple-digit rises," Yonhap reported, a streak dating back to August 14. In that time, South Korea's COVID-19 cases grew by over a third. The South Korean government is now considering introducing tougher measures to tackle the outbreak, including a stricter social distancing rule.
But South Korea is facing another obstacle: Doctors in the country, who are one of the essential players in the battle to contain the virus, went on strike and vowed to continue their protest against the government.
What's going on?
The disagreement started after the government laid out a plan to increase the number of medical students by 4,000 over the next 10 years to better prepare for public health crises like the current pandemic.
Its main plan is to establish a new graduate school, which will be funded by the government to nurture future doctors. Students will be offered incentives if they major in less lucrative specialties or volunteer for public health work in rural areas.
The government also plans to send three-quarters of the additional trainees to rural provinces, in exchange for tuition waivers and scholarships.
In a country where the majority of medical resources are concentrated in the capital Seoul and neighboring provinces, the government's idea could be a boon to many who live in remote areas. But many believe the problem of uneven health care cannot be solved by simply adding more doctors.
"There are not many things that one doctor can do. Most medical practices are a collaborative work," a Seoul-based doctor who refused to be named told The Diplomat. "This means there should be enough facilities and places where doctors can work together and provide a comprehensive medical service. In this regard, sending more doctors to rural areas where not enough such infrastructure is ready cannot solve the issue."
South Korea's Ministry of Health and Welfare said in its February report that adding more doctors cannot resolve the issue of lack of medical staff and resources in rural areas and "less popular" specialties, suggesting a more comprehensive solution to tackle such an issue.
The government's current plan is in contrast with the health minister's conclusion.
In fact, South Korea has not even been able to come up with a concrete estimate of the number of doctors needed, or a grasp of future supply and demand.
There have been more than 20 domestic studies so far estimating such numbers, and the results vary due to the different research methodologies. Some papers say South Korea doesn't have enough doctors to meet future needs, while others say it does.
The government often cites research conducted by the Organization for Economic Cooperation and Development (OECD) in 2017, which stated that South Korea has a shortage of doctors, but many believe the study is outdated and cannot fully reflect the local situation.
Amid the controversy, the government admitted on September 2 that it would be necessary to discuss further with doctors and reconsider its plan.
The health ministry said during a briefing that the government is ready to participate in discussion sessions prepared by broadcasters with a mind to review and reflect on demands and views from doctors' groups.
Many trainee doctors in the country have been staging a walkout since August 21 in protest of the government's plan. The health minister warned that the country is running short of medical professionals who can treat critically ill patients due to the protest.
Meanwhile, a petition demanding that the government withdraw its plan, which was submitted on August 28, has garnered more than 160,000 supporters on South Korea's official online petition channel so far.