Australia Enters First Recession Since 1991
After almost three decades of uninterrupted economic growth, Australia's luck has run out thanks to the COVID-19 pandemic.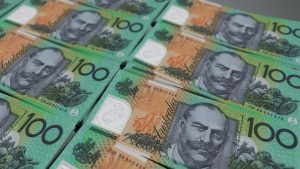 Australia is often referred to as "The Lucky Country," an ode to a book of the same title published in 1964 by Donald Horne, who concluded in the closing chapter that "Australia is a lucky country run mainly by second rate people who share its luck."
Horne's intent was to showcase that while other industrialized nations had created wealth through advancing technology and other innovations, Australia had prospered on vast natural resources and high immigration.
But after almost three decades of uninterrupted economic growth, Australia's luck has run out, with Australian Treasurer Josh Frydenberg announcing last week that Australia had officially entered recession for the first time since 1991.
"Today's devastating numbers confirm what every Australian knows: that Covid-19 has wreaked havoc on our economy and our lives like nothing we have ever experienced before," he said. "Our record run of 28 consecutive years of economic growth has now officially come to an end."
According to the Australian Bureau of Statistics (ABS), Australia's GDP fell by 7 percent in the June quarter — by far the biggest drop since the data began being compiled in 1959.
"Behind these numbers are heartbreaking stories of hardship being felt by everyday Australians as they go about their daily lives," said Frydenberg. "Be it the tourism operator in Cairns, the tradie in Melbourne, the café worker in Adelaide or the domestic flight attendant in Sydney, they are all affected by Covid-19."
However, Frydenberg noted that Australia has emerged better than expected – and better than most other developed nations.
"Australia's economic performance sits amongst the top when compared with other developed nations as a result of our health and economic plan to fight the virus," he said. 
In the United Kingdom, GDP fell by 20.4 percent in the June quarter. In France GDP fell by 13.8 percent, Canada by 11.5 percent, Germany by 9.7 percent and the United States by 9.1 percent while New Zealand is expecting the economy to contract by more than 20 percent. 
"We didn't go down the path of countries like Sweden, which put few restrictions in place. At the same time, we didn't go down the same path of countries like France which accepted and adopted extreme lockdowns, totally shutting down large parts of their economy," said Frydenberg. "Instead, we chose our own path and put in place billions of dollars of support for Australians to build a bridge to the other side of this crisis."
Acknowledging early on the economic risks the pandemic posed, the Australian government announced throughout the month of March a total of $213.6 billion Australia dollars ($155.76 billion) in economic stimulus packages. Frydenberg said that 700,000 more jobs would have been lost without the government's economic support. 
The two main ongoing supplements are JobKeeper, which is designed to allow employers to keep workers employed and JobSeeker, which is for the unemployed. According to ABS data, the unemployment rate rose from around 5 percent before the pandemic to 7.4 percent as of July – its worst recording in 22 years. 
The Reserve Bank of Australia believes that the unemployment rate needs to be brought back down to 5 percent before wages will start to grow again. 
In February this year, before the pandemic hit the Australian economy, 3.24 million Australians (13.6 percent of the population) lived below the poverty line, which is set at making less than AU$457 a week per adult. But with the introduction of the fortnightly JobKeeper payment of AU$1,500 and the JobSeeker payment of AU$1,100, an estimated 425,000 were instantly lifted out of poverty.
JobKeeper and the boost to JobSeeker, however, are temporary. The government is moving ahead with plans to slash the JobSeeker payment by AU$300 later this month and then back down to the pre-pandemic rate of AU$550 in December. JobKeeper will remain in place until March 2021 but will be cut back to AU$1,200 next month and then to AU$1,000 in January. 
The cuts to JobSeeker will see Australia's unemployment benefit drop to the third lowest rate among countries in the OECD, ahead of only Greece and New Zealand. Modeling by the Grattan Institute shows that once the cuts have been made, as many as 740,000 Australians will be pushed back into poverty, far exceeding the pre-pandemic rate.
Economists at the Grattan Institute wrote earlier this month that further government economic stimulus is needed to cut the unemployment rate and stop more Australians falling below the poverty line.
"Australians should not settle for a prolonged slump, with the scarring and misery it would bring. Based on the updated Reserve Bank forecasts, we now estimate that an extra stimulus of $100-to-$120 billion will be needed. Our calculations suggest that would be enough to cut the unemployment rate by about two percentage points beyond where it would otherwise fall to by the end of 2022. It would bring unemployment back down to around 5 per cent rather than 7 per cent."
Despite most of the country having reopened months ago, Frydenberg acknowledged that the September quarter may still fall short as Victoria's harsh lockdown beginning early August and ongoing would not have been captured in the latest figures.