Could the Islamic State – Khorasan Province Be the Next Chapter of Global Terrorism?
Peace between the Afghan government and the Taliban is not a silver bullet for peace in the region. ISKP poses a significant threat.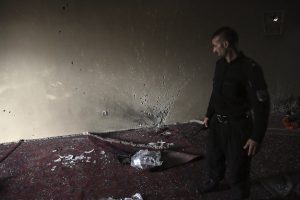 Euphoria is running high in Kabul and Washington after peace talks between the Afghan government and the Taliban opened last week in Qatar. These negotiations follow the February 29 U.S.-Taliban agreement, which commits the United States to a phased withdrawal of its troops from Afghanistan, and the Taliban to sever its ties with al-Qaida. As the peace talks continue over the next several months, the Afghans hope to reach an end to the relentless war in their country, and the Americans wish to finally go home without the fear of leaving Afghanistan a jihadist paradise. 
Rightful hopes indeed, but the realities on the ground suggest a dubious future. Beside the Taliban, some 20 terrorist groups of various nationalities have been battling Afghan and coalition forces for years, and will not be part of any peace deal. Most notable among them is the Islamic State – Khorasan Province (ISKP), which has carried out some of the most gruesome attacks in recent years, including the infamous complex attack on a Kabul maternity ward in May. A potential peace agreement with the Taliban could result in strengthening ISKP, as it is poised to attract many Taliban and foreign fighters and exploit the shifting dynamics in its favor.
As a branch of the Middle East-based Islamic State of Iraq and Syria (ISIS), ISKP emerged in late 2014 in southern and eastern Afghanistan. In the south, a disgruntled Taliban commander and former Guantanamo Bay detainee, Mullah Abdul Raoof Khadim, swore allegiance to ISIS, while in the east, six Pakistani Taliban commanders led by Hafiz Sayed Khan raised ISIS's black flag. The group immediately came under heavy military attack by Afghan and coalition forces, resulting thus far in the death and capture of over 13,000 of its fighters, including five consecutive emirs, or top leaders. Nevertheless, the group has shown spectacular resilience, managing to replace and regain its lost manpower, expand its geographical foothold, and increase the number and intensity of its operations. With manpower estimated in the thousands of battle-hardened fighters, ISKP now operates across eastern and northern Afghanistan, as well as Khyber Pakhtunkhwa and Balochistan provinces of Pakistan. 
With the Taliban possibly exiting the war theater through a peace deal with the Afghan government, the stars seem to be aligned for ISKP to grow in size and strength, and assume the leadership position among terrorist groups in the region. It is ready to absorb a good number of Taliban fighters who would undoubtedly wish to continue to fight for reasons of ideology, employment, profit from the illicit economy, or personal and tribal enmity. Let's not also forget the other 19 or so terrorist groups – everything from the Pakistani Lashkar-e-Taiba and Jaish-e-Mohammed to the Islamic Movement of Uzbekistan and others – that have for years worked with the Taliban. Reports show that ISKP has already fostered relationships with most of these groups, which would only accelerate once a peace deal with the Taliban is inked. 
ISKP's ideology resonates well with non-Afghan terrorist groups, as they pursue regional and global agendas. Unlike the Taliban, whose ideology is as much about the Afghan Pashtunwali code as it is about Islam, and whose objectives are limited to Afghanistan, ISKP follows a strictly Salafi-jihadi ideology and has a global outlook. Based on a skewed interpretation of Islamic theology, the Salafi doctrine defies all racial and geographical boundaries within the Muslim community, blames the West for the decline of Islamic civilization, seeks a resurrection of the Islamic Caliphate, and sanctions the use of unrestricted violence in that pursuit. This transborder, transracial, pan-Islamist ideology is more appealing to regional terrorist groups, which have framed the Taliban as "filthy nationalists." ISKP thus has vast and diverse ground for recruitment, alliance building, and mustering support. In its vows to reestablish the historical "Khorasan" region, ISKP has already drawn fighters from over a dozen countries, including those in Central, South, and Southeast Asia, and even as far afield as France. 
Although most of ISKP's operations have thus far been limited to Afghanistan and Pakistan, the group has demonstrated serious intent at expanding its target zone to the region and beyond. For example, after attacking a Sikh temple in Kabul last March, ISKP claimed it as revenge for Muslim suffering in India-administered Kashmir. ISKP also enjoys close relations with the Islamic State-Bengal, which has carried out deadly attacks in Bangladesh and plotted to assassinate the country's prime minister in 2017. ISKP's inroads into the northern provinces of Afghanistan, especially as it collaborates with the Islamic Movement of Uzbekistan and others, are centered on a single objective – to make its way into Central Asia and China. How much the group can expand terrorist operations beyond the region is to be determined, but currently Global Terrorism Index puts ISKP among the top four most lethal terrorist organizations in the world. 
What, then, of the hopes of Afghans for peace and the wishes of Americans to close the 19-year old "war on terror"? A power sharing agreement between the Afghan government and the Taliban is certainly a legitimate objective for Afghanistan and a major step toward ending America's longest war. But it would be naïve to conclude that such a peace deal would be a silver bullet to bring peace to Afghanistan and extinguish the most serious terrorist threats to American interests in the region. What is required is a coherent, affordable, and long-term counterterrorism strategy in cooperation with NATO and the regional powers, particularly Russia and China, to fight ISKP and its affiliates well after peace with the Taliban is achieved. Unless such an arrangement could be made, the Islamic State – Khorasan Province will endure, evolve, and export terrorism to the region and beyond for years to come. 
Dr. Arian Sharifi is a senior adviser to Afghanistan's Foreign Minister. Dr. Sharifi holds a Ph.D. in International Security Studies from Tufts University's Fletcher School of Law and Diplomacy.