Jaishankar's Six Needles: Indian Foreign Policy 'The India Way'
What does a new book from India's minister of external affairs tell us of his vision of foreign policy?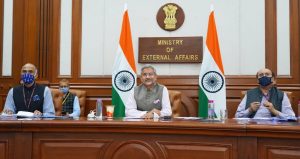 Books by politicians are usually to be avoided. More often than not they are written in very general language and their authors avoid some of the most risky ground (which the readers would find most interesting). Finding insights in them is like searching for needles in a haystack – with a caveat that a politician, by their nature, is expected to hide a needle here or there.
Knowing this, I did not expect the Indian foreign minister's new book – "The India Way: Strategies for an Uncertain World" – to sweep me away with a flood of facts, details and insights, especially given its author, Subrahmanyam Jaishankar, is still in office. Having protected myself with this armor of reasonable doubts and moderate expectations, I was not disappointed. "The India Way," built upon the minister's select speeches, is a very general review of India's foreign policy and the country's global position. 
The book is not without value. Jaishankar is clearly a very keen observer of international relations with immense background knowledge. As an author, he also has a capacity to serve up succinct summarizing statements about complex realities (the ones which the reader wants to immediately underline or memorize). And yet these few pearls are buried under heaps of other, long and winding sentences; the style is heavy and laden with too many words.
The reader is thus forced to dig through this lexical haystack in search for needles – sharp statements that offer clear views or concrete policy proposals. Once the latter are found, however, they do unveil a part of author's understanding of current Indian foreign policy, a policy in which he himself is playing a significant part. Let me, therefore, present a subjective review of what I think are Jaishankar's five needles – his most significant views of New Delhi's foreign policy that arise from reading his book (and a sixth needle – an absence of one aspect).
1. Jaishankar calls for realism, in terms of a policy which is not idealistic, a policy that does not believe that achieving peace is easy and cheap, and a policy which perceives national security as a key component of foreign relations. The old "political romanticism," faith in the Non-Aligned Movement, is rejected. The U.N., for instance, does not appear on the pages of the book too often. This suggests that the author believes that such international bodies cannot solve India's challenges. In the changing global situation, he writes, "[m]ultilateralism may well take a backseat as rules and norms come under greater scrutiny and the consensus among the Permanent Five (US, China, Russia, China, UK and France) weakens."
As for the positive examples of successful policies, the "diplomatic milestones," as Jaishankar calls them, he gives the instances of India's "nuclear tests, the 2005 nuclear deal [with the U.S.] and a tougher national security posture." 
"We have […] reached a league where the ability to protect our interest is an assumption, not just an option," Jaishankar writes. "This is best done through a mix of national strengths and external relationships."
2. Much has been written on the concept of India's "strategic autonomy." What Indian experts often debate is how much should New Delhi formalize its ties with the United States, thereby accepting certain obligations in return of Washington's support, and how much should India remain a solid partner without being a formal ally. Jaishankar does not seem to offer a concrete reply – which, at any rate, is not an easy task – but it appears he favors less institutionalized ties, with India being outside a formal alliance but taking advantage of various regional groupings, depending on its interests.
One quote, which presents the global realities within which India is forced to work, is perhaps most telling in this regard: "A more transactional ethos will promote ad hoc groupings of disparate nations who have a shared interests on a particular issue. This would be supported by requirements of working together and reaching out beyond alliances. The combination of these developments will encourage more regional and global balances with less global influence on their working." Or, in a nutshell, as the author puts it himself: New Delhi needs to hedge.
3. Connected to all of the above is Jaishankar's assumption that global politics is entering a more turbulent phase. Not only multilateralism may be weakened, but some of the leading countries may no longer be that open when it comes to economics. "India will not get the openness in the world economy that China enjoyed," the author declares. These circumstances will force New Delhi to follow an even more pragmatic and flexible policy, shorn of "old dogmas."
4. The minister's clearly pro-U.S. course does not translate into a cold approach toward Russia, however. Relations with Moscow are always commented on positively. "Russia remains a privileged partner," Jaishankar writes. Apart from this, among the Asian countries the author often points to Japan as one of India's most important and prospective partners.
5. While I may be perhaps reading too much into some of the statements of the book, it is possible that the author believes that India should take a tougher stance on China. I may be biased with hindsight, however – Jaishankar completed his book before the Galwan river valley clash and subsequent tensions kicked off this summer. The context in which China appears in the book is noticeable, however. China does not figure as a potential partner or an economic opportunity. The so-called Wuhan spirit of India-China cooperation is absent from the book (although the Wuhan summit itself is mentioned and defended as an example of realism). "This is a time to engage America, manage China, cultivate Europe, reassure Russia, bring Japan into play," Jaishankar  writes. For each country or region, one key word – "manage" is the one reserved for China.
Another often used term is "equilibrium" between India and China – and this is a state which according to Jaishankar the two countries should reach. This would suggest that the ultimate goal is reaching a certain balance of power. A state of equilibrium usually does not imply friendship but at the same time should make a conflict somewhat less possible.
As Jaishankar devotes a whole chapter to China, a few general policies toward Beijing emerge. Firstly, he reminds us that peace "must prevail on the border." To which he adds: "The border and the future of ties cannot be separated." The events that took place in Ladakh while the book was going to print wrote a telling postscript to this statement. Peace on the India-China border has been violated in a more brutal way now than in the recent decades. Going by these quotes, New Delhi should not seek to normalize certain other aspects of its relations with China as long the current crisis in the Himalayas is unresolved.
Secondly, there is a suggestion that New Delhi should be more protective toward its economy when it comes to China. "India too needs to think out of the box and find more creative methods of protecting its equities."
Thirdly, however, Jaishankar convinces us that India is right to support international financial initiatives in which China plays a key role but which are "based on broadly accepted principles and goals." India is thus "comfortable with the connectivity contributions of the Asian Infrastructure Investment Bank and the BRICS New Development Bank."
6. The final needle is conspicuous for its absence – it is the lack of ideology in the narrative. While the book does contain many references to Indian history and culture (including a whole chapter on the relevance of the Mahabharata epic), it would be unfair to brand such remarks as "Hindu nationalist." Similarly, a single statement that we find here – that "India is now more Bharat" – is not enough to conclude about author's views (Bharat, a word of Sanskrit origin, is a name for India used in languages such as Hindi).
This is even more notable given that Jaishankar is a career diplomat, not a party man – he only joined the ruling Bharatiya Janata Party (BJP) after becoming a minister. He is thus seen as a professional bureaucrat rather than a member of the party's ideological circle. Still, in this position he was forced to defend his government's decisions both for the domestic audience and on the international stage – including those changes that were clearly influenced by the party's ideology, Hindu nationalism. In the past few years New Delhi did introduce reforms that were focused on the internal situation but caused international reactions – such as changes in Kashmir, the Citizenship Amendment Act, the National Register of Citizens – but these are not talked about in the book.
All in all, despite the author's knowledge and insights, "The India Way" does not live up to the promise of its title. No particular "Indian way" of managing international relations is satisfactorily described here. In the author's defense, one may say that perhaps no country has a very original way of pursuing its foreign policy. And yet some general vision of Indian foreign policy does emerge here and it is a picture which largely overlaps with what New Delhi is already doing.