Prolonged Road to Recovery for Victims of Delhi Violence
Seven months later, victims of communal violence in India's capital are still awaiting compensation and rehabilitation.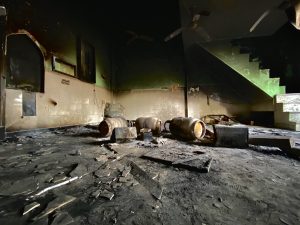 In February, Delhi witnessed a wave of communal violence purported to be between Hindus and Muslims, which left at least 53 people dead and dozens more injured. What started as a peaceful protest against the controversial Citizenship Amendment Act, which was passed last year and is seen by many as discriminatory against Muslim immigrants, ended up in one of the worst instance of communal violence in the Indian capital in six decades.
Private buildings were destroyed, and houses and shops were razed to the ground, forcing hundreds of residents into makeshift shelter homes. Crowds of men carrying sticks spared no one — neither 17-year-old Amaan, who was shot dead, nor 90-year-old Sharif Khan, who succumbed to burn injuries. A medical doctor, M.A. Anwar, described his emotions while responding to gunshot wounds, crushed skulls and torn genitals. "I wanted to cry and scream," he said. "Something inside of me died during those three days."
Educational institutions were also burned down. After the violence, Arun Senior Secondary School, DRP Public School, and Rajdhani Public School had their books torn up and walls colored with blood.
Just as the embers of brutality began to cool, the wrath of COVID-19 fell upon the victims. Rehabilitation efforts were put on hold as the entire country went into a nationwide lockdown to prevent the spread of the virus. The victims are still struggling to reassemble the shredded pieces of their lives.
Victim families are making their own efforts towards rehabilitation.
"We had to fix three oil dispensing machines; one of them was completely damaged by rioters. All the documents and other things kept in our office also got destroyed. We had to take loans from relatives and friends to make this petrol pump functional," said Ashish Maheshwari, the owner of a petrol station in the affected area, in an interview with local media.
Some victims have installed iron gates to give themselves a sense of some security after the violence. "This is for our safety. We had to erect temporary gates using tables and wooden sticks when rioters ran amok," said Jeet Chaudhary, another resident.
The Delhi government has announced compensation for the victims, but most of them have been left to trace their way through a maze of paperwork. A senior official, quoting official records in a media interview, said that until June-end, only 1,700 of the roughly 3,200 claims for compensation had been approved, while around 700 remained pending. More than 900 claims were rejected. "So far, a little over Rs 200 million [around $2.7 million] has been disbursed as relief across categories," the official said.
Giving financial compensation is the minimum the government must do, given the nature and extent of the violence.
The Delhi Minorities Commission formed a fact-finding committee on the Delhi violence and published its report in July. It found that an incendiary speech by Kapil Mishra, a local leader of the Hindu nationalist Bharatiya Janata Party (BJP), was responsible for whipping up the violence. It also determined that the "organized and systematic" violence selectively targeted the Muslim population in the area. "In some instances, shops belonging to Muslims were looted and burnt, while adjoining shops owned by Hindus, and even adjoining ATMs, were left untouched," the report stated.
Moreover, it noted the complicity of police in the violence, whereby in some cases they implicated the victims or asked them to "compromise" with the names of the accused in their complaints, the committee found. Dubious arrests were made, and there have been no convictions so far.
Justice S. Muralidhar, a judge of Delhi High Court at the time of the violence, famously said, "We can't let another 1984 scenario happen in this city; not under the watch of this court." He was referring to the spate of anti-Sikh violence that followed the assassination Prime Minister Indira Gandhi by two of her Sikh bodyguards.
Justice Muralidhar was soon thereafter transferred to the High Court of Punjab and Haryana. His transfer spoke to the intolerance that authorities show towards those who speak out against communal violence. As a result, its incidence remains high. According to India's interior ministry, 822 incidents of communal violence took place in the country last year. It's a matter of concern not only to the victims of such violence, but for all Indians and the country's political leaders.
These violent incidents not only weaken India's social fabric; they also have a huge economic impact. Investors have been cautious since the BJP assumed power at the federal level in 2014. Western Asset Management Co said in January that it was lowering its India bond holdings due to social tensions surrounding the new citizenship law.
In early March, Simon Chauchard, an Assistant Professor of Political Science at Leiden University in the Netherlands, made the argument that "investors don't always care about regressive governments — (India's Prime Minister Narendra) Modi built a career as an economic genius on a riot. But investing in India remains difficult. The economy is doing badly and the mood is changing. The narrative of Modi being a great economic reformer is dead — among the people who matter the tide might be changing."
The apparent impunity that followed Delhi violence and the evident lack of efforts to compensate and rehabilitate its victims only reinforce the truth of Chauchard's sentiments.
Jessica Goel and Richard Kujur are journalists with StoriesAsia.