Racism Is Fueling Myanmar's Deadly Second Wave of COVID-19
Anti-migrant — and especially anti-Rohingya and anti-Rakhine — sentiments are undermining efforts to control the pandemic.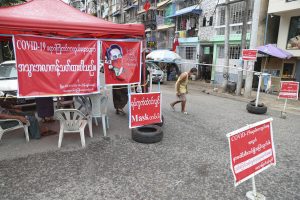 As COVID-19 cases surge in Myanmar, the country's famously serene State Counsellor Aung San Suu Kyi appears to be getting flustered. In a severe speech delivered September 2, she castigated "reckless and unsympathetic" nightclub owners, admonished Yangon residents for flouting COVID-19 restrictions, and threatened legal punishment against uncooperative citizens. On August 24, a week after the second wave began, she also warned against potential racial tension in Rakhine state, the epicenter of Myanmar's renewed outbreak, reminding Burmese that recent violence there has made Myanmar a global "embarrassment."
But as Aung San Suu Kyi spread the blame around, she neglected to mention the one person most responsible for surging COVID-19 cases and rising racial tensions: herself. Government policy has been inconsistently applied to different ethnic groups, stoking racism. Meanwhile, threats of legal action and public shaming have discouraged potential patients from seeking medical help, likely facilitating the virus' spread.
For months, Myanmar appeared to have escaped a major COVID-19 outbreak. Between March and August, cases were limited to 374 with only six deaths. The last fatality was recorded in April, and no local transmissions were reported between July 16 and August 16. But on August 16, everything changed. A second wave of COVID-19 cases erupted in Rakhine state and quickly spread to Yangon, with smaller clusters now being found across the country, including nearly 50 in Mandalay region's Myingyan township. As of September 11, Myanmar's caseload has leapt up to 2,422 cases and 14 total deaths, with cases and deaths doubling in the past week alone. The health ministry has also been inconsistent and less transparent in its announcements of new cases, sometimes not revealing where the cases were found until days later. When two patients died on September 7, the ministry waited more than 24 hours to inform the public.
Rakhine was hardly prepared for a contagious disease outbreak, having been rocked by successive violent crises. In 2017, racially motivated violence left thousands of Rohingya Muslims dead and forced over 700,000 to flee to refugee camps in Bangladesh. Today, the state is embroiled in full blown war, as the Rakhine nationalist Arakan Army fights the Myanmar military for greater autonomy and political rights for ethnic Rakhine.
When a handful of cases were reported in Rakhine back in June, Aung San Suu Kyi threatened to "severely" punish anybody crossing into the country illegally, as well as those who harbor undocumented arrivals. While she didn't mention Rakhine state or the Rohingya specifically, her comments were a sharp deviation from previous government policy. In the past, Aung San Suu Kyi had explicitly encouraged returnees coming from Thailand into Mon and Kayin states to seek medical authorities, get tested and quarantined, with no repercussions.
Rohingya activist Nay San Lwin called this a "racially motivated" "double standard."
"Imprisoning the Rohingya returnees for six months with hard labor is too much," he told The Diplomat.
Soon after state media ran Aung San Suu Kyi's comments, hate speech against the Rohingya proliferated. Popular local media outlet The Voice ran a racist cartoon depicting a Rohingya man crossing the border carrying COVID-19 with him, accompanied by the derogatory label "illegal interloper," which is frequently used to describe the Rohingya. A local Rakhine official then allegedly doxxed a Rohingya COVID-19 patient, posting pictures of his home on Facebook.
Kyaw Win, director of Burma Human Rights Network, said the narrative that the Rohingya brought COVID-19 into Myanmar was an attempt to "divide the Rakhine and Rohingya community" as the military loses ground in its war against the AA. While the outbreak may well have come from people travelling from Bangladesh, ethnic Rakhine were also among those crossing the border. As in any border area, people of all ethnic groups have family and business interests on both sides. At least one ethnic Rakhine was confirmed to have carried COVID-19 into Myanmar from Bangladesh in June as well. But media reports focused on Rohingya, many of whom were later sentenced to prison time.
The bigotry did not end in June but saw a resurgence as cases climbed in August. In a since deleted Facebook post, a Rakhine lawmaker blamed the Rohingya for the outbreak and demanded segregation between the Rakhine and Rohingya populations. Of course, in many areas the populations are already segregated, with the Rohingya living in camps that rights groups describe as apartheid-like.
Nay San Lwin said Rohingya on the ground have reported widespread discrimination.
"Local authorities are using this — COVID-19 restrictions, lockdown — as a pretext and extorting the money from Rohingyas. In Maungdaw, only Rohingyas are being targeted by police. Police do not take any action against Buddhists," he said. Rohingya in Rakhine previously shared similar stories of extortion and harassment with The Diplomat.
It's worth mentioning that not all influential Rakhine leaders have bought into the racist rhetoric against the Rohingya. On August 1, the Muslim holiday of Eid al-Adha, the commander of the Arakan Army wished Muslims Eid Mubarak, a historic moment for race relations in the region. Aung San Suu Kyi has never extended similar courtesies to the Muslim population in the country she governs.
Aung Marm Oo, editor of prominent Rakhine-based media outlet Development Media Group, also pushed back against racist rhetoric. "The majority of the people understand now that we are in the same situation between the Rakhine and the Muslim community," he said.
As the virus spread to Yangon, ethnic Rakhine started to experience similar racist backlash from the rest of the country.
Kyaw Win said his team has recorded rampant hate speech against both Rakhine and Rohingya online, as well as many instances of discrimination against Rakhine in Yangon. "They are being targeted. Some shops don't want to sell anything to them. Their neighbors are informing authorities which houses belong to Rakhine people. It's difficult for the Rakhine to survive," he said.
In addition to fomenting racial tensions, Aung San Suu Kyi's threats of legal action may have also actively undermined the country's COVID-19 response. Rather than encouraging recent returnees from Bangladesh to seek medical care and enter facility quarantine, she threatened to throw them in jail, all but guaranteeing that most returnees would go into hiding.
Apparently, no lessons were learned in Rakhine. As cases now spread in Yangon, the government is again turning to threats and shame tactics. The state-run newspaper published a list of travelers who had recently returned to Yangon from Rakhine and demanded that they turn themselves into health authorities or face legal punishment. The inevitable effect of such a strategy is to spread fear and embarrassment, once again undermining cooperation.
In a recent roundtable discussion with quarantine officials, Aung San Suu Kyi made it clear that her intention was to shame returnees, saying they will soon republish names and addresses in the newspapers. "Only then would their neighbors and friends know who they are," she said, again promising legal action.
One recent returnee from Rakhine shared their experience getting tested for COVID-19 with The Diplomat, describing a disjointed process steeped in stigma and public embarrassment.
"The whole street had come out to watch us leave. People were leaning over their balconies and some were taking videos on their phones," the returnee said in an email. "I find the lack of privacy and data protection disturbing. Our home address was given in the post that announced our batch of home quarantines, and the comments beneath contain endless speculation about where exactly these addresses are and who the potential COVID sufferers are. This adds to our anxiety about ongoing stigma from this episode."
The returnee added that these kinds of experiences may serve as a "disincentive" for others to report to authorities.
Sequestered in the isolated capital of Naypyidaw, which has been sealed to outside visitors, Aung San Suu Kyi may also have failed to grasp the bureaucratic breakdowns occurring in Yangon.
The returnee from Rakhine said they had been back in Yangon for 10 days before realizing their name was on the public list. They were never contacted by any authorities. After getting tested, they weren't given a form or receipt, but were told they needed one to pick up their results. To this day, they still haven't gotten their test results, despite attempts to contact the Township Medical Officer, National Health Laboratory, and health ministry. "No one seems able to offer any definitive test result," they said.