Russia, China, and the Indo-Pacific: An Interview With Dmitri Trenin
"Russia has 'pivoted' to itself, as a major independent player, with China its key strategic partner."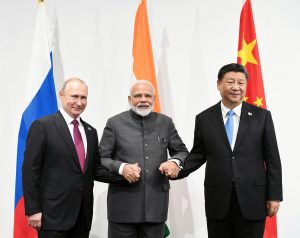 What is the current state of Russia's relations with China and the Indo-Pacific? And what are the prospects for Russia as an Indo-Pacific power? For a perspective on these matters, Jongsoo Lee interviews Dmitri Trenin, director of the Carnegie Moscow Center and chair of the Center's Foreign and Security Policy Program.
It is said that the 21st century is the century of China and Asia. How is Russia dealing with the rise of China and Asia? Is there a "pivot" toward China/Asia in Russia's foreign policy and global priorities?
Russia has had to recognize that in the East, as well as in the West, it is now flanked by a power with a superior economic strength, a source of investment, and a modernization resource. Hence, it has rebalanced its foreign policy more evenly between Europe and China/Asia. Russia has been able to adapt to a strong China; it has managed to build a relationship with it, squarely based on national interests. After the 2014 Ukraine crisis and the ensuing confrontation with the United States and alienation from Europe, Russia has "pivoted" to itself, as a major independent player, with China its key strategic partner. Russo-Chinese relations rest on a formula: never against each other; not necessarily always with each other. This combines reassurance with freedom of maneuver.
Russia and China have drawn closer to each other recently. Is this likely to continue into the future even if Moscow and Beijing improve their relations with the West? In particular, please comment on Russo-Chinese economic ties, including in energy, trade and investment.
U.S.-Russian confrontation has been more recently followed by the confrontation between the United States and China. Both are bitter rivalries with their own fundamental underlying causes, and neither relationship is likely to improve in the foreseeable future. The Sino-Russian rapprochement began in 1989 and has been going strong ever since. The outlook is positive, though in many ways it is an asymmetrical relationship, with China's fast-growing GDP dwarfing Russia's, which is stagnant.
China's share of Russia's foreign trade keeps rising, but Chinese investments in Russia so far have been limited to a few major projects, including in the energy field. Energy accounts for the bulk of Russia's exports to China, while manufactured goods, including machinery, go in the opposite direction.
How would you characterize the military ties between Russia and China? Are they likely to strengthen further and should other nations be worried?
The Russo-Chinese relationship can be described as an entente – half-way between a partnership and an alliance. Russia still leads China in advanced military technologies, and cooperation in that area partially offsets China's economic superiority. With the border issue long resolved, and the political relationship cordial at the top level, the two militaries have cooperated closely for over a decade and a half. The recent emergence of the United States as a declared adversary of both China and Russia has given such cooperation a new impetus. Yet, a peacetime alliance between the two would be awkward: neither Beijing nor Moscow would want to tie its hands too much.
Does China have ambitions to rival the U.S. and Russia as a nuclear superpower? Explain the prospects for nuclear arms control involving China. Does Moscow feel Beijing needs to be involved in extending the New START (Strategic Arms Reduction Treaty) between the U.S. and Russia? 
Beijing's nuclear policy is opaque, but historically China did not aim for nuclear weapons parity with Washington or Moscow. It is certainly modernizing and perfecting its nuclear arsenal, but its actual size and capabilities can only be assessed on the basis of intelligence information, which may be incomplete. Russia has offered to assist China in building an early warning system to alert the Chinese leadership of missile attacks: a sign of the level of intimacy achieved in the strategic relationship. For the foreseeable future, due to the relatively small size of its nuclear force and the prevalence of medium- and shorter-range systems — rather than intercontinental missiles — in that force, China remains uninterested in nuclear arms control. New START will be extended or not without China.
Please comment on China's rise as a space power and its military implications. Is there Russo-Chinese cooperation in space?
Historically, there has been a degree of Russo-Chinese cooperation on space-related issues, but China pursues a national space program that runs on its own. Both China and Russia have long advocated non-deployment of weapons in space, but their proposed treaty has been rejected by the United States. Under present conditions, Beijing and Moscow each works on capabilities that would allow them to incapacitate enemy satellites in case of a military conflict.
Please comment on Russia's relations with the Koreas and Russia's position on Korean reunification.
Moscow favors arms control diplomacy between North Korea and the United States as a way to regulate the Korean nuclear issue. Reunification is not considered a relevant issue for the foreseeable future, but improved relations between Seoul and Pyongyang would offer a chance to Russia to build a trans-Korean gas pipeline and modernize the rail link.
How would you assess the prospects for improvement in Russo-Japanese relations, especially in the economic sphere? Can the relations improve without a resolution of the Kuril Islands dispute?
Shinzo Abe's departure as Japan's prime minister has closed books on the nearly 8-year-long attempt to conclude a peace treaty and solve the territorial issue between Tokyo and Moscow. This is now shelved, probably for a very long period. Absent the prospect for an early political settlement, economic cooperation with Russia will not be stimulated by the Japanese government. Japanese companies' investment in Russia depends on the country's business climate and growth outlook.
What needs to happen in order for the Russian Far East to experience dynamic economic growth?
As has been revealed once again in the recent case of the former governor of Khabarovsk, the region remains very criminalized. So, de-criminalization is the first step, to be accompanied by the de-monopolization of the economy usually controlled by the local authorities.
How has the recent improvement in U.S.-Indian relations affected Russia's relations with India? What is the importance of India to Russia?
India is, in principle, a strategic partner to Russia of the same caliber as China. In reality, the Indo-Russian trade turnover is about one-tenth of the Russia-China exchanges. The now much closer U.S.-Indian relationship should not be an issue for Russia: India as a great power will not want to limit its foreign ties. The only exception is the arms trade area, where America is a strong competitor.
There are two problems in the Russian-Indian relations. One is the inability of both Moscow and New Delhi, despite their mutual goodwill and traditional friendship, to expand their cooperation beyond the government-led sectors and to engage broader sections of society. Two is the rekindled rivalry between India and China, with Russia a close partner of both, but without a chance to mediate.
How has the growing Chinese presence in Central Asia affected Russia's role there? Is Central Asia no longer a Russian "sphere of influence"?   
All Central Asian countries profess to pursue "multi-vector" foreign policies. Even though Kazakhstan, Kyrgyzstan, and Tajikistan are members of a security treaty organization with Russia, and the first two have also joined the Eurasian Economic Union, they value their ties to China, the United States, Europe, and others, and back Moscow only selectively during U.N. votes. They have largely de-Russified culturally and linguistically. No Russian sphere of influence there, just vestiges of Russian historical presence. China is the most dynamic and often the principal economic actor in the region, while Russia continues as a security guard of sorts.
Jongsoo Lee is Senior Managing Director at Brock Securities and Center Associate at Harvard University's Davis Center for Russian and Eurasian Studies. He is also an Adjunct Fellow at the Hawaii-based Pacific Forum. He can be followed on Twitter at @jameslee004