Turkey's Turn to the Asia-Pacific
Turkey's economic outreach to the Asia-Pacific is a crucial part of its foreign policy diversification.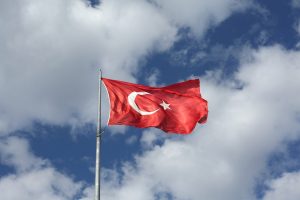 The founding fathers of Turkey believed that Western-oriented modernization and stronger alignment with the Western powers could lead to a more prosperous Turkey. Therefore, the country's foreign policy has centered the West since its foundation in 1923. At the 1923 Izmir Economic Congress, which was an important milestone for the young Turkish nation's building, major decisions were taken to illustrate that the new Turkey would be emerging as a Western country, friendly to foreign trade, rather than following the closed system established by Bolsheviks in Russia. Ever since, Turkey has engaged with the West at different levels, and this has shaped Turkey's identity and foreign policy decisions.
But in the highly interconnected and interdependent world of 2020, and within the context of the rise of the Asia-Pacific, this approach has its own limitations. Recently, Turkey has transformed its foreign policy approach to a multi-dimensional one, seeking to diversify its partners. To that end, Turkey recently accelerated its focus toward the Asia-Pacific, increasing its interactions.
Foreign Minister Mevlut Cavusoglu unveiled the "Asia Anew" initiative in August 2019, a clear sign that Ankara was seeking to be more effective in Asia. The Foreign Minister appointed a coordinator ambassador for the Asia Anew Initiative. Turkey has also been opening up to Asian companies more in recent years. Turkey's largest trade deficit comes from the region: Of the approximately $50 billion of total trade, almost $40 billion is imports.
Here, Turkey's involvement as a sectoral dialogue partner with ASEAN is key since the Southeast Asian region (home to more than 650 million people) is becoming a more important market. In addition, Turkey has two important free trade agreements (FTAs) with two ASEAN countries, Singapore and Malaysia. FTA negotiations with Indonesia and Thailand are in progress.
Within the framework of transforming globalization, countries have seen many challenges but also emerging opportunities for their interests. Turkey and ASEAN countries will be working more closely together to find a common ground based on a win-win approach. ASEAN countries need allies and partners so as to not be squeezed between China and the United States. Supply chain diversification and bilateral trade agreements have never been more important. Thus, Turkey and ASEAN countries should consider their strengths and find potential investment areas where they can combine their powers to build strategic partnerships.
Recently, the European Union's relations with the Asia-Pacific have also been deepening with signature new generation FTAs with South Korea, Vietnam, Singapore, and Japan. More agreements between the EU and Australia and New Zealand are on the way. In this context, negotiations between the EU and Turkey in order to update the 1995 Customs Union agreement becomes a component of Turkey's ambitious Asia Anew strategy. This represents the utmost necessity of multivector approach in nearly every policymaking decision in a G-0 world.
Mutual investments involving Turkey and Asia-Pacific countries have been increasing recently. South Korean and Japanese companies were involved in some of the largest infrastructure projects in Turkey, the Canakkale 1915 Bridge (currently being built by South Korean firms) and the Marmaray tunnel under the Bosphorus Strait (built by a Japan-Turkey consortium). Turkey's most prominent companies such as Beko or Hayat Holding have already started investing in the Asia-Pacific, namely Thailand, Vietnam, and India. Indonesia's ambitious plan to relocate its capital to East Kalimanta is another opportunity for Turkish investors, where both countries' ministries are willing to engage more in this process.
The Belt and Road Initiative (BRI), China's global development plan, is also on Turkey's radar. Within the framework of BRI, China has already heavily invested in Turkey, especially in energy and infrastructure projects. The Bank of China and Eximbank of China have increased engagement Turkish state-owned banks. Although there are concerns about the BRI, we may see positive impacts from the project, such as contributing to Turkey's capacity building efforts in many fields.
In July 2020, Cavusoglu met with his counterparts from Mexico, Indonesia, South Korea, and Australia in a MIKTA foreign ministers' videoconference to discuss the post-pandemic era. Naturally, he also discussed future potential collaborations with the Asia-Pacific, where three of the five MIKTA countries are located.
Also in July, Turkey's Antalya Diplomacy Forum hosted a webinar titled "Leveraging the Effects of the Pandemic Towards Regional Cooperation in Asia," where Cavusoglu was a speaker among others such as the foreign minister of Bangladesh, Japan's state minister for foreign affairs, the secretary-general of the Asia Cooperation Dialogue, and a vice president of the Asian Development Bank. Turkey's effective response to the pandemic and its Asia Anew Initiative as an important tool to work closely with Asia-Pacific countries were widely mentioned at the event.
Going forward, the fallout from COVID-19 will provide challenges but also opportunities for those who can adapt and use their advantages to establish new trade connections.
With global value chains being restructured, Turkey — as a mid-size power with high capabilities in manufacturing, infrastructure, and logistics — can play a greater role. Turkey's strong trade and investment ties with EU countries, increasing partnerships in different sectors with the United States, historical engagements with the Middle East and North Africa (MENA) economies, and expanding economic relations with the Asia-Pacific region can help the country to become an alternative hub in the long-term remaking of supply chains. This would allow Turkey to get a bigger slice of the pie in a re-designed and more digitalized international trade system.
In this regard, Turkey needs to increase its competitiveness and assure sustainability in its strong sectors such as automotives, textiles, and metals. In addition, creating a safer environment for foreign direct investment while also encouraging local small and medium enterprises and addressing the challenges arising from economic inequalities between Turkey's regions are other crucial steps that the country needs to take. Building trustworthy and credible institutions and providing a transparent business environment have to be included in the country's blueprint. Turkey, as a diverse country having many cultures in a single land, can adopt many business habits of different countries to enhance its creativity.
In addition, Turkey should focus on investing in green energy resources and adapting to the changing dynamics of energy consumption. Providing an affordable and sustainable energy eco-system as an important component of both the United Nations' Sustainable Development Goals (SDGs) and the European Green Deal. In this regard, Turkey must collaborate with the like-minded countries in the Asia-Pacific – the home of both top energy-consuming countries like China and India as well as the countries most vulnerable countries to climate change, such as Bangladesh. Engaging with more regional and minilateral energy initiatives also should be on Turkey's topline agenda.
Temmuz Yigit Bezmez is currently working at the Foreign Economic Relations Board (DEIK) as an assistant coordinator for the Turkey/Asia-Pacific Business Council in Istanbul.
Selma Bardakci is currently working at the DEIK's Turkey/Asia-Pacific Business Council.