US Ambassador, Cambodian Defense Minister Meet Following China Sanctions
General Tea Banh downplayed reports that Cambodia is planning to permit a Chinese military presence on its south coast.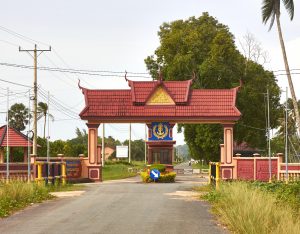 Earlier this week, the U.S. ambassador to Cambodia had a meeting with Cambodia's minister of defense, not long after Washington imposed sanctions against a Chinese firm developing a $3.8 billion resort complex on the country's coast.
The meeting between Ambassador W. Patrick Murphy and General Tea Banh came after the U.S. Treasury Department's announcement of sanctions on the Tianjin-based Union Development Group (UDG). The Chinese firm is constructing the Dara Sakor Resort in Koh Kong province.
In May 2008, UDG was granted a 99-year lease to a massive concession spanning 20 percent of Cambodia's coastline.
According to a statement from the Treasury Department's Office of Foreign Assets Control, the Chinese firm, which it described as a state-owned company, was building on land seized from local people. In a separate statement on September 22, U.S. Secretary of State Mike Pompeo also cited "credible reports" that Dara Sakor could be used to host Chinese military assets.
The latter claim is based on speculation that an airfield and deepwater port being built by UDG at Dara Sakor are large enough to accommodate military aircraft and naval warships. Some observers have argued that the 3.4-kilometer airfield bears a close resemblance to ones China has built elsewhere, including on artificial islands in the South China Sea.
There have also been reports about a possible Chinese military presence at the Ream Naval Base, which is located 50 kilometers down the coast from Dara Sakor. In July 2019, the Wall Street Journal reported that China and Cambodia had signed a "secret agreement" giving China access to Ream for a period of 30 years. Cambodia has denounced the reports as "fake news."
In a Facebook post, the U.S. Embassy said Murphy "had a productive meeting" with Tea Banh, in which the pair discussed "a range of potential areas of strengthened security cooperation, as well as ongoing efforts to preserve Cambodia's sovereignty." An Embassy spokesperson later told Radio Free Asia that the U.S. was "hopeful that we can find a way to expand military-to-military cooperation."
According to Cambodia's Ministry of Defense, Tea Banh repeated Cambodian denials that it intends to allow a Chinese presence at Ream. "The exclusive use of this Ream base belongs to Cambodia," he said, according to a translation by the website Cambodianess.
Relations between the U.S. and Cambodia have deteriorated sharply since 2016, when long-ruling Prime Minister Hun Sen escalated a political crackdown that has since turned the country into a de facto one-party state.
In September 2017, police arrested Kem Sokha, the leader of the opposition Cambodia National Rescue Party (CNRP). The government subsequently charged him with treason, claiming that he had colluded with foreign powers, including the U.S., to foment a "color revolution" to topple Hun Sen's government. The charge was later used as a pretext to dissolve the CNRP altogether. This left Hun Sen's Cambodian People's Party (CPP) free to run virtually unopposed at national elections in 2018, in which it won every seat in parliament.
This has proceeded in parallel with a unilateral downgrading of relations with the U.S. In early 2017, Cambodia's Defense Ministry abruptly suspended the annual "Angkor Sentinel" military exercises, which it had held with the U.S. Army since 2010. This happened shortly after the Royal Cambodian Armed Forces participated in similar joint exercises with China for the first time. In response, the U.S. government has imposed sanctions on three close associates of Hun Sen, and restricted travel of senior members of the Cambodian government.
Since taking up his post last year, Ambassador Murphy has made attempts to put U.S.-Cambodia relations back on an even keel. In February, the U.S. Embassy collaborated with the Cambodian government in permitting the docking of the MS Westerdam cruise ship, which had been unable to land due to fears of COVID-19. Hun Sen has also expressed support for an improvement in relations with Washington, including in the military realm.
However, Murphy will likely be constrained by the opinion of the U.S. Congress, which has historically been strongly critical of Hun Sen's rule and has recently passed a number of punitive bills targeting the CPP government. Congressional pressure means that there is room for improvement in U.S.-Cambodia relations, especially if it results in drawing Hun Sen away from China – but only within certain limits.