Violence Persists as Afghan Government and Taliban Seek Path to Peace
As Afghan government and Taliban negotiators sort out the rules and procedures, let alone an agenda, for peace, violence persists in Afghanistan.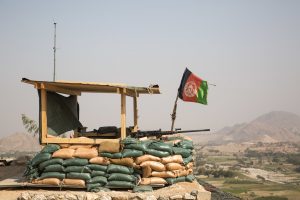 On September 12, teams of negotiators from the Afghan government and the Taliban began talks in Doha, Qatar. While the importance of the moment cannot be overstated, the talks have not yet moved beyond setting the rules and procedure for negotiations, let alone arriving at an agreed agenda. The road ahead is long.
Back in Afghanistan, violence persists. The damning reality is that until there is peace, there is no peace.
According to September 22 reporting by TOLOnews, citing Afghan government statistics, at least 98 civilians had been killed in Taliban attacks across 24 of Afghanistan's 34 provinces over the previous two weeks. Another source told the Afghan media outlet that on average 30 members of the country's various security forces had been killed in Taliban attacks each day in the previous two week period.
Uruzgan province, in south central Afghanistan, has seen significant violence this week alone. On Sunday night, at least 24 members of the Afghan security forces were killed in Taliban attacks on security checkpoints. Al Jazeera called it the "bloodiest day of fighting since the government and the armed group began peace talks." Then on Tuesday evening, the Taliban again attacked the checkpoints. A spokesman for the Uruzgan governor, Zelgay Ebadi, said that 28 local and national police were killed by Taliban fighters after surrendering their weapons. The Taliban, however, claim the police were killed after refusing to surrender.
There has been no shortage of violence: On September 17, fighting between Taliban and Afghan government troops in Nangarhar province resulted in at least 20 government troop deaths and reportedly 30 Taliban deaths. Witnesses say a government airstrike in northern Kunduz on September 19 killed 24 civilians. Late on September 20, in Takhar province in northern Afghanistan, six Afghan government soldiers and three police were killed in a Taliban attack and in Kapisa province, northeast of Kabul, eight government troops were killed in a Taliban attack. The Afghan government claimed to have killed 65 Taliban militants in a battle on September 23 that took place after the Taliban stormed a military building in Paktika province. The Taliban have been less forthcoming with casualty figures, disputing some attacks and claiming responsibility for others.
In Kandahar this week, General Austin S. Miller, commander of U.S. and NATO forces in Afghanistan, said, "The violence is too high. Taliban violence has to slow down — it has to stop. What it is driving is an increase in violence across the country."
In Doha, Afghan government negotiators have placed a cease-fire high in their agenda. 
Rasul Talib, a member of the Afghan negotiating team told TOLOnews, "The continuation of violence is not acceptable at all; therefore, a cease-fire is a priority for the negotiating team of the Islamic Republic of Afghanistan."
The Taliban, it seems, place a cease-fire further down in their own agenda. Per reporting by the BBC's Lyse Doucet: "For the Taliban, [a cease-fire] can only come once progress is made on the shape of a new order. There will be another semantic search for a 'pause', a 'reduction', and the like."
In his recorded remarks for the United Nations General Assembly, underway virtually this week thanks to the coronavirus pandemic, Afghan President Ashraf Ghani made his position on a cease-fire crystal clear. "At those talks [with the Taliban in Doha], the Afghan people have a clear and urgent priority: a cease-fire. An urgent end to the violence will, more than anything else, give us a chance to progress."