Women in Sri Lanka Make up 56% of Voters, But Only 5% of Legislators
Money, pedigree, sexism and social norms keep Sri Lanka's largest electorate – the country's women – out of politics.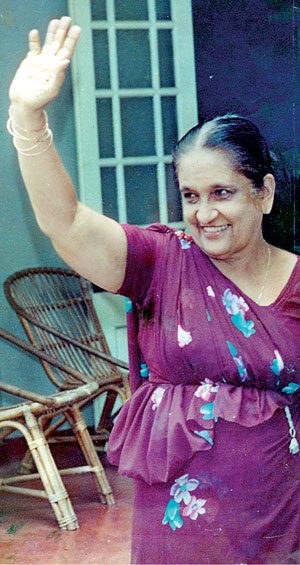 On July 21, 1960, Sirimavo Bandaranaike became the first democratically elected female prime minister in the world. During her lifetime, she went on to serve three terms as the prime minister of Sri Lanka. Her daughter, Chandrika Kumaratunga, went on to become the first and only female president of Sri Lanka.
However, these women largely remain anomalies in the island nation's history.
"I wouldn't necessarily say we broke the glass ceiling with Sirimavo and Chandrika. They don't represent the average women who aspire to enter politics," said Sathya Karunarathne, research executive at Advocata Institute. "They had strong pedigree politics. Their families, their husbands, fathers, the men in their lives, were deep-rooted in politics."
Sixty years since Sirimavo's election, women's political representation in the Sri Lankan parliament remain abysmally low. In 2020, only 5.3 percent — 12 out of 225 legislators — in the Sri Lankan parliament are women.
Despite being the majority of the electorate at 52 percent of the total population and 56 percent of the registered voters, female voices remain absent from formal politics. Sri Lanka ranks 182nd out of 193 countries on the Inter-Parliamentary Union (IPU), a global database that ranks countries by the percentage share of women in their national parliament. Among its South Asian neighbors, only the Maldives has fewer women politicians in its parliament.
To address the large inequity, the previous Sri Lankan government introduced a 25 percent mandatory quota for women to enter the local government in 2016. Prior to the 2016 amendment, women's representation was at meager 2 percent in the local government. In the 2018 elections, 17,000 women ran for elections out of the more than 56,000 candidates for over 8,000 posts. Female representation in leadership roles skyrocketed from 89 to 2,300 in 2018.
However, according to Karunarathne, the gender quota, without addressing the deep-rooted structural barriers to women's political participation, is setting up women politicians to fail. There are three major structural limitations encountered by Sri Lankan women when entering politics, she adds.
First, the education structure, influenced by stereotypes and social norms where girls are not encouraged to study and pursue politics. Second, Sri Lankan political parties have large barriers of entry for women interested in politics. Without men's extensive networks and patronage, the small number of women who are in the Sri Lankan parliament have entered mainly through pedigree politics and their relation to male politicians.
Third, women politicians lack finance to effectively run campaigns. A 2013 U.N. Women study found that over 80 percent respondents identified the lack of access to funding as one of the biggest challenges to women's entry into politics worldwide. In conversation with EconomyNext, Lihini Fernando, the United National Party (UNP) municipal councilor from Moratuwa, stated that it costs about 25 million rupees to campaign throughout a district.
Sri Lanka has no campaign finance act but there is a draft Election Campaign Finance Bill that would require candidates to reveal sources of funds. Illicit campaign financing and the high costs of Sri Lankan elections can be combatted by introducing a cap on campaign spending and amending current election laws to include disclosure of campaign contributions, said Karunarathne.
"This could help level the playing field for women. Politics is largely male-dominated, and campaign financing is another big boys' club that does not necessarily take into consideration the economic realities of women."
Additionally, a 2016 IPU study found that psychological violence including sexist remarks has affected 81.8 percent of female parliamentarians globally. Sexism remains pervasive in Sri Lanka for the few women who are able to climb the tall fences of political gatekeeping.
Not long ago, when Rosy Senanayake, then member of parliament for Colombo and now its first female mayor, questioned transport minister Kumara Welgama, his public response was "you are such a charming woman. I cannot explain my feelings here but if you meet me outside Parliament, I will describe them."
Despite little formal representation, women have been making their presence felt through voter turnouts and political movements like the Mother's Front. The mothers of those that disappeared in Sri Lanka's protracted civil war have been protesting for years for answers on the whereabouts of their loved ones who were kidnapped during the war and never heard from again.
Laws in Sri Lanka are highly gender-discriminatory: marital rape is legal in Sri Lanka; limitations to inheritance and property rights remain prevalent in the Muslim Marriage and Divorce Act (MMDA), Kandyan law, and Tesawalamai law; discriminatory female employment laws like the 1954 Employment Act restrict women's work at night and more. Sri Lanka's fiscal policy also has disproportionate effects. For instance, there is a 62.6 percent tax levied on menstrual products. Under this existing tax structure, menstruating for just five days would cost Sri Lankan women in the poorest households approximately 3.5 percent of their total expenditures for the month.
As the coronavirus ravages lives worldwide, we are seeing a resurgence of the importance of public health spending. Research by Patricia Funk and Christina Gathmann shows that Swiss female politicians are more likely to favor spending on health, unemployment, and social security than their  male counterparts. Research by the Abdul Latif Jameel Poverty Action Lab also shows that women political leaders in villages were more likely to invest in priorities for women like drinking water and road improvement because they understand and share them.
There is a noticeable role model effect, observed by Lori Beaman, Esther Duflo, Rohini Pande, and Petia Topalova, where the gender gap in aspirations of girls and boys between 11-15 closed by 32 percent for girls and by 25 percent for their parents in Indian villages with reserved quotas for women leaders. It also helped eradicate gender disparity in educational attainment of young girls, and girls spent less time doing household work.
Past research has shown that women have to constitute at least 30 percent of the decision-making body to exert influence and promote pro-women policies.
Sri Lanka remains far from meeting that goal.