Amid Political Crisis, Malaysia Braces for Second Wave of COVID-19
As Prime Minister Muhyiddin enters self-quarantine, his nation grapples with a sudden rise in coronavirus infections.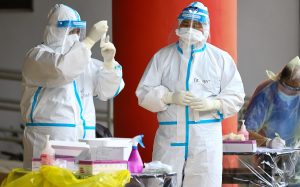 Malaysian Prime Minister Muhyiddin Yassin has gone into self-quarantine amid a worrying increase in coronavirus cases following local elections in the eastern state of Sabah on September 26.
The 73-year-old leader attended a cabinet meeting on October 3 with Minister of Religious Affairs Zulkifli Mohamad Al-Bakri, who has since tested positive for COVID-19. Tellingly, the cabinet had convened to discuss Malaysia's rising number of coronavirus infections.
Muhyiddin announced on October 5 that his most recent COVID-19 test, on September 29, had been negative, but that he would self-quarantine for 14 days as a precaution. "I will continue to work from home and use video conferencing for meetings that I need to chair," the premier said.
Despite its generally successful containment of the virus, Malaysia has seen a steady increase in coronavirus cases over the past week. On October 3, it reported 317 new infections, the highest daily rise since the beginning of the pandemic. That was followed by 293 positive cases on October 4 and 432 – a new daily record – on October 5.
A particular hotspot is the easternmost state of Sabah on Borneo, which held local elections on September 26, accompanied by scattered outbreaks of the disease. As of October 5, the state had recorded 2,519 cases, second only to the capital Kuala Lumpur, which had recorded 2,701 infections.
While Malaysia's total of 12,831 cases and 137 deaths is still modest in global terms – and sits far behind its neighbors Indonesia and the Philippines – the country now has the fifth-highest total in Southeast Asia, and the fourth-highest in per capita terms.
The rise in COVID-19 cases comes amid a political upheaval that could prompt the calling of a snap early election – something that could have alarming implications given the public health situation.
Muhyiddin is currently fending off a political challenge from perennial opposition leader Anwar Ibrahim, who announced last month that he had secured the support of the majority of parliament, implying that Muhyiddin's government had fallen. But the success of Anwar's bid for power hinges on the approval of the King, who is currently ill and not seeing visitors. While he awaits a royal audience, it remains unclear exactly how many lawmakers are supporting Anwar.
Muhyiddin's government came to power in backroom maneuvering in February, which prompted the resignation of Prime Minister Mahathir Mohamad, and has since survived on a razor-thin majority. This has prompted calls from Muhyiddin's allies that he call a snap election in order to secure a popular mandate and strengthen the legitimacy of his coalition. The next general election is not scheduled until 2023.
Muhyiddin's position was bolstered by the state election in Sabah, which saw a victory for parties aligned with his governing coalition. Previously, Muhyiddin had suggested that a positive result in Sabah could prompt him to call a snap election. The government is yet to announce an early election, but given the outbreaks that accompanied the Sabah election, and the difficulties that Myanmar is facing in running an election campaign in the midst of its own alarming spike in COVID-19 infections, many officials have warned that this is the last thing that Malaysia needs. Prominent among them is former Prime Minister Mahathir Mohamad, who told the state-run news agency Bernama: "I am confident that if the general election is held now, many people will be affected by COVID-19, many will die."