From Prison to Parliament: Meet Kyrgyzstan's New Prime Minister
Until October 6, Sadyr Japarov was serving an 11.5 year prison term for hostage-taking. He's now prime minister of Kyrgyzstan.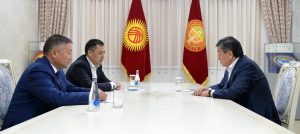 On October 14, 10 days after a parliamentary election that quickly slid sideways into protests and eventual annulment, Kyrgyz President Sooronbay Jeenbekov signed a decree accepting the appointment of Sadyr Japarov as prime minister.
Japarov, until the violent morning of October 6, was four years into an 11.5 year prison sentence. He was "never a major political figure in Kyrgyzstan," Bruce Pannier wrote this week while recounting the now-powerful figure's history. He entered politics in 2005 after a career as a policeman in Issyk-Kul region followed by a stint at an oil refinery business in Balykchy. He was a supporter of then-President Kurmanbek Bakiyev. After Bakiyev's ouster in 2010, Japarov jumped from the rejected president's party, Ak-Jol, to Ata-Jurt for the 2010 parliamentary election. 
On October 3, 2012, Japarov and the leader of Ata-Jurt, Kamchybek Tashiev, led a protest in favor of nationalizing the Kumtor gold mine after the then-prime minister, Jantoro Satybaldiyev, came out against nationalizing the critical mine. Kumtor is a notorious flashpoint in Kyrgyz politics. At the time, Kumtor account for a full 12 percent of Kyrgyzstan's GDP — as of 2018 that is down to 9 percent, still significant for a single mine. (Satybaldiyev was sentenced to seven years in prison in late 2019 for his connection to the Bishkek Thermal Power Station fiasco).
The 2012 protest hit a boil with Tashiev, Japrov, and another Ata-Jurt member, Talant Mamytov, leading an attack on the White House with calls to "occupy" it and "replace" the government. On October 4, 2012 the three were arrested and charged with attempting to "violently seize power." They were given 18-month sentences in early 2013, but released early in July 2013. In October 2013, Japrov organized a rally in Karakol during which the Issyk-Kul regional governor, Emil Kaptagayev, was taken hostage. Japrov fled Kyrgyzstan shortly thereafter, avoiding charges in Kazakhstan. 
Skip ahead to 2017, and Japarov attempted to return to Kyrgyzstan. According to his lawyer at the time he returned voluntarily because he had been summoned as a witness. He was arrested by the State Committee for National Security (GKNB) crossing the the Kazakh-Kyrgyz border and brought to Bishkek to face charges from 2013. His return and arrest sparked protests, but he was convicted and sentenced to 11.5 years in August 2017. Interestingly, the victim — Emil Kaptagayev — criticized Japarov's conviction. 
This brings us to 2020, a year filled with surprises. 
Opposition parties staged peaceful protests against what they saw as an election rigged by vote-buying on the part of the two pro-government parties that together captured nearly 50 percent of the vote. In the chaotic night that followed, a handful of notable inmates were freed. While most, including former President Almazbek Atambayev, have since returned to prison, Japrov has moved from prison to parliament. 
On October 6, Kyrgyzstan's sitting prime minister, Kubatbek Boronov, resigned and the country's Central Election Commission (CEC) annulled the election results. Then, in an extraordinary meeting of a fraction of the existing parliament at the Dostuk Hotel, Japarov was nominated prime minister. Conveniently, the Kyrgyz Supreme Court agreed to review Japarov's case, overturning previous decisions. TASS reported the court had overturned Japarov's conviction.
It was unclear on October 6 that Japarov's nomination was legal, given that a quorum of parliament was not physically present for the vote. But at another parliamentary session on October 10, this time held at the presidential residence outside Bishkek, he was again appointed.
Jeenbekov rejected Japarov on October 13, citing the lack of a quorum. But the next day, Jeenbekov approved parliament's selection of Japarov. Kanatbek Isayev, the head of the Kyrgyzstan party, was earlier named speaker of parliament. The filling of those two important roles — prime minister and speaker — for the moment settles the question of political instability. 
But that may just be a moment. 
Japarov and Jeenbekov are reportedly in talks about the latter's resignation.