North Korea's No-Mask Military Parade Angers South Korea
Apparently North Korea's commitment to fighting COVID-19 – which saw a South Korean official killed in early October – has its limits.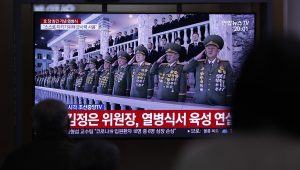 North Korea held a military parade on October 10, boasting a new intercontinental ballistic missile, which was described by observers as the "largest" of its kind in the world.
What caught outsiders' attention, however, was not just the gigantic missile but the military officials and public who were mobilized at the event. None of participants, including leader Kim Jong Un and high-level government officials, was wearing a mask in images captured by North Korea's state media outlets.
Such a scene undermines the country's strict measures to prevent the spread of COVID-19 and raises eyebrows of many who are already skeptical about the situation in the North.
North Korea's state-run Rodong Sinmun newspaper said on August 24, for instance, that it was essential to wear a mask to prevent the outbreak of COVID-19.
All emergency quarantine regulations, including mandatory wearing of masks, should be followed "voluntarily" and "conscientiously," the paper noted at that time.
North Korea has constantly stressed the importance of wearing a mask since March, when the country banned citizens from using public transport and entering shopping malls without wearing protective masks.
Separately, South Korea's Yonhap News Agency reported in September that North Korean authorities set up a "buffer zone" along the border to prevent the spread of COVID-19 in August. Pyongyang ordered a complete ban on approaching and entering the zone.
Yonhap quoted a source who is familiar with North Korean matters as saying that the North's Ministry of Social Security set up the zone within 1 to 2 kilometers of the border area and ordered the unconditional killing of people and animals who entered the zone or approached the border.
This reiterates remarks from Robert Bruce Abrams, the commander of United States Forces Korea, who said on September 10 that the North had set up such a zone in the border area with China, according to Yonhap. At that time, he said the North dispatched special forces to tighten the border.
North Korea's unilateral move reportedly caused a spat with China after several incidents where Chinese citizens were shot dead in the border area due to Pyongyang's measure. Afterward, the two sides agreed to ease tension around the border areas, Seoul-based online publication Daily NK reported in September.
Pyongyang also cited the need to prevent COVID-19 when its military killed a South Korean public servant and burnt his body at sea.
This is one of the main reasons why many South Koreans were upset when they saw that the North held a maskless parade.
South Korean lawmaker Ha Tae-kyung was among the most critical about the North's move.
"They even shot and burned a South Korean civil servant without diagnosing because of concerns over the spread of the virus by outsiders," Ha said.  "But all the participants of the military parade are not wearing a mask."
"It's very dangerous to take off the mask and gather like that because some people do not have symptoms even though they are infected. The virus can spread no matter how many times their body temperature is checked and no abnormality is found," he added.
"If it is true that the order to shoot innocent South Korean civil servant was issued due to the virus, Kim Jong Un, who created the environment for mass transmission of the virus, should be punished more sternly."
South Korea's largest daily with a conservative view, Chosun Ilbo, also said in its editorial on October 12 that it is ridiculous to have tens of thousands gather and chant in one place without masks, while the country was willing to kill an unarmed South Korean citizen and burn the body, citing concern over the outbreak of the virus.