Pacific Islands Forum Presses for Human Rights Mission to West Papua
Protests continue in West Papua as the Pacific Islands Forum seeks access to assess the human rights situation.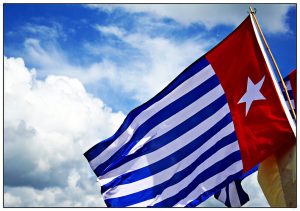 The chair of the Pacific Islands Forum (PIF), Tuvalu Prime Minister Kausea Natano, has written to the United Nations High Commissioner for Human Rights Michelle Bachelet seeking support for the forum's request to send a mission to West Papua to assess the human rights situation there.
The forum chair reaffirmed the PIF leaders' call for all parties to protect and uphold the human rights of all residents and to work to address the root causes of the conflict by peaceful means. 
PIF Secretary General Dame Meg Taylor in a media release this week echoed concerns about recent reporting and fresh allegations of abuse and violence against protesters.
"Without the appropriate access of independent media, civil society or human rights groups in West. Papua, it is difficult to verify the reports from opposing groups," she said.
"Nevertheless, the reports and footage are disparaging, and I remain deeply troubled with conflict and human rights abuses in the region."
The statement from the Pacific Islands Forum follows a pre-recorded address sent to the 75th session of the United Nationals General Assembly by Vanuatu's Prime Minister Bob Loughman, in which he warned that the international community had taken a selective approach to addressing human rights violations. 
"There are widespread human rights violations happening all around us and yet it seems the world is taking a selective approach to addressing this," he said. "In our region, the indigenous people of West Papua continue to suffer from human rights abuses. To date there has been little progress on this front."
Indonesia responded by claiming that Vanuatu has an "excessive and unhealthy obsession" with West Papua and cited the U.N. Charter, detailing non-interference in the domestic affairs of other countries out of respect for their sovereignty and territorial integrity. 
"It is shameful that this single country continues to have excessive and unhealthy obsession about how Indonesia should act or govern itself. You are no representation of the people of Papua, and stop fantasizing of being one," said Silvany Austin Pasaribu, second secretary of the Indonesian mission to the United Nations. "At times of an emergency health crisis and great economic adversity, [Vanuatu] prefers to instill enmity and sow division by disguising their advocacy for separatism with flowery human rights concern."
Protests have been ongoing across most of West Papua for much of the past two weeks, partly in response to Indonesia's plans to extend the 2001 Special Autonomy Law, which is set to expire in 2021. That was supposed to pave the way to West Papua gaining greater political autonomy and a larger share of revenue derived from their rich natural resources.  
The increasing tensions in West Papua have already led to the deaths of at least two soldiers and two civilians, including the shooting death of Papuan pastor Yeremia Sanambani, allegedly committed by Indonesian soldiers. 
Protests also erupted in Papua and West Papua province last year, in response to videos that circulated on social media showing police attacking a group of Papuan students in East Java on Indonesian Independence Day. Those protests led to weeks of violence, resulting in as many as 33 deaths and an enhanced crackdown on the region by police and military.
Benny Wenda, chair of the United Liberation Movement of West Papua, wrote in July that a referendum on independence, not autonomy, is the only solution for West Papua.
"The United Liberation Movement and all the people of West Papua are united in rejecting Indonesian-controlled 'autonomy.' There is only one solution to our problem: an independence referendum," he wrote.
"As an 'autonomous' region, hundreds of thousands of West Papuans, including most of my family, were killed by the Indonesian military and police. We know the outcome under this so-called Special Autonomy, we have only been further killed, marginalized and ethnically cleansed. The position of the United Liberation Movement is clear. Indonesia cannot build development on top of mass killings the only autonomy that exists is the autonomy of Indonesian military and police to kill."