PIF Fragmentation May Alter US-China Competition in the Pacific
A looming north-south split in the Pacific Islands Forum poses both challenges and opportunities to the rival superpowers.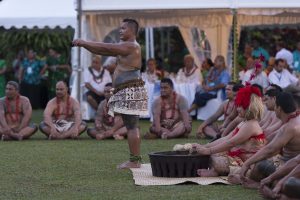 The Pacific Islands Forum (PIF) – an inter-governmental organization that has hosted annual leadership meetings for decades in Oceania – may be on the verge of fragmentation, and if it happens, the consequences for U.S.-China geostrategic competition could be significant. At the Micronesian President's Summit earlier this month, the leaders of north Pacific island nations, including Kiribati, the Marshall Islands, Micronesia, Nauru and Palau, threatened to suspend their participation in the PIF if their preferred candidate for secretary-general, Gerald Zackios, was not approved to lead the organization. In their words, the issue is "non-negotiable," and if Zackios does not take the helm, then it could lead to a split between north and south Pacific states.
Indeed, trouble has been brewing in the PIF for years, as South Pacific states have claimed all but one secretary-general position since the establishment of the PIF in 1971. A divided PIF would likely present several opportunities and challenges for China and the U.S. – both PIF dialogue partners – as their competition ramps up in Oceania.
Perhaps the most obvious consequence relates to Taiwan. For years, Beijing has sought to eliminate Taipei's remaining diplomatic partners worldwide as it claims sovereignty over Taiwan, while the U.S. has recently pledged to help preserve Taiwan's diplomatic space. At present, Taiwan maintains 15 allies, of which four – the Marshall Islands, Nauru, Palau and Tuvalu – reside in Oceania. All four normally attend PIF events, but if there is a split, then Tuvalu would suddenly become the only South Pacific state recognizing Taiwan over China. That might provide Beijing with an opening to place exceptional pressure on Tuvalu to switch allegiance. To be sure, Australia would remain in a southern PIF, and so would the U.S. as a dialogue partner, serving to mitigate such a Chinese strategy. But the pressure of being the only Pacific Island outlier might prove decisive.
On the other hand, a northern PIF in which the majority of members recognize Taiwan over China might help convince the others (Micronesia and Kiribati) to reconsider their pro-China stances. Although Micronesia appears content with its China ties, Kiribati's presidential election last year was essentially a referendum on whether to re-recognize Taiwan after it was abandoned in 2019 for Beijing. Kiribati's pro-China president ultimately won reelection, but the dispute is likely unsettled.
Beyond Taiwan, a northern PIF could further assist the U.S. in deepening ties to the Freely Associated States (FAS) – the Marshall Islands, Micronesia and Palau – with which it maintains unique international agreements known as Compacts of Free Association (COFAs). These COFAs authorize the U.S. military to have exclusive access to an area the size of the continental U.S. within the Second Island Chain. As I have previously argued with RAND colleagues, maintaining uncontested access to such an enormous region provides the U.S. with a "power projection superhighway" from Hawaii down into Guam and potential operational theaters in the South China Sea, East China Sea or Taiwan Strait. Shoring up these relationships is precisely the reason for Secretary of Defense Mark Esper's recent visit to Palau as well as Secretary of State Mike Pompeo's trip to Micronesia last year.
A northern PIF would enable the U.S. to continue strengthening these relationships increasingly on its terms, with less interference by South Pacific issues. Moreover, Washington could work together with FAS to forge greater coordination with Kiribati and Nauru, in order to better understand whether an expanded network of like-minded Pacific Island states might be possible in the north Pacific. Kiribati's reelection of its pro-China president raises concerns about whether Beijing might attempt to militarily leverage Christmas Island – the world's largest atoll which lies just 2,902 kilometers off the coast of Hawaii – against the United States. Christmas Island is home to an American-constructed World War II-era runway that could be improved by Beijing in the future. Thus, a northern PIF would be an important geostrategic opportunity for Washington to contest this potential outcome.
Meanwhile in the South Pacific, China could benefit in other ways from PIF fragmentation. Although China is not the largest aid donor in Oceania and actually ranks third behind Australia and New Zealand, respectively, the overwhelming majority of its Oceanic aid goes to South Pacific states. According to the Lowy Institute's latest Pacific aid map, China's top five recipients for 2018 in order were Papua New Guinea, Samoa, Fiji, Vanuatu and the Cook Islands – all South Pacific nations. Perhaps believing that a Taiwan-leaning and pro-American northern PIF is a lost cause, Beijing may choose to double down on prioritizing Belt & Road Initiative infrastructure projects in the South Pacific – and the demand in this impoverished region is particularly high. That could make life more difficult for Australia and New Zealand in aid competition over the longer term. Additionally, China in previous PIF meetings has emphasized its willingness to assist Pacific states on the existential threat of climate change. It has also increasingly played a role in natural disaster relief operations, for example in Vanuatu, and, amid the global pandemic, pledged support as part of its "mask diplomacy." If the PIF fragments, Beijing would be able to consolidate and focus these efforts on the South Pacific.
Of course, the significance of a PIF breakup on U.S.-China competition should not be overstated. Bilateral relations are where most concrete cooperation is forged. However, PIF meetings allow the U.S. and China to further cement and build upon their bilateral relations in Oceania. From that perspective, PIF fragmentation offers at least the possible opportunities and challenges described above, and perhaps others as well.